Alicia Banit Dance Academy Interview
Dance Academy

Cast: Xenia Goodwin, Alicia Banit, Dena Kaplan, Thomas Lacey, Keynan Lonsdale, Jordan Rodrigues, Nic Westaway, Tara Morice, Miranda Otto
Director: Samantha Strauss, Joanna Werner
Genre: Drama, Music
Running Time: 90 minutes

Synopsis: The feature film based on the incredibly successful two-time Emmy nominated Australian TV series, -Dance Academy', that saw a group of teenagers through the ups-and-downs of elite dance training at the National Academy of Dance.

Picking up eighteen months after the television series finale, the much-loved characters have moved on from the Academy and are living very different lives. Tara (Xenia Goodwin) was destined to become one of the top dancers of her generation but suffered a devastating injury that crippled her career… Can she make a comeback when she discovers what being defined by a dream really means?

With all the familiar favourites from the original series and some new faces, Dance Academy is a heartwarming story of ordinary people fighting to achieve their extraordinary dreams.

Dance Academy
Release Date: April 6th, 2017
http://www.danceacademymovie.com.au/
Read the Review
Interview with Alicia Banit
Alicia is perhaps best known to audiences as the vivacious and witty Kat on ABC3's hit teen series -Dance Academy', however she first shot to public attention as one of Ja'mie's friends in Chris Lilley's hugely successful -Summer Heights High' for ABC TV. She then went on to film four series of Disney Australia's -As the Bell Rings' in a role which showcased her comedic skills beautifully.

Alicia has worked professionally since a very young age, making her feature film debut as a young Miranda Otto in -The Dead Letter Office.' Early TV credits include -Halifax f.p', -Rove Live', -In Melbourne Tonight' and a recurring role in -Neighbours'. Other TV credits include the recurring role of Leah in the critically acclaimed series -Tangle' for Southern Star/Showcase and a lead guest in -Rush' for the Ten Network. Alicia will soon be seen in the feature film -We Were Tomorrow' and in TV series 'Upper Middle Bogan' and 'Trip for Biscuits', both for the ABC. Right now, Alicia Banit has just reprised the role of Kat for feature 'Dance Academy: The Movie'.
Question: How much fun was it, to step back into the character of Kat?

Alicia Banit: It was so much fun to get back into Kat, she is so much fun and I feel like, although, we were done with the stories with the Season 3 finale we were all very excited to get back into our characters and see where they ended up eighteen months after they left the academy. So it was something we all were very keen to do.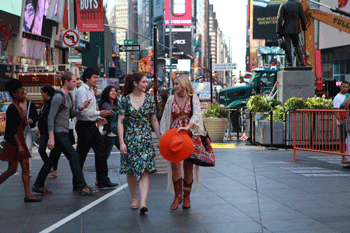 Question: How are you similar to the character of Kat?

Alicia Banit: I get asked this question a lot. Kat and I are very similar as we both have loud, happy personalities but I've always said Kat is more of a rebel than I am; she doesn't do well with people telling her what to do – that can be an interesting trait of hers. I think she is a little bit stronger than I am with her emotions, she keeps everything held in whereas I tend to cry, a lot more. There are lots of similarities and lots of differences.

I think as Samantha Strauss wrote season one to season three a lot of ourselves were being put, into the characters and a lot of the characters became, who we were as well. I think every single one of us have a lot of similarities to our characters.


Question: What was the best part about filming Dance Academy: The Movie?

Alicia Banit: I'd say being back with the cast and crew; we had the majority of the same people throughout the seasons and a whole bunch of them came back to do the movie, as well. Obviously with the cast, we are like a family, after filming finished on Dance Academy we constantly saw each other – a bunch of us went to LA together and did pilot season and were living in Hollywood, together. We are all so close; they are my brothers and sisters so it was amazing get back on set.

Apart from that, going to New York to film was pretty great, as well, it was amazing.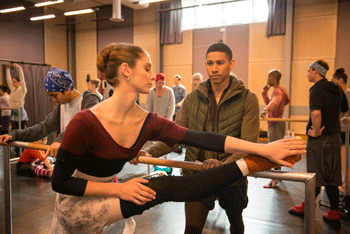 Question: I saw you at the Dance Academy The Movie Melbourne Premier; what was it like to watch yourself, on the big screen, with your family around?

Alicia Banit: It's pretty crazy, I was worrying the whole time about how big my face was going to be, on that screen, it's massive – one of the first shots is me on a telephone and it's just my face – it was so embarrassing but it was really lovely to have my family there. I was so nervous for everyone to see it – whether it was the general public or my family and friends so once it was finished I said 'Guys, what did you think?" and they all loved it, they were crying! So I cried… it was really cool. We are really proud of the movie, as well. It's a pretty fantastic film – it's kind of crazy though.


Question: How do you personally manage the struggles with social media?

Alicia Banit: Social media is a big one and I think Kat deals with this in the movie, as well. There is a lot of stress put on young people to judge themselves on how many likes they get on a picture or how many followers they have. I think that is really sad. Social Media can have a wonderful power for charity bring people and communities together but I think it's hard. When it comes to Social Media, for me, I make sure that it's exactly what it stays – Social Media – I'm not putting my entire life on there but I'm not putting all the amazing parts of my life that I want only people to see; I want people to see the real me and then they think it's easy to be someone like me because she's real. I don't want to pretend I'm something that I'm not.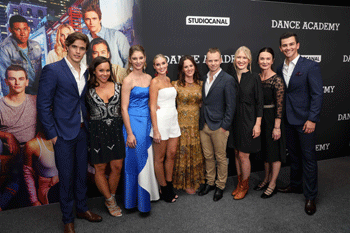 Social Media is a hard one and I think there needs to be more people talking about it and more people saying if they're editing a picture. There is an app called FaceTune and you can use that to completely photoshop your own face to look completely different and if someone does it, I feel they should say they do it because otherwise there is ridiculous standards on young people to look at it and think -I want to look like that' when it's not realistic, you can't look like that, it's a photoshop doing it.

It's very hard and it makes me sad.


Question: What are your earliest memories of dance?

Alicia Banit: My first ever memory of dancing was when I walked into my first dance class at Thelma Williams School of Dance and that is where my Mum used to dance, as well, she took me there and I was wearing little ballet or tap shoes. I walked in with Ms Thelma holding my hand and then I ran straight back out.

All my memories are at that dance school learning Ballet, Jazz and Tap; I loved it. I was really lucky my parents introduced me to dance. Obviously if I didn't like it they would have taken me out of it, as well. I feel I was really lucky as if it helped with my self-confidence growing up. I still dance now, I love it
Question: You were more into Hip Hop in the series though....
Alicia Banit: Yes I was a Hip Hoper in the series. When I started dancing in 94' - 95' hip hop wasn't a massive thing in Australia that style of dance it was definitely more jazz hands and jazz runs, as I got older those styles started to come in at dance schools. it became another style of dance I love, I kind of love everything.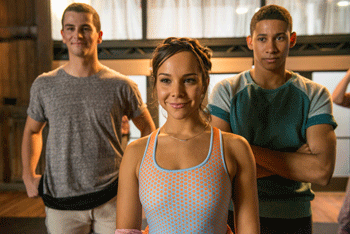 Question: What were some of the steps you took, to get into the film industry?

Alicia Banit: It wasn't steps I took specifically but more my parents, they along with dancing put my brother and I in a kids modeling agency and they started doing film and television auditions as well. Around about six years old I got my first film and I played a younger version of Miranda Otto and she was a little ballerina and now it's come full circle because Miranda Otto is now in Dance Academy and she's playing a ballerina. That was pretty cool, I remember seeing her on set and 'I played a younger version of you".

From there I continued on having an agent until I was 12 and I then focused more on dancing and ballet; I had too many injuries to become prima-ballerina which was one of my dreams. When I was 15 years old I went back to the agency and started acting again; it all went from there.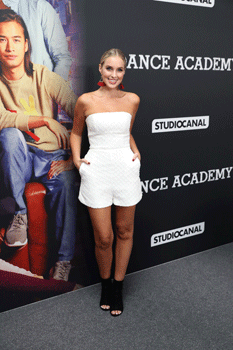 Question: What was your favourite scene from the film?

Alicia Banit: I love the New York montage when Tara comes to New York for the first time and runs into Kat in her fairy costume and they have the incredible montage showing all the best parts of New York with all the tourist locations, in there. It was so much fun to film. We were given a bit of free range with the montage scene, both of us had never been to New York before and we were gettting to locations going - we're in time square what is going - so it was pretty amazing.

Whenever we were all on set at the same time – we were in a hospital at one point and all of the cast were in there at the same time – it was hard to film but lovely to all be there with everybody.
Question: The flying was cool...
Alicia Banit: I'm afraid of heights and they always put me on things like that, they have me jumping off bridges, they have me on a trapese, I'm constantly the one up in the air.
Question: What's next for Kat and Dance Academy?

Alicia Banit: I guess the story has been left open-ended; anything could happen from here. I think the writer; Samantha Strauss is really good at always doing that, with her characters. Depending on how well the movie actually does I'm hoping there could be a second movie or a spin-off. Get everyone to see the movie – comes out April 6th then we can see were Kat ends up going.


Question: What's next, for you?

Alicia Banit: I'm going straight back into auditioning – the life of an actor! I might get a normal job to keep myself busy; I've worked at Hoyts previously before and a warehouse – to keep me busy and save money. I'll be auditioning as much as I can and I'm hoping I'll go to America in the middle of this year, as well and audition over there.


Interview by Steph Warmuz