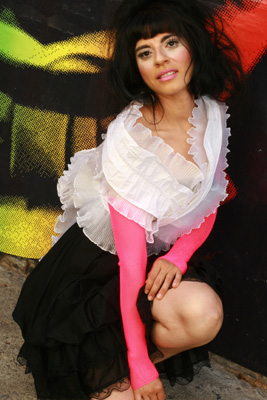 Betty Navas
Raw, edgy, and exuberant, Betty Navas brings energy and elegance to create an absorbing and fresh rock/pop sound.

Born and raised in Miami, Florida, Betty started to play piano at age 5, learned guitar at age 12 and hasn't looked back since. After moving to Los Angeles at age 19 she's had success playing in a Warner Brother's band, Heidi, had her own music in the Independent Film "Chance", by Amber Benson, and worked on the TV show "Music 2000" for Time Warner.

Betty is a stage performer at heart and has played at an array of popular venues such as The Gig, The Joint, 14 Below and The Cat Club. There's a palpable energy every time she steps on stage and the audience leaves always wanting more.

Betty's debut Album "SuperQueen" exemplifies her range as an musician and will surely put her on the map as an artist to watch for. This Super Queen is ready to wear the musical crown and isn't afraid of any obstacle in her path.

SuperQueen is definitely jumpy music- with a rocking stylishness. Think of your favourite rock band mixed with Avril Lavigne pop!

We asked Betty about her music success:

How do you feel when you hear your CD?

Betty Navas: I feel excited to share my personal experiences, feelings and experiencesthrough music. The feeling I get when I can't wait to share a piece of great news.


Who do you look up to?

Betty Navas: Anyone who achieves success at something they really want to do.


Describe your style?

Betty Navas: My music has a pop/rock vibe with a variety of different musical influences put in.


Where would we find you on a Sunday?

Betty Navas: I am either at home writing songs, working on my computer or performing live somewhere.


One rule you live by?

Betty Navas: To thine own self be true.


Did you have any pre-conceived ideas about the music industry?

Betty Navas: I used to think that there was a lot of marketing rules that people in theindustry followed. I now see that people in the industry often create their own rules as they go.


Do you write your own songs? What's your inspiration?

Betty Navas: Yes I write my own songs. I find inspiration most often in the people I meet and those that I am close to.


What music/artists do you listen to when you are not playing your own?

Betty Navas: Great question! There are too many artists I love to mention. I can listento everything from rock to rap, classical to country, r&b to pop.


What's next? Tour/Album/Single?

Betty Navas: Go on a tour to promote my CD.


Do you prefer performing live or recording?

Betty Navas: I really love both. If I had to choose it would be performing. I love theenergy of performing and sharing the excitement with an audience.


What/who was your inspiration to go into the music industry?

Betty Navas: My grade school music teacher, Mrs. Ryan. She taught her students to believe in doing anything you dream to do.


What is the biggest challenge you have faced along the way to your musical success?

Betty Navas: Staying completely focused on the big picture without getting too involvedwith the smaller details.


What has been your favorite part of becoming a music artist?

Betty Navas: My favorite part is the excitement of great opportunities to get my musicout to others


If you could collaborate with another artist, who would it be?

Betty Navas: I would love to collaborate with an artist like Chris Cornell or LindaPerry. I would also love to collaborate with a great producer like Rick Rubin.


Be sure to check out Betty Navas MySpace to see what is in store for the future.