CELEBRATE LIFE WITH CALIFIA!
Did you know that a plant-based diet can help you live an extra ten years? Combined with other factors such as not smoking and regular exercise, eating plants is proven to help you live a longer, healthier life by reducing the risk of heart disease and other health conditions while improving your overall wellbeing. Now is the perfect time to ditch the dairy and get on board the plant-based movement to see what all this goodness is about.
"Numerous studies consistently prove that a wholefood, plant-based diet is best for optimum health, and it's also the single biggest chance we have in the fight against climate change. Plant milks require much less water and land to produce than dairy milk and given there are so many different delicious plant milks to choose from now it really is easy for people to try dairy-free alternatives," says Greg Steltenpohl, founder and CEO of Califia Farms. "Even a simple switch such as swapping out dairy from your daily coffee for a plant milk like our new Oat Barista Blend, goes a long way in helping the environment and your health."
Plant milk facts and figures
The plant-based milk category in Australia has grown by 58 percent in two years.

Many plant milks contain more calcium, less sugar, no IGF-1 hormones, less calories and are easier to digest than dairy milk.

1 in 6 Australians are now going dairy free.

Different types of plant-based milks include almond, soy, coconut, oat, cashew, pea, hemp, rice and peanut milk.

Only one third of people produce the lactase enzyme which enables them to digest milk during adulthood.

Oat milk is the latest trend in the plant milk movement and in the US it's the number two dairy alternative of choice at coffee shops – surpassing soy and cashew.

One glass of Califia Farms Unsweetened Almond Milk uses over 40 percent less water to produce than the average dairy milk in the US (2018 study by Califia Farms and Universities of California at Davis and Santa Barbara).

A 2018 Oxford study found that plant-based milks, including oat and almond, require over 90 percent less land than dairy milk.

Adopting a plant-based diet is the single best way a person can help to reverse climate change.

In 2018 Australia ranked number one in the world for searching the word 'vegan.'
Try one of Califia Farms' plant milk beverages today and start your journey to feeling good!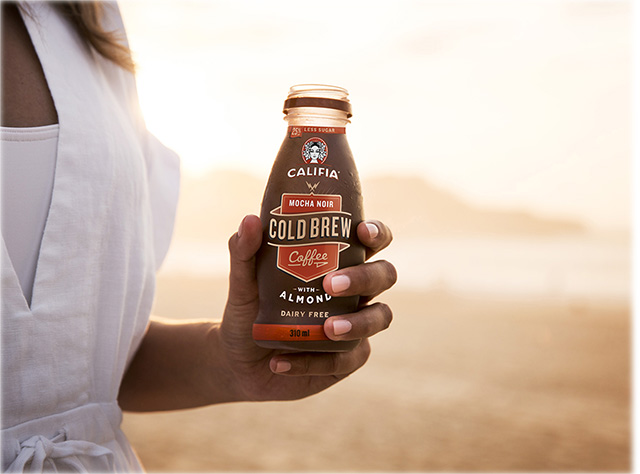 The Califia Farms plant milk range in Australia
All of Califia Farms plant milks and flavoured beverages are committed to low sugar with the Cold Brew Coffee drinks having 70 percent less sugar than other iced coffees on the shelf. Their new Oat Barista Blend also has twice as less sugar as other oat milk brands.
The current Califia Farms product range in Australia includes:
946ml Oat Barista Blend – a rich, creamy oat milk that baristas love using to create the perfect latte

946ml Almond Barista Blend

750ml Unsweetened Almond Milk

750ml Unsweetened Vanilla Almond Milk

750ml Chocolate Coconut Almond Blend

750ml Mocha Cold Brew Coffee

750ml XX Espresso Cold Brew Coffee

310ml Mocha Noir Cold Brew Coffee
About Califia Farms
Inspired by Queen Califia, the mythical namesake of the state of California, Los Angeles-based Califia Farms was founded in 2010 and has become one of the fastest-growing natural beverage companies in the U.S. Renowned for its artfully packaged and disruptive curvy bottles, Califia Farms makes a wide assortment of plant-based beverages including delicious plant milks and ready-to-drink cold brew coffee. Califia Farms is on the pursuit to return food to its original nourishing purpose by applying creativity and innovation to make plant-based beverages that are both good-for-the-world and just plain good to drink.
Instagram @CalifiaFarms @PourOver
Review: Loved the CalifiaFarms range, which has now joined my shopping list. With it's great taste Cold Brew Coffee has become a fast favourite in our household, and is a great start to the day for a little pick me up. Califia Almond is great in soothies, coffee and by itself.