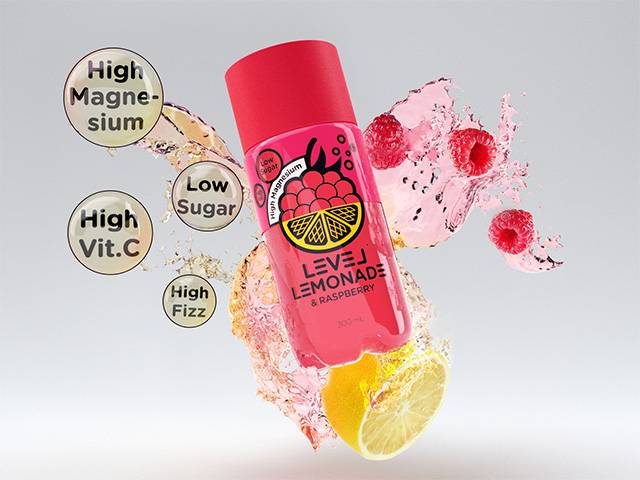 After having sold more than 700,000 bottles since its introduction last year, LeVel Lemonade has today announced the launch of their new variety of their "better for you" lemonade. Taking lemonade to a new level, the new Lemon&Raspberry addition to the range boasts a full 160mg of magnesium, plus it also includes 100% of your daily intake of Vitamin C, whilst being low in sugar.

Caitlin Read, sports dietitian, yoga teacher and exercise physiologist who works with elite athletes says, "It is essential to ensure you meet your daily magnesium and vitamin C requirements. These two essential nutrients play an important role in maintaining energy levels, reducing feelings of fatigue and normal psychological function. Vitamin C also plays a key role in keeping our immune system firing."

LeVel Lemonade is a premium carbonated formulated supplementary sports drink that is ideal for both the sport and fitness fanatic along with the health-conscious. The magnesium and Vitamin C contribute to a reduction in tiredness and fatigue as well as normal energy metabolism and psychological function. In addition, vitamin C is an antioxidant that works to reduce the damaging effects of free radicals.

"As a dietitian, I wouldn't normally recommend a carbonated drink to my clients but due to the ingredients and low sugar content, this is a "better" option, and who doesn't love a refreshing pink lemonade," adds Caitlin.

Stand out features of LeVel Lemonade:
High in Magnesium – LeVel Lemonade contains 50% of your daily magnesium requirements.

Low Sugar – LeVel Lemonade is 97.5% sugar-free.

High in Vitamin C – The tangy drink will provide the 100% recommended daily intake of Vitamin C!

High in Fizz – LeVel Lemonade has been carefully designed for consumers who like carbonated soft drinks but are looking for a healthier alternative.
LeVel Lemonade will be launched in Caltex and EuroGarage (Formerly Woolworths Petrol) nationally for a promotional price point of $3.00
#levellemonade
Review: Lemon & Raspberry, yes it actually goes well together, add in the low sugar, high magnesium and vitamin C and not only is it tasty, but guilt free. Switch and feel great that you can treat yourself without harm. Level Lemonade & Raspberry, smarter alternative without comprising on taste .