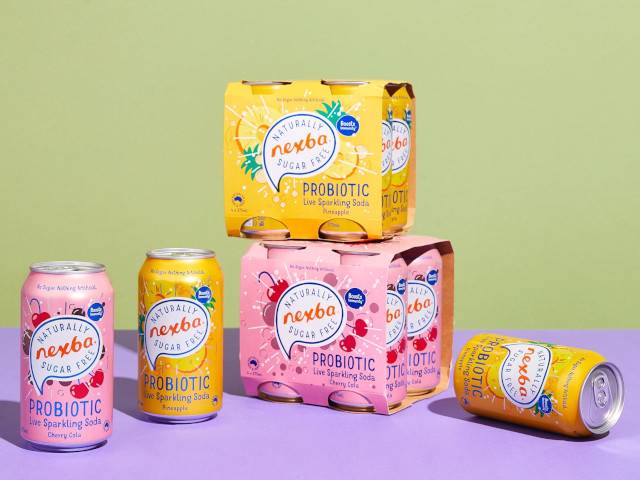 Aussie made and owned start-up success story, Nexba, becomes the first to bring a Probiotic Soda to the Australian market after overnight success in the US
Move over hard seltzer and kombucha, there's a new 'IT' drink in town. She's naturally sugar-free, nostalgically flavoured, has a billion probiotics in every can and is creating waves.

Nexba, Australia's leading Naturally Sugar-Free drinks brand has just launched its new range of Probiotic Sodas into Coles nationwide. The disrupter brand, started by two Aussie brothers-in-law in their early twenties, adds these new Probiotic Sodas to their list of innovative first-to-market wins in the healthy drinks space.

Probiotic drinks are one of the fastest growing categories in food and drink, with the number of Australians drinking kombucha growing a staggering 700% in recent years. And as probiotic awareness and immunity-needs become more mainstream, the US has seen exponential growth in the Probiotic Soda market with new disruptor brands arriving daily.

Available in Cherry Cola and Pineapple flavours, each 375ml can of Nexba Probiotic Soda contains 1 billion live probiotics, proven to boost immunity. The innovation duo behind Nexba, Troy & Drew, have been quietly working on perfecting their probiotic blend for years, frustrated by the lack of transparency in the market when it comes to efficacy.

"Not all probiotics are created equal. They are actually really fussy. Some don't like changes to humidity, acidity and temperatures. In fact, the majority often don't survive the journey from the supermarket shelf to your mouth and down to your gut. I think most consumers would be surprised by that!" said Drew Bilbe, Nexba Co-founder.

"To actually reap the benefits of probiotics, the strain needs to be extra hardy. That's why we spent years researching and innovating before discovering a special probiotic strain called Bacillus Coagulans. These probiotics are encased in a hard protein-like shell so they survive the journey to the gut and can stay alive in all temperatures. That's why we guarantee at least 85% of the probiotics in our drinks will make it to your gut alive," continued Drew.

As with all Nexba drinks the new Probiotic Soda range is 100% Naturally Sugar-Free. That means there's no sugar and nothing artificial in there at all.

"Nexba is all about the best of both worlds. Troy and I have believed since day one that health shouldn't mean sacrificing taste and vice versa. Life's too short! All of our products contain our globally patented Natural Sweetener Blend that more accurately matches the taste and feel of sugar in the mouth than anything else on the market. When you have a Nexba it's hard to believe it's healthy," continued Drew.

Nexba Probiotic Soda is available in Cherry Cola and Pineapple flavours at Coles. RRP $7.50 for a 4-pack. Nexba's Naturally Sugar-Free range also includes: Kombucha, Sparkling Water, Probiotic Water, Iced Tea, Soft Drinks, Tonic Water, Kefir, Switchel and Tepache. Nexba products are available at Coles, Woolworths, 7-Eleven and other retailers, as well as online at Nexba.com.