Helen Dao Be Fraiche
Be Fraiche is set to create an all-natural sensory skincare range that is worth your investment, makes your skin happy and your routine fun. Presented in clean on-trend packaging, each ingredient is hand-picked, lab-tested, and scientifically formulated. The Bean Scrub alone took 19 attempts to get right – such is Founder and Formulator Helen's dedication to providing effective and affordable all-natural skincare.

Having spent a few years living and studying in the south of France during her 20's, Founder Helen Dao was inspired by the subtle sophistication of French perfumes and wanted to create natural skincare that is affordable, effective and has divine scents. In 2014 Founder Helen Dao left behind her corporate career and enrolled in an organic cosmetic science school. In 2015, upon completing her Diploma in Skincare Formulation, she then travelled to Grasse, France, to learn about the art of perfumery. In 2016, Be Fraîche was born.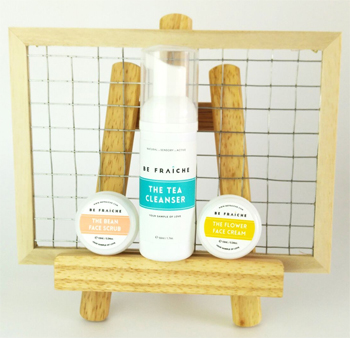 The Be Fraîche range includes products with fragrances crafted to create a complete olfactory experience ; The Bean Face Scrub ($29.00 RRP) - sense the sweetness of Japanese red bean, a best-kept Japanese beauty secret, The Flower Face Cream ($35.00 RRP) - imagine walking through a field of yellow flowers, and The Tea Cleanser ($26.00 RRP) - think of a comforting cup of tea. All products are free from parabens, sulfates, petrochemicals, PEGs, silicones, aluminium, synthetic fragrances and colourings, and there is no animal testing of any kind.

Review: I'll proudly join the group of Be Fraîche converts who originally weren't sure an all-natural skincare product could clean their face... If my face isn't heavily smothered with makeup, it's covered in sweat, which is why I previously stayed away from all-natural skincare products; I currently stand corrected. The Be Fraîche Cleanser and Face Scrub both gently cleaned my face and left my shower smelling delightful. I love that The Tea Cleanser is self-foaming as it takes away half the effort whilst still removing my make-up and sweat. The Bean Face Scrub was super soft on my skin yet still had the same results as harsher products - I even tried using the product as a mask #snapchatworthyphotos
The highlight of the range? The Seed Face Oil! Surprisingly the oil hydrated my skin whilst absorbing the product quite quickly (I didn't stay glistening for hours to come)... probably meaning my skin needed this product more than any of the others.
- Brooke Hunter
Be Fraîche Skincare is available at: www.befraiche.com