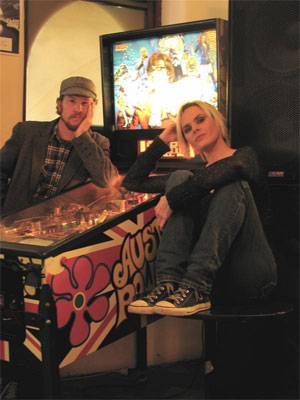 Little Pleasures
Little Pleasures are an indie rock due from Sydney; the duo contains Tania Murray, the vocalist, and Aaron Lawrie, the guitarist. The music is of the indie rock nature with a daringly quirky and dark sound.
The band has been gaining some attention as they recently were number one on the Triple J Unearthed Charts with their EP title track 'Everytime I Hear Rammstein'.
Little Pleasures EP contains everything you look for in music every different sense is evoked. Their music is so powerfully sweet and then rages into a musical darkness.
How did it feel to hear your song played all over the airwaves, on Triple J?
Tania Murray: MMMM.... not yet! ...Recently we were number one on the Triple J Unearthed Charts with a song called 'Everytime I Hear Rammstein'. It's was a real buzz to see our song in that spot!.. and a great way to get it out there, but it hasn't hit the airwaves as yet... We hope they'll play it but it's hard to know if they will or not.


Do you have any pre-conceived ideas about the music industry?Tania Murray: Yes, but there are good and bad pre-conceived ideas. Not everyone's going to like our music or have the same agenda for it as we do. It's early days for us and were very aware not to believe everything we hear about the industry, good or bad, because the bad can blow your dream right out of the water and there are so many 'opinions'. We know how important it is to believe in our product, which we do, without letting our heads swell. That's a good pre-conceived idea about the industry.


Do you write your own songs? What's your inspiration? Tania Murray: Aaron and I co-write all of our songs, apart from a few which I have written by myself. We write via email because Aaron lives in Newcastle and I live in Sydney. Aaron usually records a guitar / drum idea, emails it to me, then I come up with some lyrics and a melody. It works well for us. Even though we take each song seriously, the theme of the song is not often serious, which is a reflection of us as people. We get inspired by everything... life, other music and musicians.


What music/artists do you listen to when you are not playing your own? Tania Murray: Like most musicians we like to listen to "everything" J Aaron has introduced me to a lot of local artists like Cog, iOTA and Pre-Shrunk, all very different sounding Australian bands. These days I am also a big fan of electronica music and listen to a lot of German artists, that style of music is very big over there.


What's next? Tour/Album/Single? Tania Murray: Immediately - Get our EP out there and into as many hands as possible and not put all our eggs into one basket! In the meantime keep writing and working with our very wise Producer Melvin Tree, experimenting, gigging and grow. We would then like to become rich, famous and get chased by the Paparazzi, that's the main aim, jokes funny ha ha, we need to do an album before that happens.


Was there a moment you contemplated throwing in the towel? Tania Murray: No, but it's not easy. The admin side of music is very boring for us, not our cup of tea AT ALL. But it's part of what we do. Writing and recording over shadows all of that, even though they are challenging to sometimes.


Do you prefer performing live or recording? Tania Murray: I always thought I would prefer the live atmosphere, but I have to say there is something more thrilling to me about being a studio. It's a severe bonding experience with the songs and the people around you. It's like science lab sometimes... with ideas bubbling away furiously whilst amps and other recording gear sit patiently, flashing... humming ...I think Aaron feels the same way about recording although our first full band gig together is next week! Maybe ask me again after that J


Who inspired you to get into the music business? Tania Murray: For me it was my Dad. He was a singer in band in his early 20s. He introduced me to some of my favorite artists like Simon and Garfunkel and The Rolling Stones (of course). I think Aaron was born with it! He used to run around his living room at the age of five with a toy guitar playing along to Kiss records.


What is the biggest challenge you have faced along the way to your musical success? Tania Murray: I am completely deaf in my right ear, which can make hearing defined sounds very hard for me, I think I miss a lot and am not very helpful in the mixing process. And I cannot hear things in stereo which sucks because people are always telling me how great some albums sound in stereo like Radiohead OK Computer.


What has been your favorite part of becoming a music artist? Tania Murray: Writing a song, then watching the song grow from a very fragile demo that has been modestly recorded in our bedrooms, to a song with absolute posture that is worthy of air play anywhere in the world.


If you could collaborate with another artist, who would it be? Tania Murray: Eeeeeeeeeeee hard question because I am easily intimidated... but I would have to say lyrically Placebo and musically Mozart (in an electronica style of course :)


Little Pleasures EP will soon be available to buy through itunes, CD Baby and many other online stores.