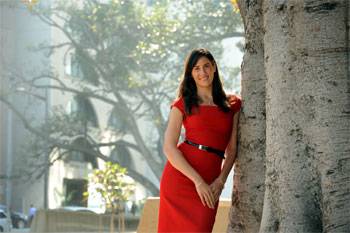 Melanie McGrice Food Allergies and Intolerances Interview
Enjoy Life Foods, the leading brand in the -free-from' foods category, is set to revolutionise snacking options in Australia for those suffering from allergies and intolerances by bringing its allergy-friendly snacks to Australia later this month. The -free-from' category leader in the US is launching with two of its signature products – Crunchy Cookies and Chewy Bars – providing more choice for those managing allergies and intolerances than ever before with delicious treats that have taken the US by storm.

Australia has reported a dramatic rise in food allergies in recent years, with 1 in 5 currently living with food allergies and intolerances. In addition to that, 1 in 3 of these allergen/intolerance sufferers have more than one allergy, while 10 per cent of infants develop a food allergy. These rates are similar to those in the US, making Australia a natural market for Enjoy Life Foods to bring its unique brand to.

Enjoy Life Foods is the -free-from' category leader in the US and the number one allergy-friendly brand across six categories. None of its products contain genetically modified organisms (GMO) and they are all free from the seven main allergens in food – wheat/gluten, dairy, peanuts, tree nuts, egg, soy and fish – which account for 90 per cent of allergies. This is a first in the Australian market and offers Australians, especially those with a food allergy, snack options they have never had before.

Enjoy Life Foods' tasty, worry-free Crunchy Cookies are infused with an addictive crunch and indulgent flavour. Chewy Bars, perfect for breakfast or as a midday snack, are packed with essential vitamins and minerals. The treats will be available in the following tasty options:

182g Chocolate Chip Crunchy Cookie
182g Dark Chocolate Chip Crunchy Cookie
182g Vanilla Honey Crunchy Cookie
140g Mixed Berry Chewy Bars
140g Cocoa Choc Chip Chewy Bars
140g Roasted Sunflower Seed Chewy Bars

www.EnjoyLifeFoods.com

About Food Allergy Week
Australia has one of the highest rates of food allergies in the developed world and it is increasing at a frightening rate. Community education is essential to help prevent severe allergic reactions including fatalities. This year Allergy & Anaphylaxis Australia are encouraging Australians to take the time to know the signs and symptoms of allergic reaction and to support community education by donating - just text ALLERGY to 0455 021 021.



Interview with Melanie McGrice, Enjoy Life Foods ambassador and Dietician
Question: What are your favourite Enjoy Life Foods products?

Melanie McGrice: My favourite would have to be Roasted Sunflower Seed Crunch Bars, but Enjoy Life Foods offers a range of delicious chewy bars and cookies. Enjoy Life Foods is the leading brand in the -free-from' foods category and is set to revolutionise snacking options in Australia for those suffering from allergies and intolerances by bringing its allergy-friendly snacks to Australia later this month. Launching with two of its signature products – Crunchy Cookies and Chewy Bars – Enjoy Life Foods is more choice for those managing allergies and intolerances than ever before with delicious treats that have taken the US by storm.


Question: What advice do you have for food allergy sufferers?

Melanie McGrice: • Learn how to read food labels so you can be aware of ingredients in foods that you may be allergic to.
• See a health care professional - it is important for anyone with a food allergy to be under the care of an allergy specialist. If you are pregnant or planning to conceive a Dietician can advise you on the best strategy on how to minimise the risk of your child developing food allergy.
• Keep some allergen-free snacks in your handbag for occasions where you may not be able to access allergen-free foods. The Enjoy Life Foods Chewy Bars are perfect for this!


Question: What foods are Australians most commonly allergic to?

Melanie McGrice: The most common allergens in Australia are: milk, eggs, fish, shellfish, tree nuts, peanuts, wheat and soy. Enjoy Life Foods products are therefore free of all of these common allergens.


Question: Can we prevent our infants developing food allergies?

Melanie McGrice: Yes, research shows there are a number of strategies to prevent allergies in infants. These include meeting omega 3 requirements throughout pregnancy, introducing solids to your baby between the 4-6 month window and partial breast-feeding through to 12 months.


Question: What should we do, if we expect someone to be having a severe allergic reaction?

Melanie McGrice: Knowing how to respond if someone has anaphylaxis could save their life.
1. Lay person flat and raise their legs if possible (if breathing is difficult allow to sit)
2. Administer the adrenaline autoinjector (EpiPen)
3. Call an ambulance
4. Call their emergency contact
5. After 5 minutes, if there is no response or their condition is worsening, administer a second adrenaline autoinjector (if available)

Learn what to do with this animation http://bit.ly/UsingAnEpiPen


Question: How can we be less complacent regarding allergies and intolerances?

Melanie McGrice: Allergies can be a life-threatening condition so it's important for everyone in the community to be aware of the signs and symptom. You can view a video on how to learn the signs here: https://youtu.be/QYsMTzJYITc


Interview by Brooke Hunter