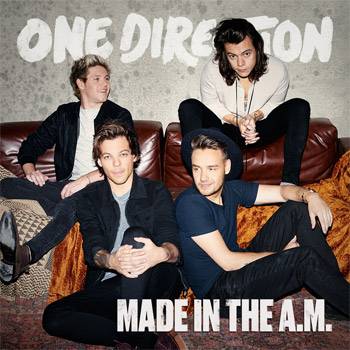 One Direction Made In The A.M
Following on from the massive success of first single -Drag Me Down' which went to #1 on 90 iTunes charts, broke streaming records globally and is certified Platinum in Australia, One Direction today announce their hugely anticipated fifth album Made In The A.M..
The band announced the album with a video message and the album pre-order went live today at 2am AEST, with the full album being released globally on November 13th. MADE IN THE A.M. is currently sitting at #1 on the iTunes album chart.
To celebrate the launch of the album, One Direction have released a track from the album as a special surprise for anybody who pre-orders the album or streams through online retailers.
The song, 'Infinity', is an epic and rousing slice of guitar pop written by John Ryan, Jamie Scott and Julian Bunetta, the team behind One Direction's massive hit 'Story Of My Life'.
Continuing to showcase a more mature sound for the band, 'Infinity' provides a taster of what to expect from the upcoming album.
This week One Direction kick off the UK and EIRE of their 'On The Road Again Tour' with six nights at London's O2 Arena, as well as headlining Tuesday night's Apple Music Festival at the Roundhouse in London.