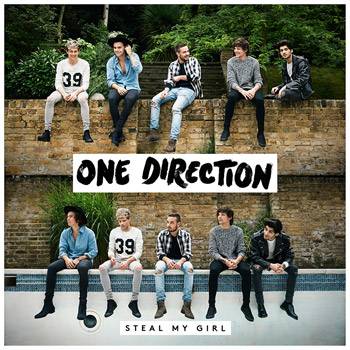 One Direction Steal My Girl
Check out the first teaser for One Direction's brand new single, Steal My Girl on their Facebook: https://www.facebook.com/onedirectionmusic
Globe conquering pop band One Direction announce -Steal My Girl' as the first single from their eagerly anticipated new album Four. -Steal My Girl' is set to be premiered on Australian radio on Tuesday September 30th and released that same day through Sony Music Entertainment Australia.
Over cascading stadium piano chords, -Steal My Girl' shows the band continuing to expand their influences and song-writing ability while retaining their widescreen pop sound. -Steal My Girl' is written by Louis and Liam with Ed Drewett, Wayne Hector, Julian Bunetta and John Ryan – the collaborative team behind last year's massive -Best Song Ever' – and is produced by Bunetta, Ryan and Paro Westerlund.
FOUR was announced earlier this month and fans have already had a taster of it with -Fireproof', which became the most downloaded free track ever in the 24 hours it was available. FOUR then debuted at number one in the iTunes album charts in 65 countries including Australia in its first 24 hours of being made available for pre-order – comfortably beating third album MIDNIGHT MEMORIES, which debuted at the top in 39 countries and went on to become the top selling album of 2013 worldwide.
With a staggering 94 number ones and over 46 million records sold, One Direction have in just four short years gone from energetic pop upstarts to international superstars. As the band's song writing becomes more personal with each record, FOUR is set to be their most stunning yet. The album follows the global success of their huge sell out Where We Are stadium tour, which will be shown in cinemas globally for one weekend only on 11th and 12th October and released to DVD on Friday November 28th through Sony Music Entertainment Australia. Add all this to their 3 billion YouTube views, 110 million combined Twitter followers and 34 million Facebook fans and it's clear that Liam, Harry, Louis, Niall and Zayn genuinely are a worldwide phenomenon.
FOUR will be released globally on November 17th 2014 and fans can receive -Steal My Girl' instantly from September 30th if they pre-order the deluxe album on iTunes.