Calling all Cool Chameleons
PJ Masks are on their way, getting ready to save Christmas Day!

By day, six-year olds Connor, Amaya and Greg go to school like everyone else. As night falls, they put on their pyjamas, activate their amulets and magically transform into heroes; Catboy, Owlette and Gekko - the PJ Masks!

As Australia's hottest brand for preschoolers, Entertainment One's (eOne) PJ Masks are destined to reign supreme as the No. 1 request for under the Christmas tree this year. Want to know what your PJ Masks fan wants to unwrap on Christmas morning? This list is tip top! Watch out night-time baddies – the PJ Masks are on their way, into the night to save the day!

PJ Masks Catboy Ride On With Sounds
The Catboy Cat-Car Ride On is a fun scooting mobile designed to look just like the car from PJ Masks. The iconic Catboy shield shaped handle bar features two buttons that activate lights and sound effects. It even plays the PJ Masks theme song! Peek inside the windshield to see who's driving - a 3D Catboy figure in front, alongside his friends Gekko and Owlette. Also featuring a comfortable seat and extra wide wheels to help with stability.
Available now from Big W for $59.95.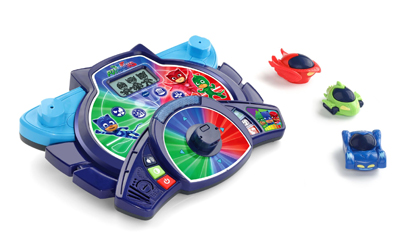 PJ Masks Super Learning HQ
Welcome to the PJ Masks Super Learning Headquarters by VTech. Switch between three different play modes and swap the PJ Masks vehicles around to control the on-screen action in different missions with either the Cat-Car, Gekko-Mobile or Owl Glider. Includes 12 exciting activities that will help to reinforce the learning of science, geography, food, matching, problem solving, letter order, memory skills and more. Press the three characters to see fun animations, interactive light effects and character responses. Features PJ Masks theme song, real character voices and sounds effects.
Available now from Big W, Target, good toy stores and online retailers for $49.95.

PJ Masks Hooray for Christmas!
The PJ masks will have you shouting ''Hooray for Christmas!'' with this new Christmas-themed colouring and activity book. Decorate Headquarters to look like a Christmas tree or match each villain to their Christmas stocking, plus lots more festive fun. This 48-page colouring and activity book starring the PJ Masks also has over 30 holiday and hero stickers!
Available now from Big W, Kmart, Target and all good newsagencies and bookstores for $7.99.

PJ Masks Transforming Figure Set
With the push of a button, watch your favourite PJ Masks characters turn into a night-time hero! The PJ Masks Transforming Figure Set includes two poseable figure and one transforming play set. Just place the 3" figures on either side of the transforming figure set and press the button on top to watch the transformation! Each Transforming Figure Set includes one transforming play stand and two figures: daytime kid persona and night time hero persona. Each set sold separately. Ages 3+
Available now from Big W, Target, Kmart, Myer, Toyworld, Toymate and Kidstuff for $29.99.

PJ Masks Turbo Blast Racers
These are the ultimate PJ Masks racing vehicles! The PJ Masks Turbo Blast Cars feature a sleek design, deluxe accents and comes with one 3" figure. Choose from Catboy, Owlette or Gekko, each dressed in an exclusive Turbo Blast outfit equipped with matching racing helmet!
The Turbo Blast Car can fit one PJ Masks 3" figure inside. Ages 3+
Available now from Big W, Target, Kmart, Myer, Toyworld, Toymate and Kidstuff for $24.99.

PJ Masks Rev N Rumblers Trackset
Romeo has devised his next brilliant plan to take over the world and it's up to Catboy to stop him! Shake, place the car on the track, and use the launch pad to propel Cat-Car and Romeo's Lab on an action-packed, nighttime adventure, race to the finish line. Be on the lookout, because Romeo isn't working alone! Luna Girl is on her hoverboard ready to lift the bridge to reveal a secret lower track, and Night Ninja can pop up at any time with his band of Ninjalinos!
Available now from Target, Kmart, Myer, Toyworld, Toymate for $89.99.

PJ Masks Milk Chocolate Advent Calendar 65g
Celebrate the countdown to Christmas with a milk chocolate behind every window, from December 1st up to Xmas Eve! There's also a cool cut out Memory Game activity on the back of the pack.
Available now from Woolworths, Big W, Target, Selected IGA for $3.00.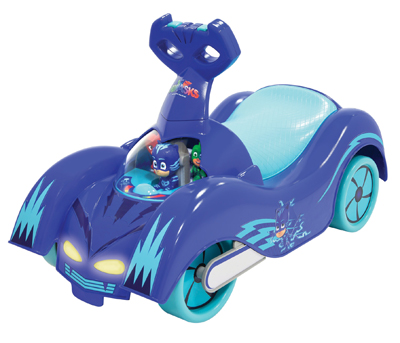 PJ Masks Christmas Stocking 200g
This quality satin Christmas stocking comes packed full of fun toys, stickers, and mini jelly beans (with no artificial colours!).
Available now from Aldi, Big W, Target for $8.00.

PJ Masks Feeding and Snack range
Dinner time will go at super-cat-speed with the PJ Masks mealtime and snack range including:
PJ Masks Melamine Plate - 100% melamine plate for $5.00
PJ Masks Melamine Bowl - 100% melamine bowl for $5.00
PJ Masks SS Cutlery - 2-piece stainless steel cutlery set with spoon and fork for $6.00
PJ Masks 473mL SS Bottle - 473mL stainless steel bottle with pull out spout for $11.00
Available now from Woolworths with prices starting at $5.00.

PJ Masks Ooshies
Your Favourite PJ Masks characters have just been Ooshed! Collect all 16 characters including the limited edition Metallic Catboy. These cute little Ooshies can fit on a pencil or a crayon! Ages 3+
Available as of 20 November 2018 from Big W, Kmart and Toymate for $3.99.

PJ Masks Hello Christmas! DVD
Join Catboy, Owlette and Gekko on their night time missions, into the night to save the day! This Limited-Edition DVD is Christmas themed, making it the perfect gift or stocking stuffer for dedicated PJ Masks fans.
PJ Masks DVDs are available from amazon, Big W, Coles, JB Hi-Fi, Sanity, Target and Woolworths from 24 October 2018 for RRP $19.95.

For more information on PJ Masks DVD titles and stockist details, visit https://www.eoneanz.com.au/television/.