Sheer Relief
Australia's leading support hosiery brand unveils a premium sheer hosiery collection exclusive to department stores and boutiques, reelecting Sheer Relief's trusted expertise in compression with an even more beautiful silky leg.
The Sheer Relief range offers world-leading graduated leg compression to improve blood circulation and eliminate tired, heavy legs, making it the ideal solution for women on the go.
The Sheer Relief Support Pantyhose feature a beautifully silky sheer 30 denier leg, offering superior coverage, durability and comfort to give a chic spring in your step all day long. Factor 8 compression is graduated from the ankle up to the carves to optimize circulation and energy. The Sheer Relief Support Pantyhose is available in Natural Tan, Ink Navy and Black.
Stay one step ahead with the Sheer Relief Support Knee Hi offering factor 10 compression for superior leg health. The Sheer Relief Knee Hi is ranged in the sophisticated tones of Natural, Ink Navy and Nearly Black.
The Sheer Relief Opaque Tights will now also allow you to look after your legs through winter. With level 8 compression and a luscious 70 denier leg, the Opaque Tight will keep you sleek, chic and warm all season long. Combing the massaging effect that only compression hosiery can bring, fashion just took a spritely leap forward with the Sheer Relief Opaque Tight.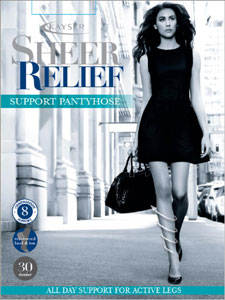 From $12.95 and available exclusively from department stores and boutiques, the Sheer Relief range is the Winter wardrobe essential you've been waiting for.