Australia's Next Top Model Spring Summer 2012 Collection
Australia's Next Top Model (ANTM) and Factorie are giving Australian girls the opportunity to continue their love affair with model fashion, releasing the ANTM Spring/Summer 2012 collection.

Just like the hit television series, the ANTM range just keeps getting better, says Cindy Linke, fashion buyer for Factorie.

'The first phase of the range has proven popular with young women and teenage girls alike, who have enjoyed being on-trend, without the designer price tag.

'The Spring/Summer collection has built on the launch collection with abroader, brighter fashion-forward colour palette. Girls who fell in love with the first range will adore the new season pieces.
'The ANTM momentum builds every week as the competition heats up on television, and we've certainly noticed the spike instore," she said.

Launching instore in late September, the second range continues to build on the stylistic theme of the first collection – fun, street-chic, ultimate off-duty model style - yet has organically shifted with the season into a traditionally more feminine, spring time colour palette.

Fresh from the catwalks, the range features shades of taupe, blush and coral-pink, adding a pretty pop of colour, fusing a cool mix of oversized and fitted pieces.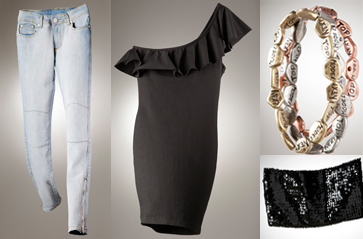 The range features a strapless denim bodice; a relaxed-knit slouched cardi, entwined with a faint gold thread; faux leather shorts; a pleated black, georgette skirt; a sequinned bandeau; and patterned, statement sleeveless blouse - all which can be styled individually, or layered to achieve an inspired, mismatched look. Top Model fans can accessorise the clothing with the brand new jewellery collection, featuring statement pieces such as a chunky peacock ring and a charm necklace.

The ANTM fashion range is available exclusively through Factorie with prices ranging from RRP $29.95-$79.95.