Collette by Collette Dinnigan SS12 Lingerie
Collette by Collette Dinnigan lingerie launches the new Spring/Summer 2012 collection exclusively at David Jones from July, 2012.

Glamorous and enchanting, the Spring/Summer lingerie range combines elegant style with the detailed design quality that Collette by Collette Dinnigan is loved for.

Each piece from the new collection features intricate detailing, luxurious fabrics and flawless finishes across a range of colour palettes such as opulent dark hues and leopard print. Arriving in-store from July, the Spring/Summer fashion styles include padded bras, balconette bras, briefs, g-strings, boy shorts and chemises across four striking stories, including:
Rouge Chic Silk in pink leopard
Champagne Rose in black/pink
Affaire in black/skin, and
Chic Savage in leopard and summer leopard

Collette Dinnigan is also pleased to announce the launch of her new bridal lingerie collection in September. The bridal range includes two stunning stories of ivory silk and lace lingerie, intricately designed to complement every woman on her special day.

Another exciting announcement from Collette Dinnigan is the introduction of her -Couture Control' shapewear collection; beautiful lingerie pieces designed to shape and sculpt the figure without compromising elegance and style.

The first shapewear range is the Dentelles Sculpt story, featuring control briefs, strapless bras and plunge bras to smooth and enhance the figure. Dentelles Scupt is manufactured with unique power mesh fabrics to shape the figure, all with delicate floral lace overlay and smooth tailored trims.

Find the perfect lingerie for all occasions with the Spring/Summer collection from Collette Dinnigan, one of Australia's most iconic designers.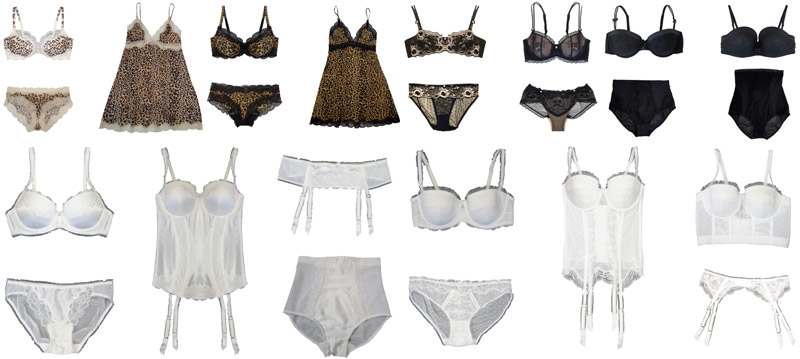 Price range:
Bras: $69.95 - $99.95
Bikini briefs: $29.95 - $49.95
Boy shorts: $44.95
G-Strings: $24.95 - $39.95
Chemises: $99.95 - $119
Bridal bustiers: $150 - $225
Suspenders: $44.95 - $49.95
Control briefs: $44.95 - $69.95

Stockist: David Jones, phone 13 33 57
Sizes: Bras: 12B to 14DD
Briefs, g-strings, boy shorts and chemises: 10-14