Australia's Biggest Names in Fitness and Wellness Rally Together for an Unmissable Event
The Fitness Show is back for its 6th Year, coming to Melbourne 26-27 October 2019. Don't miss out on securing your tickets now!

The Fitness Show is returning to Melbourne for its 6th year, bringing together some of the biggest fitness, health and wellness celebrities and brands in Australia, to promote the latest in fitness education, technology, health foods, sports nutrition, group fitness and fitness apparel.

High-profile fitspo talent announced so far includes, Laura Henshaw, Steph Claire Smith, Andrew Papadoupolus, Chontel Duncan, Dannibelle, Dann Conn, Ellice Whichello, Sophie Guidolin, Luke Hines, and Rob Forte, Kwame Duah, with more top talent to be announced in the lead up to the event. Visitors will be able to listen to expert talks, workout with their favourite influencers and meet and greet with each special guest.

Big name exhibitors released to date include: Blue Dinosaur, YoPRO, Halo Top, Happy Way, Spartan Race Australia, Chemist Warehouse, Goodlife Health Clubs, Musashi, PranaOn, with many more names to be released in the coming weeks!

Australia as a nation continues to have a huge appetite for fitness, with research indicating that by 2022/23 fitness industry revenues will grow to $2.4 billion. The aim of the Fitness Show is to feed this appetite in a positive way, by creating a supportive and inclusive space, housing the best players in this sphere under one roof. The event provides the opportunity for attendees to be inspired and educated about all things fitness and wellness relayed by the best in their fields. The show attracts not only industry professionals and hardcore fitness lovers, but the mainstream fitness audience too, who are keen to follow an active lifestyle and learn more.

The event will showcase the biggest trends that are continuing to emerge in the health and fitness world for 2019. These include strength training, body scanning and measurement devices, vegan and sustainable/ethical brands (which will continue to feature and gain in mainstream popularity), boutique fitness, group training and high intensity interval training.

Director of The Fitness Show, Shaun Krenz, says, "We have had two amazing shows already this year in Sydney and Brisbane. We are excited to now finish off 2019 by bringing the show to Melbourne, which will be another event comprising of several passionate communities all coming together under the one common theme of Fitness. Set to feature over 100 exhibitors showcasing the latest and greatest that Fitness has to offer, Melbourne Fitness enthusiasts should brace themselves for the ultimate Fitness experience."

To ensure the show appeals to its multi-faceted audience, the Fitness Show will be offering two different zones at the event:
Strength: Push yourself to new levels as you meet the greatest bodybuilders and fitness influencers. Learn new splits, movements and discover the gains you're going for in the ultimate weekend at the Fitness Show. Activations will include Muscle Beach, a fully equipped "Venice Beach" style gym set up, where visitors will witness live workouts from some of the biggest names in fitness. The Muscle and Model Stage will be back once again (home to ICN championships), showcasing the best in natural muscle and sport modeling. Additionally, there will be a Powerlifting Arena and Calisthenics Playground.

Active: Mindfulness, physical health, wellness and a bit of cheeky shopping combine in the Active Zone at the Fitness Show, and promise you'll leave feeling motivated! Sweat it out on the Fit-Fest Stage, sponsored by YoPRO, and participate in a workout led by fitspo influencers. You'll also be able to check out the Wellness Hub, sponsored by YoPRO, which offers free health & wellness seminars and cooking demonstrations from Australia's leading ambassadors and influencers. Also, new for 2019, Spartan Australia will bring their obstacle course to life on the show floor for aspiring Spartans to try!

The Fitness Show received incredible support in Sydney and Brisbane earlier this year, and is now set to be the unmissable event of the year for Melbourne residents that are wanting to be at the forefront of the trends in the health and fitness industry. Don't miss out on securing your tickets now for the Fitness Show Melbourne, 26-27 October 2019.

The event is open to trade and the general public from 10am – 5pm daily at the Melbourne Convention and Exhibition Centre . For more information visit fitness-show.com.au and follow Facebook and Instagram for updates on features, timetables and confirmed celebrities.


Interview with Sophie Guidolin
Sophie Guidolin will be just one of the high profile talent at The Fitness Show Melbourne this year held between the 26-27th October. The Fitness Show is set to be the unmissable event of the year for those wanting to be at the forefront of the trends in the health and fitness industry. Don't miss out on securing your tickets now.

Question: What should we expect from at The Fitness Show?

Sophie Guidolin: The Fitness Show is a high energy event, with free workouts, recipe demos, meet and greets, products and discounts, new releases - essentially everything you could ever ask for if you love fitness!


Question: Can you tell us about your role at The Fitness Show?

Sophie Guidolin: I have taken part in The Fitness Show for the last seven years, even before the name change! I will be taking participants through a workout from my app, The Bod, as well as doing some awesome nutrition talks and recipe demos alongside my son, helping mums with the difficulty of aiding them with lunchbox ideas and recipes- straight from the source!


Question: What do you enjoy most about appearing at The Fitness Show?

Sophie Guidolin: Meeting everyday women and putting faces to names to those I spend a lot of time interacting with online. I feel incredibly blessed to be able to include my son in this, this year.


Question: Is there anything specific you're looking forward to in Melbourne?

Sophie Guidolin: The incredible food and coffee, I love The Atlantic - a prawn pasta and oysters are my go-to post fitness show meals!


Question: How do events like The Fitness Show keep you motivated?

Sophie Guidolin: Wearing my active wear in front of thousands is pretty good motivation. Getting to meet everyday women and have that positive face to face feedback really reiterates why I do what I do. With the industry ever changing, these events also showcase new products, trends and just really bring the energy - it refreshes my zest and passion for it all.


Question: What advice do you have for Aussies who loose motivation to exercise?

Sophie Guidolin: Allow it to become a routine, when you cannot workout due to illness; stretch, meditate, walk, journal - anything to stick to that routine as it will allow you to get into the routine.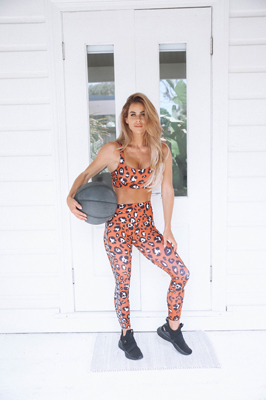 Question: How did you originally find your own passion for health and fitness?

Sophie Guidolin: I am a mum of four (yes, crazy, I know!) who six years ago wanted to change the way I felt about myself, not only physically, but to feel strong rather than tired and lethargic.

Exercising was originally something incredibly foreign to me – I had never stepped foot in a gym and didn't enjoy the feeling of pain or sweat or pushing myself – until I had my kids and needed an outlet that allowed me to focus on something for myself. I found the more I exercised, the better I felt, the happier I became and, to my surprise, the more energy I had!

After falling in love with the feeling of exercise, I wanted to help others feel the same way, so I studied personal training and nutrition. It is the most rewarding job in the world to watch others transform.


Question: What's a typical day like, for you?

Sophie Guidolin: CRAZY! Chaotic. I have 4 kids + business and staff so life is quite busy. There is a lot that goes into my work so no two days are the same. I aim to workout for 30 minutes, ideally before my kids wake up so I can spend time with them before they go to school and I get into my work day. Afternoons I like to check in with them on how their days were and the boys usually love to give me a hand with dinner which I adore. After everyone is asleep, I usually finish off anything that needs completing from the day, before having some me time. This is an ideal week day, as I said though; no two days are the same!


Question: Do you find that keeping to a schedule makes it easier to fit exercising into your busy life?

Sophie Guidolin: Yes, I am a huge diary girl! We have a family diary that we live by to function, I also then have a personal digital diary and then an internal business diary with every movement in it - it ensures everything gets done!


Question: What's next for you?

Sophie Guidolin: Stay tuned, I am pivoting a little, but aiming to continue to add new recipes into my app at every turn. I am loving being back in the kitchen cooking more and more. I have actually just launched my brand new vegan in app recipes and my desktop version of THE BOD APP - a game changer for those who don't have an iPhone.


Interview by Brooke Hunter