Teresa Palmer The Choice
Cast: Teresa Palmer, Tom Welling, Alexandra Daddario, Maggie Grace
Director: Ross Katz
Genre: Drama, Romance
Rated: PG
Running Time: 111 minutes

Synopsis: Based on the emotional and inspiring novel by literary superstar Nicholas Sparks, The Choice chronicles the power of love from a young couple's rocky first meeting to a life-long romance that will be tested as their lives take a turn that neither of them ever anticipated.

When feisty medical student Gabby Holland moves in next door to perennial ladies' man Travis Shaw, they embark on a surprising romantic journey neither imagined possible. Travis has always believed a serious relationship would cramp his easygoing lifestyle, while Gabby is preparing to settle down with her long-term boyfriend"until an irresistible attraction between the unlikely couple upends both of their well-planned lives. Spanning a decade and tracing the evolution of a love affair that is ultimately tested by life's most defining events, this story features a memorable ensemble of friends and family in Sparks's beloved North Carolina setting, culminating with the question that every couple must ask themselves: how far would you go to keep the hope of love alive?

The Choice
Release Date: Feburary 4th, 2016



About The Production
With his latest film, The Choice, internationally best-selling author Nicholas Sparks returns to his beloved North Carolina roots for an inspiring love story about the unexpected choices, large and small, that come to define a lifetime. One of the world's most popular storytellers, Nicholas Sparks has topped the New York Times bestseller list since 1996 when his first novel, The Notebook, became a runaway hit. Since then, his books have sold over 100 million copies worldwide and have been translated into more than 50 languages.

Touching, emotional and deeply affecting, his books have also become the basis for a series of hugely successful movies including this year's The Longest Ride, as well as The Best of Me, Safe Haven, The Lucky One, Message in a Bottle, A Walk to Remember, The Notebook, Nights in Rodanthe, Dear John and The Last Song. To date, films based on Nicholas Sparks' inspirational stories have grossed over three-quarters of a billion dollars and have helped launch the film careers of a generation of young actors, including Channing Tatum, Ryan Gosling, Mandy Moore, Rachel McAdams, Zac Efron and Amanda Seyfried.

The Choice, the 11th film based on Nicholas Sparks' work, challenges audiences to consider what they would do for a chance at a lifetime of love, as they watch Travis Shaw and Gabby Holland journey from the first disorienting flush of passion through an unexpected courtship that evolves into marriage and a family.

'The Choice may remind people of my very first novel, The Notebook," says Nicholas Sparks. 'A couple comes together and we watch their lives unfold. We see what eventually happens between them and the choices they make. Watching it, you may think the title refers to a choice that occurs early on, but there are plenty of twists and turns that make the story even more memorable and profound."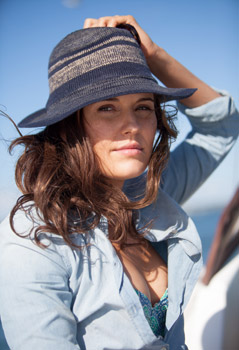 Nicholas Sparks Productions, launched in 2012 with Theresa Park, Spark's longtime literary agent and creative partner, oversaw the making of The Choice, the company's first feature film. 'This is one of my favorites of Nick's books," says Park. 'It's among the most joyful, devastating and redeeming. Our goal is to capture the lives of these wonderful characters in a way that is less idealized and more grounded in real life. As always, there is an aspirational quality to this film, but in a way that feels very real and very attainable " you feel like this could happen to you."

Working with Nicholas Sparks, the master of old-fashioned romance, on a fresh, new look at the beloved genre brought producer Peter Safran into the fold. 'There are never enough good love stories out there," says Safran. 'We deal with time-honored themes in the way that only Nicholas Sparks can. Nick taps into feelings that we all experience, which is what I love about his work. He's wonderful at creating compelling situations in which two people you want to be together have to overcome almost impossible hurdles. The Choice takes all of that to the next level."

Making a film outside the studio system gave them the opportunity to elevate the genre, Safran explains. 'There have been some wonderful films made from Nick's work, but we didn't want to do the exact same thing again. This movie feels completely current. I love romantic comedies, so I wanted to approach The Choice with heartfelt humor, as well as passion and pathos."

With that in mind, the filmmakers brought in Bryan Sipe, a young screenwriter whose recent romantic comedy, Demolition, debuted at the 2015 Toronto Film Festival. The New York-based, North Carolina-educated writer brought a contemporary perspective, as well as an ear for crisp and fresh dialogue, while shining a brighter light on the supporting characters.

'It became important to me to create a world around Travis and Gabby, while I stayed true to the original characters and themes," he says. 'So I gave Travis's family and close circle of friends more prominence as a way to share some of his history and show the world he comes from. I knew if I got that right, the fans would follow."

Nicholas Sparks and his fellow producers were fully supportive of Sipe's ideas. 'When you're adapting a novel for the screen, there are always changes that need to be made," the author says. 'Bryan gave us a reason to assemble a fantastic ensemble cast, but the essence of the story remains, which is the best of both worlds."

Sipe says he prefers writing scripts in which the most impressive pyrotechnics come from human emotion rather than big-ticket special effects. 'And what is more quintessentially human than falling in love? As I got to know Gabby and Travis, I began to look forward to spending the day with them and watching their love grow. But this kind of relationship works best the longer you keep them apart and the more obstacles they have to overcome, so I couldn't make things too easy for them."

The producers agree that Sipe's adaptation added depth to the original story. 'The screenplay is genuinely funny," says Safran. 'The second act is hot and sexy as Travis and Gabby discover this irresistible attraction. And then the third act is really intense drama. Throughout, you have two people falling in love and making the difficult choices that can go along with that. Every step of the way, it feels real."

The producer continues, 'Nick and I were both really blown away by the job he did. He turned this into a much more of an ensemble piece with a younger, hipper feel. He stayed true to the characters and what draws them together, while adding tension, humor, romance and passion."

The priority for choosing a director, Nicholas Sparks says, was finding someone with a vision for the film that matched the potential that he and his fellow producers saw, as well as the experience to realize that vision. They found that and more in Oscar® nominee Ross Katz (Best Picture, In the Bedroom, 2001; Best Picture, Lost in Translation, 2003), he says. 'He brings North Carolina alive. He's great with actors. In his hands, it's immediately obvious why Gabby will risk everything for Travis and at the same time you can see why Travis can't pull himself away from her."

After a lengthy career as a producer of films, including the Academy Award®-nominated box-office hits In the Bedroom, starring Sissy Spacek and Tom Wilkinson, and Sofia Coppola's Lost in Translation, Ross Katz began directing, taking on projects as diverse as the emotional HBO drama Taking Chance with Kevin Bacon to the romantic comedy Adult Beginners, starring Nick Kroll, Rose Byrne and Bobby Cannavale. 'Ross' track record told us that he could handle all of it " comedy, romance and drama," says Safran.

Ross Katz first learned about The Choice when his agent called and told him to stop whatever he was doing and read the script immediately. 'There was so much about it that was surprising, in the best possible way," the director says. 'I was laughing out loud as I read it. The Choice has all the things that Nicholas Sparks fans look for, including a really fun courtship, but I didn't expect it to be so funny. And then it became sexy and romantic and ultimately very poignant. It is refreshing and surprising. Even people who don't already love Nicholas' books are going to be intrigued and satisfied.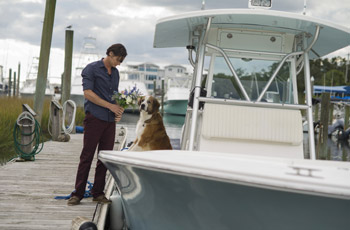 'It's a story that reminds you to always follow your heart," the director says. 'Life is a series of choices and each small decision could have a tremendous effect. I hope that people see themselves and their journeys toward finding a partner, friendships and commitment."

The audience can look forward to a story well told, says Nicholas Sparks. 'People will be delighted by the humor, by the visual beauty of the movie and by the explosive chemistry between our stars, Ben Walker and Teresa Palmer. I think that this film does an extraordinary job of moving through all the emotions that make up a full life."

Anyone looking for a perfect date movie should look no farther than The Choice, says Safran. 'This a film for anybody who has ever fallen in love or even dreamed of falling in love. Whether you're watching Gabby and Travis spend their first day together on his boat with all of his friends or the two of them alone on the porch talking about what they believe, there's so much joy on the screen. 'The Choice is an especially beautiful love story about real characters and real situations," he adds. 'In the midst of watching Gabby and Travis transformed by their love, we are reminded that life ultimately comes down to the choices we all make, large and small. I thought it was an inspiring book and we're proud to have turned it into a movie that does it justice."

Partners For Life

Casting The Choice became a bit like a jigsaw puzzle for the filmmakers, starting with a charismatic pair of performers to play Travis and Gabby, and then surrounding them with a group of actors who formed an authentic community of friends and family. 'The casting had to be very specific," says Ross Katz. 'Travis and Gabby, Shep and Steph, they all had to be people you could know, people you could aspire to be or be friends with, which makes the film feel very real."

To play Travis, a veterinarian who has spent his life in his North Carolina hometown, the producers selected Benjamin Walker. A supremely confident good ol' boy, Travis has stayed close to family and friends, but never found the perfect girl. He loves his house, his dog, and his boat and seems perfectly happy being single, until Gabby comes along and he can't escape the undeniable pull between them.

A rangy 6'3", square-jawed and clear-eyed Walker has built an impressively varied résumé in film, television and stage that includes Broadway turns as the brooding former jock, Brick, in the 2013 revival of 'Cat on a Hot Tin Roof" (opposite Scarlett Johansson) and a rock 'n' rolling president of the United States in the critically acclaimed musical 'Bloody, Bloody Andrew Jackson," as well as roles in Ron Howard's seafaring drama In The Heart of the Sea and as the title character in Timur Bekmambetov's Abraham Lincoln: Vampire Hunter.

Walker was the first person the filmmakers met with for the role. 'He's a great-looking, outdoorsy guy from Georgia, as well as a terrific actor," says Park. 'We wanted him from the moment we met with him. Ben gives a subtle, nuanced performance that is the heart of the film."

Director Ross Katz concurs: 'He is all about the team and making the other actors comfortable. He brings a tremendous amount of joy wherever he goes, as well as lots of singing and dancing. To this day, his performance in -Bloody, Bloody Andrew Jackson' is one of my all-time favorites. He was electrifying."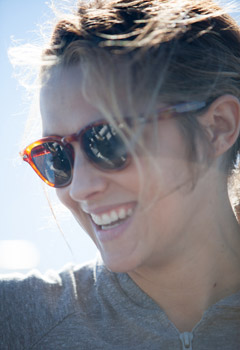 What sets The Choice apart, says Walker, is that it is not simply a story about falling in love. 'There are lots of stories about that, but this is about what loving actually is," the actor says. 'People fall in love every day, but after that, the story is about how you keep it going and stick together? How do you protect each other? Travis and Gabby have to overcome serious obstacles to be together first and then life happens. He thought he was happy being alone, but once he gets a taste of what it would really be like to share his life with somebody, he fights for it."

The actor gives Nicholas Sparks kudos for daring to do something different at this point in an already hugely successful career. 'Nicholas Sparks' movies are all romantic, but I believe he's done something new here," Walker says. 'This is both darker and funnier than what some may expect, which is brave on his part. He could keep doing exactly what he has done in the past, but instead he's pushing himself. If you're a fan of the book, it's going to illuminate something new in the story. And if you don't know the book, you're going to want to go read it, because you'll want to spend more time with these people."

To play Travis's reluctant love interest, the producers made up a short list of actresses, topped by Australian charmer Teresa Palmer. Her sunny outlook and dazzling smile had made her a contender for the lead in Nicholas Sparks' previous film, The Longest Ride, and her performance in the zombie rom-com Warm Bodies left an unforgettable impression on the filmmakers.

'Teresa is lightning in a bottle," says Safran. 'She had more energy and enthusiasm than anyone else on set. She is beautiful and open and giving. It is so much fun to see Teresa and Ben together, because they both have such over-the-top joie de vivre."

Gabby is a highly motivated, ambitious young woman on track to become a doctor, but living next door to Travis's constant partying is distracting her from her studies. 'It isn't love at first sight," says Safran. 'It's actually more irritation and anger. I love the way they meet. She storms across the lawn to tell him to turn his music down. In one of their first conversations, Travis says, -you really bother me,' not -you make me love you.'"

As it turned out, Teresa Palmer is a huge Nicholas Sparks fan. 'I was 18 when The Notebook was released," she confesses. 'I had a Notebook-themed stationery set. You could write letters to your loved ones on paper printed with images from the movie. To have the opportunity to be a part of a Nicholas Sparks story was such a dream."

Teresa Palmer even convinced Walker to co-host a screening of the classic romantic drama for cast and crew the weekend before filming started in North Carolina. 'We all sat there eating pizza and watching The Notebook," recalls the actress, 'I looked around and everyone was crying."

Teresa Palmer's talent impressed the filmmakers as much as her enthusiasm. 'Teresa is so wonderful, lovely and charismatic," says Park. 'She's just radiant in this movie. She's also deeply empathic and able to summon great wells of emotion. Her passion for the project and for the story was so genuine. Everything she does feels authentic and real."

Reading the script for the first time had her sobbing and laughing out loud at the same time, says the actress. 'Love is the heartbeat of this story, but it feels quite different from other Nicholas Sparks films. It's still North Carolina. And there's a rowboat, which is quintessential Nicholas Sparks. It's romantic, but it can be just goofy as well. I love how funny it is."

Of course, the film has plenty of drama too, and one of the choices Gabby has to make means hurting someone she loves very much. 'Her head tells her that she needs to stay with her longtime boyfriend Ryan," Teresa Palmer explains. 'But Travis breathes life back into her and she realizes she isn't truly being her best self. And of course, something bittersweet happens. There's always a little bit of tragedy in a Nicholas Sparks film."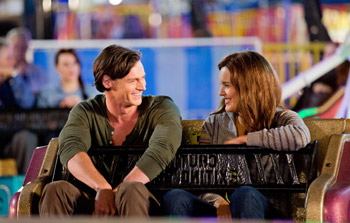 Whenever Teresa Palmer and Walker were on set together, the chemistry was electric, according the filmmakers. 'I love to watch couples begin to fall in love," says Nicholas Sparks. 'When your actors connect the way Ben and Teresa have, the interplay between them is spellbinding. There is so much humor in their relationship and those elements of levity are spectacular. It adds so much to the film and to the relationship."

Teresa Palmer has nothing but praise for her co-star. 'Ben Walker is an amazing, Julliard-trained actor," she says. 'I'm not classically trained, so I have to be completely present when I am working with him. Finding our characters together helped create some wonderful unscripted moments."

For his part, Walker says the room lights up when Teresa Palmer walks in. 'She's really good and really funny. We were able to play in the way that Travis and Gabby play and improv those little elements of falling in love. We give each other a little bit of a hard time, but it's healthy and fun."

Gabby and Travis begin to build a life together surrounded by Travis's loved ones. 'For the first time in a film, we've gone out of our way to include a lot of friends and family," says Nicholas Sparks. 'Those characters help to flesh out who Gabby and Travis are, not just to each other, but also in the world."

Travis's sister Steph, played by Maggie Grace, is a no-nonsense truth-teller and a constant presence in his life. 'Stephanie's strength is her utter confidence in who she is," says Nicholas Sparks. 'She knows Travis better than he does himself, so she helps lead him in the right direction " in a fun, loving, sisterly way."

'Steph deserves her own movie," adds Safran. 'She is such a pistol. Maggie is so unbelievably funny and acerbic in the role. She's a perfect foil for Ben. When you watch Ben, Maggie and Tom Wilkinson, who plays their father, together, you feel like you're really watching a family."

Grace lends her own candid humor and high energy to the character. 'This feels like a really American story to me," she says. 'It's a great date movie, and what the world needs now is love sweet love."

An independent straight-shooter, Steph was a great deal of fun to play, she says. 'She and Travis have a slightly combative, tough-love kind of relationship. They're very close. She knows even before Travis does that Gabby is the right one for him. I think she reminds Steph of their late mother." The cast bonded immediately, says Grace, which paved the way for the comfortable dynamic they have on screen. 'Ben Walker has that little Southern spark that is wonderful for Travis and Teresa is such a lovely spirit. When I found out that Tom was playing our dad, I was so excited. I grew up watching him on BBC!"

Shep, Travis's father and his partner in their veterinary practice, has a loving but complicated relationship with his son. Deeply affected by his wife's premature death, Shep embraced his faith, while Travis walked away from it. While the character is more peripheral in the original story, screenwriter Sipe was intrigued by the father-son bond and wanted to explore it further. With Nicholas Sparks' blessing, he made Shep a more important part of his son's life. 'I've always been interested in father-child relationships," he says. 'This gave me a chance to play around with how traits are passed down from a father to both his son and his daughter."

Wilkinson, who earned an Academy Award® nomination for In the Bedroom, had to juggle his always busy schedule, but Ross Katz was determined to cast him as Shep. 'My first thought was nobody else can do this role with the heart and soul of Tom Wilkinson. Tom brings a gravitas and a grace to everything he does. He doesn't do a lot of supporting roles, but thankfully he loved Bryan's script. I was the happiest director in the world working with extraordinary players like him."

Wilkinson was attracted to what he calls a well-told love story. 'They're surprisingly rare," observes the actor. 'This also has interesting, witty characters, and it's a touching tale. The relationship between Shep and his son is quite moving and when Travis and Gabby face incredible obstacles, that relationship becomes extremely important. And I would walk through hell to work with Ross. He's has a fantastic ability to make people happy, while making very special films."

Both Gabby and Travis are in longstanding relationships when they first meet, complicating the budding romance. The filmmakers knew it was be important that their erstwhile partners be worthy rivals for Gabby and Travis's affection, making the couple's final choice that much more difficult. Tom Welling, perhaps best known for playing Clark Kent/Superman on the long-running television series 'Smallville," plays Gabby's serious boyfriend, Ryan McCarthy, a handsome doctor from a fine Southern family who is everything that Gabby has ever dreamed of in a mate.

'Gabby has her life all laid out for her," says Ross Katz. 'She's going to be a doctor. She's going to marry a doctor. It's all part of the plan, until this rough-around-the-edges playboy shows up and she throws it all up in the air. We had to make sure Ryan was so appealing that the decision would be very hard to make."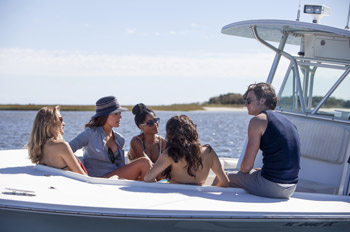 Ryan has a plan as well, and it includes being with Gabby. 'He thinks he knows exactly what he's going to do with his life," Welling says. 'They're very much in love and very happy. There's nothing truly lacking in the relationship, except that Gabby is still finding herself. The choice she makes is less about Ryan vs. Travis and more about discovering what she really wants out of life."

Teresa Palmer agrees, adding, 'Ryan and Gabby have a wonderful, connected relationship. Her life with him would be fantastic, but things are never that black and white. The choice has to be a hard one for her. I mean, anyone who ends up marrying Tom Welling is going to have an amazing life!" While Ryan ultimately finds himself losing someone very special to him, Welling says there is an upside. 'Like all the characters, he is faced with real-world choices that will resonate with our audience and, I hope, inspire them."

The role of Monica, Travis's on-again, off-again girlfriend, known to his friends as 'Boomerang" because she always comes back, is played by Alexandra Daddario, recently seen in San Andreas and the groundbreaking first season of HBO's 'True Detective."

'We wanted to find the same quality for Monica that we did for Ryan," says Safran. 'Alexandra is a gorgeous woman and a legitimate rival for Gabby " charming and funny and smart. Travis is perfectly happy with Monica in and out of his life, until he meets Gabby."

The young actress, also an acknowledged Nicholas Sparks fan, was thrilled to have a role in The Choice. 'I'm a sucker for a good love story. Our script is particularly romantic and beautifully written. Monica and Travis keep reconnecting, but when he meets Gabby, it's over. What I found interesting about Monica is that when she realizes that Travis is in love with somebody else, she walks away with no regrets."

Travis's longtime married-with-children group of friends play as big a part in his romance with Gabby as they have in the rest of his life. The filmmakers surrounded the characters with a carefully cast ensemble that includes Brad James and Noree Victoria as hard-working businessman Ben and his outspoken wife Liz, as well as Jesse C. Boyd and Anna Enger as Matt and his loving but suspicious wife Megan.

The cast was completed by two little-known actors who play the critical but nonspeaking roles of Travis's four-legged sidekick, Moby, and Gabby's Golden Retriever, Molly, whose unexpected pregnancy jumpstarts the relationship between the pair. As Moby, six-year old Bolt, a spunky, fish-gut-loving Australian Shepherd–Saint Bernard mix, kept the set lively with his antics on and off camera.

A seasoned canine professional, the Japanese-born Bolt has appeared in feature films including Beverly Hills Chihuahua 3, Star Trek: Into Darkness and Love, The Coopers. His owner and trainer Gary Mui had Bolt's look-alike brother, Lewis, waiting in the wings, but as it turned out, his help was never needed.

'Moby is Travis's best friend hands down, and when you see Bolt, you understand why," says Walker. 'He's got these eyes. Moby can see the truth better than Travis. Even he knows that Gabby is the girl."

Maggie Grace says Bolt was, without a doubt, her favorite co-star. 'The testimony to my feelings for Bolt is how many pictures I have of us together," she says. 'I also have a lot of pictures of him by himself. I looked to forward every scene with him. I might have to get a dog, but I'm afraid I will be disappointed if it turns out to be un-Boltlike."

Scenes and hearts weren't the only things the pooch was adept at stealing. After a long day of filming a barbeque on the beach, Bolt was finally overcome by the irresistible aroma of grilling meat. The filmmakers and cast could only laugh as he suddenly darted between cast members, snatching the food right off their plates as the cameras rolled.

In the role of Gabby's beloved dog Molly, an elegant three-year-old Golden Retriever named Grace made her acting debut in The Choice. She behaved with considerably more discretion on set, according to Teresa Palmer. An avowed dog lover, the actress learned a set of commands for Grace from her owner and trainer Tammy Blackburn so she could more easily interact with her co-star.

'Like all the dogs on the shoot, Grace is so smart," the actress says. 'We call her Grace the Face because she's so photogenic. She not only hits her mark way better than I do, she improvises too. She would do all these little impromptu moves in the middle of a scene that totally worked with whatever we were filming. Once she put her little paw up near my face and gave me kisses at just the right moment. It was so endearing and sweet. Those real moments and interactions we had with her are going to be remarkable on film."

Teresa Palmer's son Bodhi, who also plays one of Gabby and Travis's children, was less than a year old during filming and became obsessed with Grace, the actress says. 'He would climb all over her and she would just lick him. When they took her away to start the scene, he cried. He would put his hands out and says, 'Dodos," which is what he called the dog. They were very sweet together."

Rounding out the canine ensemble are pups Tony Baloney (Beverly Hills Chihuahua 2) and Little Louie (Beverly Hills Chihuahua 3), who portray the pampered pets of Ryan's wealthy parents, and Dreyfus, a recent rescue who made his acting debut as Grace's understudy.

The dogs' 20-plus days on set reflect the significant role they play in the story, according to Ross Katz. 'I admit I was nervous wreck when we were getting ready to shoot, because the dogs have to do so much," the director says. 'They're not just window dressing. They have actual tasks they need to perform and story points they need to convey. I know human actors that can't do what they had to do. And Bolt and Gracie were so much fun to work with. They brought so much joy to the set. I know they say you're not supposed to work with animals or children because it can be really difficult, but in this movie we worked with a lot of animals and children and it was fantastic."

North Carolina Style

Nicholas Sparks famously sets his romances in his bucolic home state of North Carolina, often on the tranquil Intracoastal Waterway and the soft sand beaches of the coast. The Choice is no exception. Shot over 30 days in and around Wilmington, the production used many practical locations, including well-known local hangouts The Dockside Restaurant and Airlie Gardens, as well as spending several days on the Intracoastal in a 32-foot, 250-horsepower Regulator sport-fishing boat with Ben Walker at the helm.

'The Intracoastal is a stunning waterway surrounded by beautiful green marsh grass," says Ross Katz. 'It is beach community-meets-small town and just exquisite. I wanted to emphasize Travis's relationship to the environment, while introducing the audience to North Carolina, because it's a very special place. People talk about visiting the Grand Canyon when they talk about iconic American places. But I would recommend North Carolina to anyone. It's magnificent."

Ross Katz showcases the Tar Heel State's picturesque landscape with wide-angle lenses, making the most of the breathtaking natural beauty of the coast. His instructions to director of photography Alar Kivilo (who also shot Nicholas Sparks' The Lucky One) were to highlight the pristine beauty of the setting with simple and realistic shots.

From the beginning, he knew he would film The Choice in wide screen in order to envelope the audience in the lush environment. 'One of Nick's signature's in the way he creates a world you want to be part of," the director explains. 'Within the first 10-minutes of the film, I think you'll be saying, -I want to live there.'"

Park says she and Nicholas Sparks are always happy filming in the state. 'There's no other place we love better," she acknowledges. 'It is almost like a Nicholas Sparks character at this point. We've had so many great experiences shooting there. The small towns have a certain flavor. The people are very warm and the landscape so varied. Each area is very distinctive and uniquely beautiful."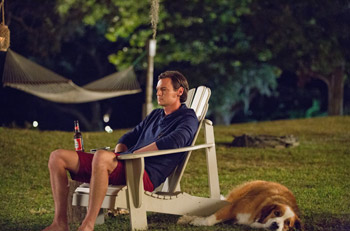 Production designer Mark Garner is a longtime Nicholas Sparks collaborator, having worked on four previous films based on his novels. One of his biggest challenges was to find two adjoining houses for Gabby and Travis that would reflect their differing priorities and provide a clear sightline from her house into his yard. He came up with an ambitious solution.

Garner located a spacious 1940s Colonial with a sprawling green lawn overlooking the Intracoastal that fit the bill in all ways but one. There was no cottage close enough to serve as Gabby's home. But, he decided, the lot was big enough to build one. He constructed an 860 square-foot, one bedroom cottage specially designed to accommodate the film crew and their equipment. The finished product so impressed the homeowners that they asked to have it left on the property.

'I'm particularly proud of how the cottage came together," Garner says. 'As a production designer, I always try to build backstory for the characters. Gabby's cottage tells us what we need to know about her history through the design and the objects it holds."

'Mark is so talented and so passionate," says Park. 'The way he's able to translate Nick's sensibility into an actual physical environment is incredible. Every single little item in the cottage, whether it was a framed photograph or a pair of earrings or a coffee mug, was in some way a reflection of Gabby. He gave thought to things like the kind of flowers that Gabby would have. He sourced extraordinary materials and when he couldn't find what he wanted, he made it himself."

Garner also helped create a very special oasis for Travis and Gabby: a private island that becomes their secret hideaway. 'We had to cobble together the -island' from several different locations," says Ross Katz. 'Alar Kivilo and Mark Garner did the most beautiful job. It's gorgeous and you'll never know it isn't really an island. There's a typically Nicholas Sparks moment when Travis takes Gabby there in the middle of the night and they discover the stars and the moon and the sky. It's a very private moment that we are able share with the audience."

The Choice takes audiences through the entire spectrum of emotions, from laughter and joy to sorrow and loss, says Park. 'That's always Nick's goal when he writes a book," she adds. 'It's the rainbow of emotions of a lifetime compressed into a very short time period and it always leaves the audience deeply affected. This movie will take you on that ride, and leave you thinking, -Wow, what if that happened to me?'"

The film demonstrates that some choices that seem inconsequential in the moment will turn out to be very important in the long run, Safran says. 'And the things that seem monumental may end up being unimportant. Gabby has to choose between Travis and Ryan, but that's almost the superficial choice, as we discover in the third act."

Fans of Nicholas Sparks' books and movies will leave the theater both surprised and satisfied, according to Ross Katz. 'We have expanded on Nick's beloved style by amping up the humor and the humanity so central to it. This film offers a window into the choices we make in our lives, the reasons we make those choices and the effects that those choices have on us, through characters you will really connect to. They could be your friend, could be your lover, sister or brother. They could be you."

The Choice
Release Date: Feburary 4th, 2016