Nicholas Hoult and Teresa Palmer Warm Bodies
Cast: Nicholas Hoult, Teresa Palmer, John Malkovich
Director: Jonathan Levine
Genre: Comedy, Horror, Romance

Synopsis: Nicolas Hoult (A Single Man, X-Men: First Class) is R, a young man facing the existential crisis that comes with being a zombie. Grunting his way through a post-apocalyptic America with the mindless hunger that plagues the undead, his inner life is full of wonder and longing for the time that must have gone before.

When the memories in one of his victim's brains affect him, he finds himself attracted to, rescuing, befriending and eventually falling in love with the dead boy's girlfriend. Julie (Australia's own Teresa Palmer) is a blast of colour in the dreary and grey landscape that is the 'life" of the un-living. Their tense, awkward and strangely sweet relationship develops into something that will not only transform R but his fellow zombies and possibly their entire lifeless world.

Scary, funny and surprisingly poignant, Warm Bodies proves that love makes us all human.

Warm Bodies Release Date: April 11th, 2013



About the Feature
Warm Bodies began life as a seven-page online short story titled 'I am a Zombie Filled with Love" that attracted a wide Internet audience and led author Isaac Marion, with some encouragement, to expand it into his debut 2010 novel. Described as a 'zombie romance" by the Seattle Post Intelligencer, complete with allusions to Shakespeare's 'Romeo and Juliet," the novel captivated producer Bruna Papandrea (Milk, All Good Things).

'As a piece of writing, it was so elegant and beautiful," says Bruna Papandrea, who at a friend's recommendation got hold of the book before it was published and read it from cover to cover during a flight. 'It had such an incredibly strong voice and character. Although it was a genre piece, it was an incredibly emotional, character-driven story."

Bruna Papandrea, who had just started her own production company, Make Movies, immediately set about securing the film rights, and three days later she was in Isaac Marion's hometown of Seattle to meet with the writer. Soon afterwards she sent the manuscript to some of her closest studio contacts, including Erik Feig, a production executive at Summit Entertainment.

'It was a little astounding how fast they responded," Bruna Papandrea recalls. 'Within weeks, they told me they wanted to make the movie and were optioning the book." In part Bruna Papandrea and others were drawn to the novel's portrayal of a post-apocalyptic world from the viewpoint of the zombies themselves.

'I'd never heard anyone treat these creatures as individuals, something that would have a perspective," Isaac Marion says. 'They're always used as props in the background that come rushing at the human characters. They're anonymous and mindless."

Instead of the typical black-and-white, all-or-nothing, human-or-zombie portrayal of the conflict between living and undead, Isaac Marion chose to explore the gray areas in between"how a person transitions into becoming a zombie and then back to being human. 'That concept really fascinated me," he says.

In a strange way, Isaac Marion says his novel was not only personal, but even a little autobiographical. 'As I developed this story, I started to notice parallels with what was going on in my life at the time," he explains. 'I was coming out of this period of being very emotionally detached, cynical and living in a lifeless state. It became a fairly thinly veiled metaphor for that process that I went through."

With Summit on board, Bruna Papandrea next took the project to writer-director Jonathan Levine (50/50, The Wackness), whose initial resistance to doing a movie based on a young-adult novel waned when he saw how wildly creative the book was. 'I identified with the main character, and the book Isaac wrote really allowed for these incredible directorial flourishes and aggressive style," Jonathan Levine says. 'I was excited about the opportunity to push the envelope visually, and it was a great character piece, as well. It's an adventure. It's a romance. It's got comedic elements. It's got horror elements."

Collaborating closely with Isaac Marion, Jonathan Levine went on to write the screenplay for the film. He says he saw the love relationship between R and Julie at the heart of the story as a 'mash-up" of 'Romeo and Juliet" and 'Frankenstein."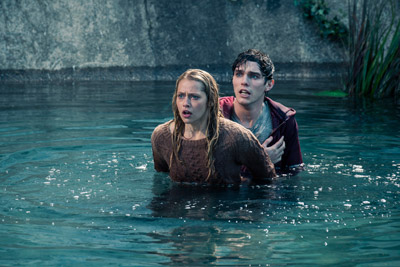 'The arc of their relationship was the most important thing to me to get right directorially"the push and pull of guys and girls, the way relationships start and people are nervous at first, maybe even repulsed, and then come together," he says.

For producer Todd Lieberman (The Fighter, The Proposal), Jonathan Levine was a great pick for director. 'It's a zombie genre film, there's a love story, but it also happens to capture a unique, self-aware, self-referential, humorous tone," he says. 'Jonathan Levine is tailor-made to do something like that." As for the film's larger themes, the filmmakers say it follows in the tradition of zombie movies that make a social commentary, including George Romero's Night of the Living Dead, but with some key twists that make it especially original. 'The salient theme at the heart of it is that people have forgotten what it means to be human and, through the interaction of these two characters, other people re-learn what it means to be human," Jonathan Levine says. 'Not just the zombies, but the humans, too."

Despite the existence of the so-called 'Boneys""a more advanced breed of zombie that is beyond the point of no return"Warm Bodies also features less gore and physical disintegration than many other films in its genre. 'I don't even look at it, really, as a zombie movie," Jonathan Levine says. 'I look at it as a monster movie that turns into a love story. We're working within the zombie mythology, but we're using that mythology as a means to an end, as shorthand for something else."

Part of that shorthand is the startlingly original conceit"and recurring structural device"of having the zombies relive the memories of their human victims by eating their brains. To wit: R falls in love with Julie by reliving her boyfriend Perry's memories through ingesting his brains.

'It's such an amazingly unique way to fall in love with someone," Bruna Papandrea says. In casting the movie, the filmmakers pulled together a blend of seasoned actors and relative newcomers. For the role of the film's undead romantic lead R, they cast British actor Nicholas Hoult (About a Boy, A Single Man), after seeing his work on the envelope-pushing British TV drama 'Skins." 'He was sensational; the performance was just so strong," says Bruna Papandrea of Hoult's work in 'Skins." 'He had an intensity to his face and gesture that was remarkable."

For his part, Nicholas Hoult says he was drawn to the challenge the role presented. 'The idea of this zombie who I have to try to make an audience care about and root for, that was interesting to me," he says. 'In the script, he was very funny and eloquent in his voiceover, so there was a charm about him and a humour as well." Nicholas Hoult, who found Isaac Marion's book 'a fantastic read" and Jonathan Levine's adaptation 'a real page-turner," describes the character of R as a zombie who feels trapped and lonely, stumbling around the abandoned airport that is his home and wanting more from life.

'The most compelling thing about R is his need to connect," Nicholas Hoult says. 'He wants to connect with the other zombies in the airport, even though they've got nothing to really say to him and can't even say their names. He wants to connect with Julie and to feel alive. That's one of the most human instincts ever"to want to feel a part of something and to connect with another human."

One of the challenges of the role was the fact that, at least initially, R cannot speak in words"a condition that gradually changes as the story progresses.

'A lot of the time I had to communicate just through movement, my eyes, the things I do, or the records R plays for Julie," Nicholas Hoult says. 'The idea of not being able to say what you're thinking was something that was exciting for me. It makes you think in a slightly different way than you normally would."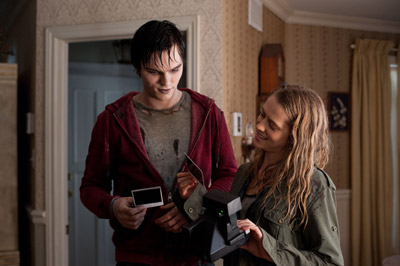 For the role of R's human love interest, Julie Grigio, the filmmakers chose Australian-born Teresa Palmer (I Am Number Four) from a shortlist of five actresses who made it through to read with Nicholas Hoult.

'There's something about Australian actresses, a confidence and strength," says Bruna Papandrea, who is an Aussie herself. 'It's a very hands-on approach over there, a little different from America. It's difficult to find a girl who is young, very beautiful and has vulnerability, but also is such a fireball." Those qualities perfectly equipped Palmer to play the role of Julie. 'She's a warrior," Teresa Palmer says of her character. 'She's strong and has an amazing energy. She's bubbly; she's got a big spirit and a good heart. Things have really been dimmed for her since her mother was killed by one of the zombies. She's unhappy. Then she meets R. He breathes life back into her. They fall for each other and she's reminded of what life can be like and starts to hope again, which is a really beautiful thing. "

But it wasn't love at first sight for Julie and R, who meet under the most violent of circumstances. When R saves Julie from the other zombies and takes her back to his lair in an old airplane at the abandoned airport, Julie figures he's just storing her as a snack for later. But she begins to soften when R starts to look after her by bringing her blankets and food. And so the seeds of their unlikely romance are sown.

Although Isaac Marion insists the film is not 'Romeo and Juliet" with zombies, he admits that the Shakespeare classic informs some of the film's subtext. There's even a balcony scene and"in what is surely a first in the genre"a romantic kiss between the zombie R and his human object of desire, Julie.

Jonathan Levine admits the balcony scene is a nod to 'Romeo and Juliet" and says it was fun to shoot"even though he had doubts about it: 'It was a scene I wasn't always sure about, to be honest, because it kind of comes at this point in the script when we're transitioning from the first to the second half of the movie, which is a little broader. It was always a tonal shift that concerned me. But I watch it now and I'm really happy with it."

For the role of General Grigio, Julie's cold, dogmatic father and the leader of the human survivors, the filmmakers were thrilled to land landed John Malkovich (Dangerous Liaisons, Being John Malkovich). 'It's a smaller role in the context of the other roles in the movie but it's incredibly important," says Bruna Papandrea. 'We really needed someone who immediately came on the scene and had gravitas. I honestly could not imagine else who could play that role." For his part, John Malkovich says he was attracted by the film's storytelling. 'I especially liked the two main characters and the way the story unfolds. In the writing of the screenplay based on the novel, there's still quite a novelistic approach that I liked."

Although the actor shared something of a father-daughter dynamic with Teresa Palmer off-camera, John Malkovich says the General and Julie are in intense opposition on screen. 'He ups the pressure on Julie and what she's feeling and thinking, because her father is in charge of exterminating the group which her love object happens to belong to." But even General Grigio evolves eventually. 'That's really in the very last frames of the film," Jonathan Levine explains. 'It's a sudden conversion, based on something he sees that he's never seen before."

The filmmakers turned to 'The Daily Show with Jon Stewart" alumnus Rob Corddry (Hot Tub Time Machine) to play the character of R's best friend, M, which Jonathan Levine describes as one of the film's most critical roles. 'M, in many ways, is the heart of the movie," Jonathan Levine says. 'R's change sparks everything, but M's change is representative of everyone else."

For Rob Corddry, who also read Isaac Marion's novel, the role of M was much more interesting than the average 'best friend" role. 'Those guys are usually just straight plot devices," Rob Corddry says. 'I actually get to change. I might be the only best friend in movie history that has his own trajectory." Ironically it was the simplicity of the role that gave Rob Corddry the most angst initially. The actor likes to do a lot of preparation around his character's back story to stave off anxiety. 'If I feel like I have a lot of subtext, I'm not going to be worried when I'm shooting," Rob Corddry says. 'But I couldn't do that this time. I had to be prepared in the moment. This movie was an exercise for me in really being present every time the cameras rolled."

Teresa Palmer says Rob Corddry's character, while lovable and hilarious, has some pretty complex aspects. 'He's the most sexual of the zombies that we meet," she says. 'He wants to eat humans and he doesn't understand what's going on with him. He can't quite wrap his head around the idea that R has taken this human girl hostage and is now falling in love with her. He finds it bizarre and strange, but he loves R so he goes along with it. There's also a hint of jealousy in there too, at one point."

Dave Franco (21 Jump Street, Superbad) plays the role of Perry, Julie's high school sweetheart who becomes R's lunch early in the movie. Bruna Papandrea says that in many ways the actor was the greatest discovery of the movie. 'He's just starting to break out," she says of Dave Franco, who is the younger brother of actor James Franco (127 Hours, Spider-Man). 'He just lights up the screen and he's a joy to be around. He's a very inquisitive actor and person. I think that really comes across in the character of Perry."

'He has to make a very big impact in a very short time and he really does it," adds Jonathan Levine. 'He's so charming and likeable, and so talented, that he sticks with you throughout the movie." Perry starts off as a naïve young man who is madly in love with Julie, but then becomes obsessed with killing zombies after he witnesses them killing his father. Although Perry doesn't last long, his memories of doomed love affair with Julie"experienced second-hand by R"form a crucial through-line of the film. 'I actually get killed off within the first 10 minutes of the movie and the rest of my story plays out in flashbacks," Dave Franco explains. 'It affects R's relationship with Julie. From the start, we're desperately in love with each other and going through all this together. By the end Perry completely loses sight of that because he's so single minded, and their relationship starts to disintegrate." Dave Franco speculates that Julie may be drawn to R because she sees some of Perry in him. 'I feel like he reminds her of how Perry was when they first met"this very innocent, sweet relationship," he says.

Finally, for the role of Julie's best friend, Nora, the filmmakers cast Analeigh Tipton (Crazy, Stupid, Love; The Green Hornet)"a casting decision that had producer Todd Lieberman's full support. 'Analeigh Tipton blew me away in Crazy, Stupid, Love," he says. 'She was a stand out in that movie. Finding an accomplished comedic actress in that age range is difficult. Analeigh Tipton came in and read for the part and nailed it."

For her part, the actress says her character is 'a bag of fun" who combines wit with a talent for killing zombies. She also provides something of a pragmatic foil for Julie's romantic tendencies. 'When Nora discovers Julie has fallen for a zombie, she freaks out," Analeigh Tipton says. 'Like any good friend would be, she's concerned that her best friend is falling in love with someone that could eat her brains. But she comes around because she trusts Julie."

Analeigh Tipton says Nora's worldly ways may be a form of self-preservation at times. 'She approaches situations with dry humour instead of really dealing with them"or her feelings," the actress says. 'She tries to make everything no big deal. She's so strong and doesn't give a damn. That's fun, to be really out there, especially for a female character."

With the cast assembled, the filmmakers had to secure three main locations to shoot the film: the abandoned airport where R and the other zombies live; the walled-off Green Zone, where the General's home is; and the Dead Zone outside the wall.

Finding a location with an abandoned airport seemed like a tall order, but with the help of Summit's head of physical production, Andi Isaacs, the filmmakers were able to get everything on their wish list in one city: Montreal.

Bruna Papandrea says the team could barely believe their good fortune in gaining access to an entire abandoned airport, which was called Mirabel. 'Collectively, none of us had ever seen a location that gave this much value. It so perfectly fit the film we were making. It also has a very eerie, abandoned quality, which is great for the genre."

There were some shooting restrictions, in that while Mirabel is no longer a commuter airport, it is still used by cargo planes. But aside from that, it was virtually abandoned roughly half-dozen years ago"just as the fictional airport was in the film.

As to what they should call the airport, the filmmakers at one point decided on Barack Obama International Airport, and even began the process of clearing the name with the White House. But on second thoughts, they decided that name was too obvious and instead chose to call it Isaac Marion International Airport"'after our brilliant novelist," Jonathan Levine says.

The other two main locations were the Green Zone and the Dead Zone, which are separated by an immense wall built by General Grigio to keep zombies out of the humans' space. Jonathan Levine credits production designer Martin Whist (Super 8, Cloverfield) with creating these two worlds in a way that made the film look like it had twice the budget that it did.

'The transition at the wall is strong," says Martin Whist. 'Once we're in the Green Zone, which was located in Old Montreal, things are cleaner and we have evidence of society trying to sustain itself. Inside the Green Zone it's a quasi-military state; they're survivalists."

There were also livestock in the Green Zone in the form of cows and goats"something that became quite a curiosity for the locals.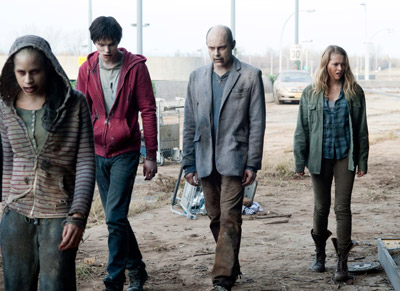 'These are the things and research that you have to do when you are creating a post-apocalyptic story," explains executive producer Nicolas Stern. 'How do these people survive? Where do they get their food, power and water? These are the things that Jonathan Levine and the production designer thought about for months and months."

Other key locations inside the Green Zone were the beautifully ornate Mount Stephen Club in downtown Montreal, some distance from Old Montreal, which stands in for General Grigio's home; and a church that was actually an old monastery building located outside Montreal in the Laurentian Mountains. 'It's an incredible location and was picked for the sheer architecture of the space," explains Nicolas Stern. 'In this movie, we use a lot of big, wide-open spaces. We put small groups of people in them to really let you feel that there's not that many people left in our world."

For parts of the shoot, the filmmakers had to ask for whole sections of Montreal to be shut down"areas around the Old Port, in Old Montreal and in the financial district. 'We're talking long blocks, big vistas and cross sections of the community," says Nicolas Stern. 'They were very helpful in doing that."

For the Dead Zone, the dangerous area outside the wall where zombies roam free, Whist and his crew brought in plants and dirt to cover the ground, using them to visually show the passage of time as nature reclaimed the remains of civilisation. But there are also signs of the civil unrest that erupted during the plague that destroyed civilisation"specifically, socially conscious graffiti. Spray painting the walls of the heritage buildings that line the historic streets of Old Montreal was obviously not an option, so Martin Whist and his crew coated the walls in a clear plastic material that hugged the contours of the stone when heated. 'We then painted or printed our graffiti on it so it looks like the graffiti is on the stone," explains Martin Whist.

The team recruited graffiti artists from L.A. and Montreal to create this aspect of the post-apocalyptic world, and even approached renowned graphic designer Shepard Fairey about copying the style of one of his most famous works, 'Andre the Giant Has a Posse." Shepard Fairey obliged, and the team appropriated the image, replacing Andre the Giant with a Boney and the word 'obey" with 'pray." 'To be able to use something that's iconic, particularly in the world of street art, is fantastic," says Whist. 'It legitimises and grounds our work in the real world. We created a whole library of street art and graffiti that I've been using from location to location."

As for the wall itself, VFX supervisor Dan Schrecker (Limitless, Requiem for a Dream) and his crew used CG to make it longer and higher than was physically possible to build. Jonathan Levine credits director of photography Javier Aguirresarobe, ASC (Vicky Cristina Barcelona, The Road, The Others) with helping to make Warm Bodies a visually stunning movie.

'Javier Aguirresarobe is a brilliant visual artist," says the director. 'The other great thing about Javier Aguirresarobe is that he has a lot of soul and heart and he connects to the soul and heart of the movie." Javier Aguirresarobe even managed to make the brain-eating scenes visually appealing. 'That's a slightly violent moment in the film, where R is cracking Perry's head open, but it's shot very beautifully," says Nicolas Hoult. 'The way Javier Aguirresarobe framed and lit everything, it just looks fantastic"even the more gruesome aspects, there's still something very cinematic about them."

Adding a surreal texture to the film are the numerous flashbacks R experiences as he eats the pieces of Perry's brain he has hidden in his pocket. 'We're often seeing things from Perry's point of view or from behind Perry," says second-unit director Stephen Woolfenden (Harry Potter), who shot some of the flashback footage, often adhering to very specific pointers in Levine's script about shooting into the sun in order to create flares for an abstract effect.

'We've tried to get as many lens flares as we could in this one," Jonathan Levine says. 'I like the idea of kind of distorting the image. That's something that lens flares can do beautifully."

As part of the film's visual palette, Javier Aguirresarobe created a very specific look for scenes shot at night. 'Our night look is fantastic," says Jonathan Levine. 'He's created a wonderful palette for it"a little blue, a little green. It's very pretty. I love the flickering fluorescence of the airport, the darkness of the subway and the stadium, and all these giant abandoned locations that are lit in these very expressionistic ways that make sense because of the kind of world we're in."

Of course, a monster movie is only as good as its monsters. Warm Bodies' most menacing creatures, the Boneys, were created using CG and stunt performers in motion-capture suits. Jonathan Levine says using CG gave him a freedom he hadn't experienced before.

'The great thing about CG is, not only can you create these characters, but you can do things stylistically that I feel like some people aren't taking advantage of remotely enough. When we go into R's dreams, for example, we do surreal transitions. At the very beginning of the movie, about the first 10 minutes, there's a lot of really interesting, stylish CG that is used to tell the story in a way that people haven't seen before. I've never had it as a tool in my arsenal before. It allows for the editorial process to be as creative as the production process."

In creating the zombies, Jonathan Levine says the team avoided an extremely gory look, drawing on things like Depression-era photos and images of coal miners instead of traditional zombie-movie references for inspiration.

'We wanted to make a movie that appealed to all ages, so we couldn't necessarily get involved in some of the fun stuff that other zombie movies do," Jonathan Levine says, adding that the process of designing the looks of both the zombies and the Boneys was a lengthy one that started early in pre-production. 'We had people doing sketches, artists taking a picture of Nick Hoult from 'Skins" or X-Men, and tweaking and playing with it," Jonathan Levine says. 'It would be back and forth internally, and then we would take it to the studio and do makeup tests."

It was just one of numerous challenges the filmmakers had to overcome in the course of the production"not the least of them being the inclement Canadian weather. With shooting continuing well into November, some of the Warm Bodies actors ended up with decidedly cold bodies, particularly for scenes that were outdoors or in the unheated airport terminal. Teresa Palmer recalls one scene where some actors were driving a luggage cart. 'It was about zero degrees, we all had heat packs and were wearing a thousand layers," the actress recalls. 'Just before we shot, I asked Jonathan Levine, -What's the temperature actually supposed to be in the film?' He's like, -It's a balmy night. It's warm.' How were we going to pretend that? It was so cold that I couldn't even get some of my words out."

Even more extreme was the climactic fountain scene with Nicolas Hoult and Teresa Palmer. The water started off hot but had turned freezing cold by the end of the day. 'It's such an imperative scene in the movie and there we are absolutely freezing cold," Teresa Palmer recalls. 'Our teeth were chattering, but it was really fun."

And then there were the challenges stemming from the sheer physicality of the film's fight scenes, which Teresa Palmer says she was not prepared for. 'When I first read the script, I was focused on the emotional depth of the film and the heavy dialogue scenes," the actress says. 'The second day that I was running around, because I hadn't stretched, I was like someone with arthritis. I realised that I was just super unfit"it was quite embarrassing."

Fortunately, it was Teresa Palmer's second action film so she wasn't a complete rookie, and had a good stunt crew to work with. 'We didn't really get a ton of time to rehearse specific moves," Teresa Palmer says. 'I would arrive on set and then have 20 minutes with the stunt team so they could quickly show me what to do. Thank God I had a little bit of martial arts training on my last film." Gun training was also part of the job for several of the actors. 'The first day I got to set, they had me and Dave Franco go to the gun range," Analeigh Tipton recalls. 'We learned how to shoot every type of gun under the sun. It was terrifying, because I'm terrified of loud sounds, but it was also very freeing." Dave Franco says his favourite scene is the one in the pharmacy where his character, Perry, meets his demise. He, however, is not in it. 'My double was standing in for me and he gets pulled off the table," says Dave Franco. 'He takes this brutal hit. So my favourite moment is someone else playing me in the movie!"

A major challenge for the makeup department was creating the right look for the zombies, which are referred to as corpses in the film. This was especially true for the character of R, who needed to be a somewhat sexy, good-looking zombie. Jonathan Levine was keen to achieve these effects without prosthetics, using only makeup, and turned to head of makeup special effects Adrian Morot for the task.

Adrian Morot says R had to be somewhat attractive in order for it to be feasible that Julie would fall in love with him. 'You can't have teeth showing or a piece of flesh or ribcage; that's really gross and a different kind of movie. The way I thought of him is that he needs to look a little like an undead James Dean."

Adrian Morot says four distinct stages in R's transformation from zombie back to human were designed, with the first stage being the palest and most zombie-like. For that stage, Nicolas Hoult had to wear contact lenses of a desaturated blue hue to give him a dead look. His skin was mottled and covered with a network of dark veins that were applied daily using tattoo transfers. He also had oozing zombie pus coming down his ears and the corner of his mouth.

'You still want to keep it sexy, so you don't want to overdo it with the pus and gore," Adrian Morot says. For most of the movie, as R evolves back toward his human self, he is in stage two, which is characterised by less pronounced veins and a healthy pink tone to his skin. In stage three, which is even closer to human, R just looks a little sickly. And stage four is what we see at the very end of the film when R's transformation is complete.

'The scars have magically retracted into the skin and he has a nice complexion," says Adrian Morot. 'He's a good-looking guy now, ready for action and love." The greatest challenge from a VFX perspective was the epic battle scene at the end of the film, in which the Boneys and corpses have their final showdown. It presented the obvious challenge for the human actors playing the corpses to believably interact with imaginary CG characters that were not yet there.

Also technically challenging was the preceding sequence in which the Boneys show up at the stadium and appear on the glass rotunda above the corpses. The corpses look up to see the silhouettes of the Boneys on top, smashing and eventually breaking the glass before dropping down onto the corpses for the grand finale. Schrecker says that in addition to making sure the lighting matched, unanticipated details arose, such as when M throws a Boney across the floor towards the soldiers. 'There's lots of broken glass on the floor, and as that Boney moves across the floor, that glass is going to have to displace," Schrecker explains. 'We took a grey pillow and threw it across the floor, and that gave us the real glass sliding out of the way so that, when we put our CG Boney in, we could just follow the path of the pillow and the glass would slide out of the way like that."

A less dramatic, but equally vexing, challenge was how the zombies could communicate in an interesting way but still stay true to zombie lore. Jonathan Levine points out that this is not generally an issue in the genre, but it was in Warm Bodies because much of the film is from the zombies' point of view. This was especially true for the characters of R and M, whose friendship required them to communicate.

'They're able to have conversations based on short, one-word things and to interpret each other's groans," Jonathan Levine says, adding that this led to a lot of on-set laughs. 'We were shooting this scene at the very beginning of the movie and it's basically just two guys groaning at each other. The guys kept cracking up. By the time we got to take five, they were literally groaning and having conversations with each other."

As Nicolas Hoult recalls it, 'There were moments where we'd both zone out in each other's eyes. It was just very weird stuff." Corddry took a scientific approach to speaking zombie. 'I went about it as if I was playing a brain-injured patient," says the actor, whose wife is a speech therapist. 'We talked about how brain-injured patients can sometimes see the word in their head, but they don't know what it is or what it means, and it's hard to get it out. So, even when I'm grunting, I'm trying to make a word." R's thoughts are revealed via voiceover, which makes it clear to the audience what he's trying to communicate with his groans. 'Sometimes the script supervisor read out the voiceover on set so I could hear what the character was meant to be thinking during the scene," says Hoult. 'It helps with the timing of the scene to make everything link together."

Another R's thoughts and feelings are expressed is through music. Jonathan Levine, who worked closely with music supervisor Alexandra Patsavas ('Grey's Anatomy," Twilight), says R's use of records to communicate with Julie was a clever feature of Marion's novel that helped draw him to the project. 'Music really does help set tone," Jonathan Levine says. 'It's another way to have a shorthand with the audience. Music is, in a big way, how I access the world in a movie and the characters. It's really nice that it was already written into the story."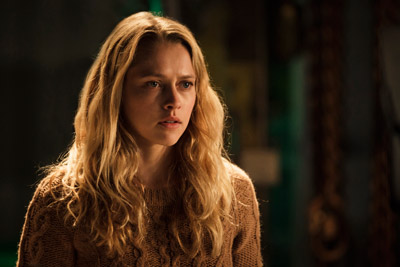 The cast and crew of Warm Bodies believe the film has pretty broad appeal"and not just because of its novel premise and quirky humour. 'The character of R is written quite well, quite uniquely, and his journey is a unique one," Malkovich says. 'You know what percentage of teenagers feel alienated? How many of them feel cut off, excluded and not human? It's a pretty big percentage. This film is a little bit of an exploration of that, rather than just a gory film."

Warm Bodies might even be something of a game-changer in the zombie genre, says Morot. 'There's definitely something for everybody, even for zombie purists such as myself. It's the kind of zombie movie that a guy can actually take his girlfriend to. The guys get the Boneys and cool zombie action, and the girls get the sensitive, handsome zombie guy."

Although Jonathan Levine is aware that some horror purists might disapprove of the way the film plays with zombie-movie conventions, he hopes they will approach the film with an open mind. 'I have a great knowledge and love of films like 28 Days Later, Shaun of the Dead, Day of the Dead and Return of the Living Dead. But one of the great things about making movies is you can use genre and mythology to tell different kinds of stories."