Tori Bailey As the Bell Rings Interview
15 year old Tori Bailey is the winner of the Disney Channel's 'Casting Call'. The Gold Coast resident will join the cast of the award-winning comedy 'As the Bell Rings' Casting Call was open to entries from Australia and New Zealand to find the newest member of the locally produced comedy, As the Bell Rings.
From more than 5,000 video entries, the field was narrowed last month to five finalists - three Australians and two New Zealanders - to take part in season four of the series, which begins filming in Melbourne in June. The five finalists were chosen based on a three-minute audition video featuring an introduction and performance of a scene from the show.
Disney Channel fans were able to view the online auditions and select their favourite finalists. To help fans make their choice, video of the five finalists from an acting workshop at the National Institute of Dramatic Arts (NIDA) in Sydney aired on Disney Channel the past month. The finalists spent a weekend in May studying acting under the tutelage of NIDA-certified instructors and attended a formal casting.
Tori was selected to be the new cast member from the fan voting and the series director, David McDonald.
"We were so impressed with the depth and range of talent among the five finalists", said Louise Benham, Director of Production and Programming for Disney Channels Australia and New Zealand. "At the workshop, Tori hit the ground running, took direction well and showed a lot of potential. Her personality really shone through, and we feel confident she'll fit in well with our ensemble cast of 'As the Bell Rings'".
As the Bell Rings, which consistently wins its primary timeslot with Kids 5-15 in subscription TV households, chronicles the lives of a group of friends between classes and in the hallway - their antics, exchanges, and everyday adventures and challenges. From school crushes, exams and teachers, the program explores diverse and relatable themes, as seen through the eyes of Australian and New Zealand kids. In 2009, As the Bell Rings was recognised as Most Outstanding Short Form Program at the ASTRA Awards and was nominated for a Logie for Most Outstanding Children's Program. It will again be directed by David McDonald (Comedy Inc - The Late Shift, Life Support, The Election Chaser) and produced by FremantleMedia Australia.
Tori will premiere on the Disney Channel in Australia and New Zeland on the new season of As the Bell Rings later this year.
The series is based on Disney Channel Italy's hugely popular short form series 'Quelli dell'Intervallo'.
Locally-produced adaptations of the sitcom shorts also air on Disney Channels in the United States, United Kingdom, France, Germany, Spain, Singapore and China.
As The Bell Rings is a FremantleMedia Australia production for Disney Channels Australia and New Zealand.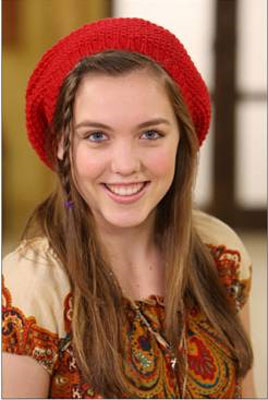 Interview with Tori Bailey
Why did you originally apply for Casting Call?
Tori Bailey
: I have always loved the Disney channel and it has always been a dream of mine to be on any Disney show. When As the Bell Rings came up, I jumped at the opportunity and thought 'why not?' I gave it a try and here I am now, it is pretty amazing.
How does it feel to know you were chose over 5,000 other actors?
Tori Bailey
: That shock is still settling in, it hasn't fully settled yet. To think that I was chosen, is amazing. I have trouble explaining it to people because it is so amazing for me.
What was the application process?
Tori Bailey
: My dad found it in the newspaper and told me about it, and then I got onto the Internet and had a look at the different scripts you could pick from. What you had to do was, pick a script, obviously perform it and then spend a minute talking about yourself, on camera. I set that in on a DVD and I then received the call back to say I was in the final five.
Did you watch As the Bell Rings before now?
Tori Bailey
: I didn't have Disney channel before I applied but many of my friends have Disney channel, so whenever I'd go over to their house we'd watch it. I love the show; it used to crack me up (laughing). I really like it.
Can you tell us about As the Bell Rings?
Tori Bailey
: It is a group of teenagers, there are ten cast members now, it is set in a school hallway and it investigates their interactions in-between classes; conversations including what they have been doing and who they like, those sorts of fun things. It throws you into the world of a teenager at school.
Can you tell us a bit about your character on As the Bell Rings?
Tori Bailey
: Yes, my character is called Mia. I haven't read over the full character brief as of yet, I do know that she is a soap singer who plays guitar.
Do you play guitar?
Tori Bailey
: Yes, which is good!
Have you met with your cast mates, yet?
Tori Bailey
: I have met Christian Antidormi who plays Vince. I met him in Sydney, when we did the formal audition, he read for me. I haven't met any other cast mates, as of yet, which is exciting.
How have you been going rehearsing and practicing your lines?
Tori Bailey
: I have been given a few scripts today, so I will start going over them now. We are doing a big rehearsal week when I arrive in Melbourne.
What are you looking forward to most about the filming of As the Bell Rings?
Tori Bailey
: Being on the set and having the daily routine of working on set whilst meeting everyone and getting direction as well as learning a variety of skills.
Who originally inspired you to begin acting?
Tori Bailey
: I won't lie, I always love watching Hannah Montana, and I would think 'wow! That's what I want to do'. I want to be able to sing and act at the same time.
If you could work with any other actor, who would you choose?
Tori Bailey
: That's a good question as there are a lot of people I would like to work with. I think Angelina Jolie would be cool as she is a method actor, being around her whilst she is on a set would be awesome.
What is a method actor?
Tori Bailey
: It is a type of style that some actors choose, it allows them to get fully into the character and they are their character for the whole time they are shooting. If their character is at war, they will surround themselves with everything that their character would be surrounded by. If they're a very depressed character, they may not talk to anyone whilst on set. I think being around someone who is a method actor would be awesome.
Were you taking acting classes prior to applying to Casting Call?
Tori Bailey
: Yes, once a week I participate in a film class on the Gold Coast, where we have scripts and I have done a lot of musical theatre classes as well as workshops and acting master classes. I have done a fair few workshops for acting.
How do you think you will go at learning your lines?
Tori Bailey
: Learning lines is one of my strengths; I pick up lines quite fast. When I go to Melbourne we have a week rehearsal where we just go over the lines and get into our characters.