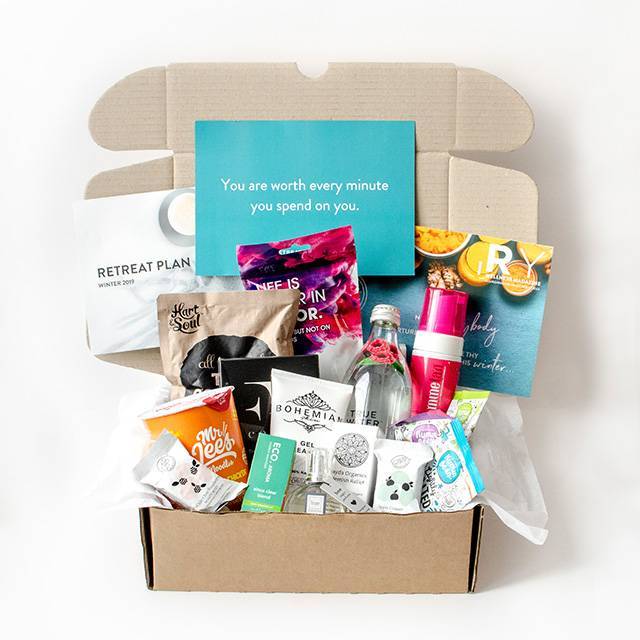 Winter Retreat Yourself Box
Every box contains OVER $200 of full-sized value!

CONTENTS:

Winter RY Wellness Magazine
Winter Retreat Plan - explaining how you can use the products to create a day retreat at home
Bohemian Skin Cleanser - $32
Bae Starshine Perfume - $34.95
Hart & Soul Soup - $4
Eco. Modern Essentials Sinus Clear Essential OIl - $18
2 x Krumbled Foods Collagen Beauty Bites - $8
Fitcover Collagen Mascara + Green Tea Fibre Want (lash mass kit) - $47
Human Bean Co Faba Beans - $4
Vayda Organics Soothe Blemish Relief - $34.95
MineTan Coconut Water Self Tan Mousse - $29.99
MineTan Tanning Mitt - $7.99
Mr Lees Gluten Free Noodles - $4
True Water Infused Sparkling Water - $5

= $230 of value!
Winter Retreat Yourself Box
Gift yourself this Winter, Spring, Summer or Autumn. If you love to try new things, and gifts in the mail, you are going to love this. With a great variety of food, beauty & entertainment, this really is the gift you deserve to get yourself.

$69.95 on a seasonal subscription - every 3 months, 30-day money back guarantee, cancel anytime - OR $79.95 for a Single Box.