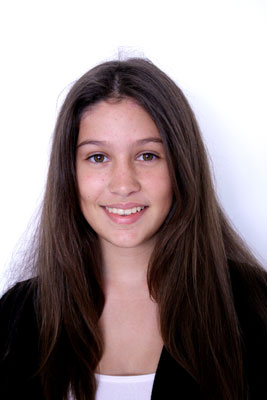 Interview with Brooke Henzell
Brooke Henzellis an inspiring actor from Queensland who is attending the Hollywood Immersive workshop in the United States with Lilly Dawson and Margie Haber.

What inspired you to begin training in the acting industry?

Brooke Henzellis: I was inspired by watching movies but realized that I had to work and study to become an actress.


How long have you wanted to act for?

Brooke Henzellis: Pretty much my whole life, but I became serious when I was 10.


What tips do you have for others wanting to get into the acting industry?

Brooke Henzellis: Just never give up and don't let others affect you negatively.


What do you enjoy most about acting?

Brooke Henzellis: I enjoy it when someone else enjoys my performance.


Do you prefer performing on stage or in front of the camera?

Brooke Henzellis: I think camera because the acting you do to camera is more natural and realistic whereas in theatre you need to over emphasise your expressions.


What roles do you prefer to perform?

Brooke Henzellis: I enjoy a challenging character but I like to be able to relate to them in one way or another.


What actress/actors do you prefer to watch?

Brooke Henzellis: Ones that make me laugh or think differently or inspire me.


If you could act beside any actor or actress who would you choose?

Brooke Henzellis: I think Julia Roberts, because she brings something amazing to every role she plays and I would learn a lot.


What has been your biggest challenge in regards to acting?

Brooke Henzellis: Knowing how to do things like creating a resume, getting headshots, getting an agent and understanding how the industry works.


What is a typical day like for you?

Brooke Henzellis: Fairly ordinary usually. School, homework.


What's next for you?

Brooke Henzellis: Looking for auditions as always :)


Can you tell us 5 things required for a happy healthy & enjoyable life?

Brooke Henzellis: 1. Find something/s you love to do and do it
2. Try to think positively, even about things you don't want to do
3. Find a sport/s you like to do
4. Eat healthy food
5. Don't worry!



60 Second Quiz
>Full Name: Brooke Tayla Henzell
Nickname(s): Brooke
Star Sign: Sagittarius
Favorite Food: Tiramasu
Favorite Film: Titanic
Favorite Play: A Midsummer Night's Dream
Favorite Actor: Johnny Depp
Favorite Actress: Kate Winslet
Pet: Bonnie - Border Collie Dog and Moet- Cat
Person You Would Most Like to Meet: Audrey Hepburn (I know it's impossible but still)
Hobbies/Interests: Reading, Writing, drawing, swimming, singing and playing the piano
First Job: Modelling at a bridal expo when I was six.
What Can You Never Leave Home Without: A book.
What is the first thing you think when you wake up in the morning: What is happening today?