BROOKE McCLYMONT HAS ARRIVED
After developing and working on her own style of singing and songwriting, Brooke McClymont's star is now set to rise and rise high! At the tender age of only 20, Brooke is no overnight success story. She has been refining her talent for quite some time and is already accustomed to wowing crowds and singing in front of large audiences. No wonder her first single is so appropriately titled "I Can't Wait".

Believing she was truly born for a career in music, Brooke spent some time with us at Girl.com.au, sharing her experiences and her journey so far. Not short of a word, Brooke is obviously passionate about what she does and was unstoppable when talking about her preferred pastime… music! AND of course a Girl.com.au interview just wouldn't be the same without running Brooke through her paces in the 60 Second quiz. See how she faired.

GIRL: You say that you have no parachute - no back up plan … is there anything at all you could see yourself doing if it wasn't music?

Brooke:
There is really nothing else I'd want to do but I guess I could always fall back onto my songwriting.
GIRL: Now you sang "God Save The Queen" and "Advance Australia Fair" to open the day-night Australia vs. England cricket match in 1999. Did you know the words to these anthems or did you have to specifically learn them for the event?

Brooke:
I was actually given the words to "God Save The Queen" the morning of the cricket match. I remember waiting at the airport in Grafton and I went up to a man working there at the time and asked him if he knew how the song went. He sang the whole song to me! (laughs) I just bluffed my way through the song when I performed it.
GIRL: You have also been support act for Troy Cassar-Daley on one of his tours. How was this experience?

Brooke:
Troy is a really great guy and we had a good time while on tour. He has always been a big supporter of young talent.
GIRL: When did you cross over from Country to Contemporary Rock?

Brooke:
I didn't really set out to change my music, it was just something that naturally happened. My writing style changed and I also began working with Charles Fisher.
GIRL: You have commented in the past that you HAD to work with Charles Fisher and that nobody was as passionate as him. Can you recall any particularly memorable experience while working with Charles?

Brooke:
I remember when I first met Charles, he was nothing like I thought he would be. He commented on my clothes and I commented on how small he was! (laughs) It was really good…you know what it's like when you are in awe of particular people and you have all these ideas of what they're going to look like etc…and they never are like the person you pictured them to be. We had a great time on the album; he is such a lovely man and is very passionate about his music and the way he works. It was a great teamwork - it was brilliant being in the studio and was very easy-going. Charles and I had a really good working relationship.
GIRL: Why did you decide on "I Can't Wait" as your first release?

Brooke:
When we listened to the album it was a great listen and a really positive song. "I Can't Wait" definitely shows my personality.
GIRL: You have an upcoming album due for release, how do you think the public will receive this?

Brooke:
I've got to see how they go with the first single! Look I really don't know, I hope of course that everyone loves the album, loves the single and we'll see how it goes from there.
GIRL: You've been quoted as saying that working with so many various songwriters gave you the ability to broaden your songwriting ability. What has changed about the way you write now?

Brooke:
Well because I play the guitar more often now, my sound is heading towards a lot more guitar as well as being bass orientated. As I'm growing older, my lyrics are becoming more personal and I'm writing about what I've seen.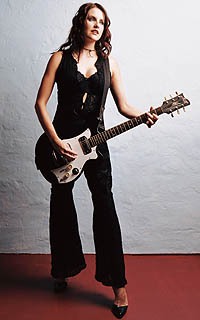 GIRL: We read somewhere that the country artist you'd most like to tour with if given the chance would be Dolly Parton. Is this still the case?

Brooke:
Yeah that is so true, she is just amazing. She was my idol and they say I have her assets! (laughs)
GIRL: Are you still intending on having a career in Nashville?

Brooke:
Yeah Nashville is constantly changing, the music over there isn't just country anymore. The writers over there range from pop to R&B. It's like the base now where all the writers live. I love Nashville it's like a big country town. It's kinda where I'd like to be one day when I'm a bit older.
GIRL: What is the most rewarding aspect about being a performer?

Brooke:
Meeting new people everyday and getting to perform my own songs in front of people, that is very rewarding because you know you've accomplished something. The reaction you get back from a crowd is amazing, even if it's just one person coming up to you telling you how much they enjoyed your music. It's worth it. The crowd actually makes the night.
GIRL: You have just been announced as support act for International star Ronan Keating. How do you feel about this?

Brooke:
It is good, I haven't really thought about it much but it is actually quite big. I've been so busy and am going to be even busier which is great. So hopefully I won't think about it too much, I'll just be concentrating on my performance on the night.
GIRL: Are you scared?

Brooke:
Yeah I will be. It will be quite scary because the crowd will be Ronan's crowd, but hopefully they enjoy my music as well.
GIRL: Now is it true that Ronan actually handpicked you to be on tour with him?

Brooke:
(laughs) Well…yeah Ronan heard my song and the people from Universal were really on my side and wanted me to land this gig, so it was a team work. I was really excited at the idea of touring with Ronan, then he heard it and he really liked it! So that was a bonus…
GIRL: How do you like being all made up for press shoots and album photography?

Brooke:
It is fun, I really enjoy it. This is what I've wanted to do forever. I don't see it as a hassle at all, I love it and I love being a girl.
GIRL: So tell us… are you still "wowing" them at the Jacaranda Talent Quest and the Iluka Talent Quest?

Brooke:
I love them, it's my hometown so of course I love it! They're so supportive of me and every time I'm back there, I try and see everyone. I try and keep in contact with everyone, because that's where it all started from and they supported me throughout.
GIRL: Never forget the little people hey?

Brooke:
That's right because on the way down, they're the people who are going to be there for you.
GIRL'S 60 SECOND QUIZFull Name: Brooke Maree McClymont
Star Sign:
Taurus
Fave Food:
I love all food!
Fave Film:
Saint Louis & Grease
Fave Actor:
Judy Garland
Fave Animal:
Dog
Describe Yourself In 3 Words:
Fun, Talkative & Honest
Best Feature:
Sense of Humour
Worst Feature:
Twisting my hair, biting my fingernails and twitching my leg
Person You Would Most Like To Meet:
Robert "Mutt" Lange
Hobbies/Interests:
Hang out with my friends; I am interested in one day producing my own album.
First Job:
Working at Donut King
A Talent You Wish You Had:
Patience
The Best Advice Given To You:
Never give up or change who you are
What Can You Never Leave Home Without:
Clothes
If you were a cartoon character, which one would you be?
Pluto
If you were told you had a minute to live, what would you do?
Ring everyone and tell them I loved them.
What do you think of when we say Pauline Hanson?
Fuzzy red hair!
Visit the official website - www.brookemcclymont.com
- Annemarie Failla & Michelle Palmer