Dr Seuss' The Lorax
Choose a rating
Dr Seuss' The Lorax
Voice Cast
: Danny DeVito, Zac Efron, Ed Helms, Taylor Swift, Rob Riggle, Betty White
Director
: Chris Renaud
Genre
: Family, Animation
Synopsis
: The 3D-CGI feature Dr. Seuss' The Lorax is an adaptation of Dr. Seuss' classic tale of a forest creature who shares the enduring power of hope. The animated adventure follows the journey of a boy as he searches for the one thing that will enable him to win the affection of the girl of his dreams. To find it he must discover the story of the Lorax, the grumpy yet charming creature who fights to protect his world.
Danny DeVito will lend his vocal talents to the iconic title character of the Lorax, while Ed Helms will voice the enigmatic Once-ler. Also bringing their talents to the film are global superstars Zac Efron as Ted, the idealistic young boy who searches for the Lorax, and Taylor Swift as Audrey, the girl of Ted's dreams. Rob Riggle will play financial king O'Hare, and beloved actress Betty White will portray Ted's wise Grammy Norma.
Dr. Seuss' The Lorax is the third feature created by Universal Pictures and Illumination Entertainment (Despicable Me, Hop).
Release Date
: March 31st, 2012
Before the Production
His Favorite Book: Dr. Seuss and "The Lorax"
"'The Lorax' doesn't say lumbering is immoral.
I live in a house made of wood and write books printed on paper.
It's a book about going easy on what we've got.
It's anti-pollution and anti-greed."
-Theodor "Dr. Seuss" Geisel
One of the best-selling children's book authors of all time, Theodor "Dr. Seuss" Geisel created beloved books that have been published in 95 countries and in 17 different languages. An American icon who achieved global success, he has managed the rarified accomplishment of having more than half a billion books sold worldwide.
The author did not begin his career as the children's writer known as Dr. Seuss. Early on, he served as an advertising artist and political cartoonist. Dr. Seuss explained the importance he later found in writing for young audiences (in an essay published in 1960): "Children's reading and children's thinking are the rock-bottom base upon which this country will rise. Or not rise. In these days of tension and confusion, writers are beginning to realise that books for children have a greater potential for good or evil than any other form of literature on Earth."
In September 1970, hoping to alleviate her husband's writers block and channel his frustration at the overconsumption he found in his community, Audrey Geisel suggested that they take a trip to East Africa. It was on this trip, after watching a herd of elephants walk across the African mountains of the Serengeti, that he found the inspiration to write "The Lorax." Seuss wrote 90 percent of the book that afternoon on the only piece of paper he had within reach, a laundry list.
Dr. Seuss' writing is inextricably linked to his artwork, and the trees of the Serengeti inspired the book's silk-tufted Truffula Trees. For the first time in his books, Seuss shifts the color palette in "The Lorax" from primary colors to a look that was mauve, plum, purple and even sage green. Seuss attributed this change in color to encouragement from his wife, and as a tribute to her inspiration, he dedicated "The Lorax" to Audrey and her two daughters, Lark and Lea.
When it was published in the fall of 1971, "The Lorax" was ahead of its time. When the environmental movement exploded a decade later, the popularity of "The Lorax" took off with it. Readers young and old were now seeing themselves in the story of a boy searching for answers to what happened to the trees.
"The Lorax" has become a story-time staple, teaching and empowering children to create change in their own lives. Notably, "The Lorax" is included on the "Educator's All Time Top 20 List of Children's Books." Of the more than 40 works he penned before he passed away in 1991, Dr. Seuss pronounced that "The Lorax" was his favorite creation.
About the Production
From Page to Screen: The Lorax Returns
"Plant a new Truffula. Treat it with care. Give it clean water. And feed it fresh air. Grow a forest. Protect it from axes that hack. Then the Lorax and all of his friends may come back."
-The Once-ler in "The Lorax"
The relationship Christopher Meledandri built with Audrey Geisel on Dr. Seuss' Horton Hears a Who! led to the decision to make Dr. Seuss' The Lorax. Christopher Meledandri gives some background: "The genesis of the decision to do The Lorax as the follow-up to Horton Hears a Who! actually came from Audrey Geisel. We had talked about wanting to do another film together, and she came to me and said: 'This is the one that I want to do.' She explained that it had been Ted Geisel's favorite book, and it had been dedicated to her. She felt this underlying love for the book, as well as a relevance to what the story was about."
The filmmaker gave great thought to the weight and seriousness of adapting a book with such an important legacy and message. He explains: "I sat with the book for quite some time and shared it with my partners at Illumination. With every Dr. Seuss property, it is imperative to find a way to tell the story in a way that honors the underlying work he created. It took us about six months to determine whether or not we could successfully do that."
Dr. Seuss' The Lorax is the fourth film that Christopher Meledandri has crafted with screenwriters/ executive producers Cinco Paul and Ken Daurio. The writing duo had worked with him on Universal's Despicable Me and Hop, but their first project with Christopher Meledandri was Fox's Dr. Seuss' Horton Hears a Who!. They had a familiarity and understanding of the world of Dr. Seuss and how to successfully translate it to the big screen.
While the responsibility of honoring such a talented artist is vast, so was the opportunity to create a colorful and imaginative filmic world. Christopher Meledandri says: "Dr. Seuss had one of the richest imaginations of anybody living and working in the 20th century. His worlds have a sense of whimsy and playfulness, and his characters are immediately appealing. He wrote these delightful stories, but inside them are ideas and themes that are absolutely timeless."
Back on board for another Illumination production was Despicable Me's blockbuster director, Oscar® nominee Chris Renaud. When asked about the influence of Dr. Seuss in his life, Chris Renaud responds: "He has been part of my life since I was a child, and his stories, especially 'The Lorax,' are ones that that I've passed on to my own kids. He teaches us to be aware of a world that is bigger than ourselves and that each individual can make a difference. That's something that sticks with you. If we retain these lessons as children, you carry them through your life."
"The Lorax" is a beloved and established property that serves as a touchstone for many young readers. To craft a feature production that would draw audiences further into its story, the team would need to flesh out the book's characters and create a complementary world. They didn't set out to rewrite the story, rather to fill in what happened before the book began and after it ended.
Filling in these gaps was no small challenge. Reflects the director: "You want to stay true to the material and honor it, but you must expand it and make it into something that works in a 90-minute movie, something very different from a children's book. You have to decide how to not only take these iconic images and words and turn them into a movie, but how to expand that book's world." Fortunately, Dr. Seuss had given them the ideal jumping off point. "When the Once-ler throws the seed to Ted, it seemed like a perfect place to expand and figure out what that part of the world would be like…in addition to telling the book's tale of the Lorax and the Once-ler in the past."
Because "The Lorax" is so cherished, attention to detail for this adaptation was paramount. Shares Chris Renaud: "We know what the Lorax looks like. We have to adapt him to make him a three-dimensional character, but we had the basic structure, and we've expanded upon that." For additional delineation, the director took Daurio and Paul's imagined world of Thneedville and found visual inspiration from the minutest of details of the town that were shown in the book. He says, "There's a little drawing of Ted's town in the corner of the first page of the book. We used this as our inspiration for Thneedville."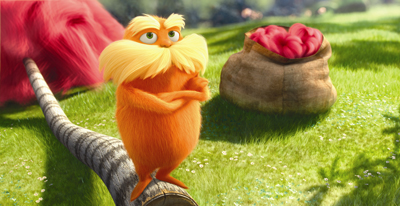 Truffula Valley to Thneedville: Who's Who in Seuss' World?
"He was shortish. And oldish. And brownish. And mossy. And he spoke with a voice that was sharpish and bossy."
-The Once-ler in "The Lorax"
From giant, furry peanuts and ambitious entrepreneurs to a wide-eyed 12-year-old and the girl of his dreams, the world of Truffula Valley and Thneedville is populated with people and creatures of every stripe. Below is a guide to who is who and what is what.
The Lorax (Danny DeVito) is the guardian of the forest and speaks for the trees. He is a short, loud and bossy curmudgeon (inside a cute, fluffy creature). The Lorax's job as guardian is put to the test when the Once-ler chops down a Truffula Tree and threatens to chop down more to further his lofty business plan. The Lorax tries to force the Once-ler out of Truffula Valley and warns the Once-ler that if he disturbs nature, nature will push back.
We first meet the Once-ler (Ed Helms) as an old and bitter hermit who lives in a creaky old shack (the Lerkim) outside of Thneedville. He is the only one who can tell young Ted about the Lorax, real trees and what happened to them. We flash back to the Once-ler as a young man, who takes his donkey, Melvin, and moves to Truffula Valley in hopes of making his fortune. After an unexpected confrontation with the Lorax, the Once-ler promises that he won't chop down any more trees. But when temptations of greed and success get the better of him, he breaks his promise, eventually chopping down every last one. The old Once-ler explains to Ted that there once were real trees everywhere, until he destroyed them to make Thneeds (a revolutionary product with a million uses).
Ted Wiggins (Zac Efron) is a passionate young kid who searches for a living tree, which will enable him to win the affection of the girl of his dreams, Audrey. To find one, he must discover the story of the Lorax, the grumpy yet charming creature who fights to protect his world. Ted realises that pleasing Audrey and the fate of Thneedville both rest on his quest to find a tree.
Audrey (Taylor Swift) is Ted's neighbor who dreams of seeing a real tree. She is a free spirit who has a deep passion for the world around her and paints an amazing mural of the Truffula forest, a place she has never seen. She plays along when Ted "accidentally" loses toys in her back yard and is amused by him, as he has an obvious crush on her.
Aloysius O'Hare (Rob Riggle) is larger-than-life, but only a thigh-high comedic villain. O'Hare became rich by selling fresh air to the people of Thneedville. His factories pollute the air, which helps his business boom. O'Hare runs his empire from a giant blimp hovering over Thneedville, and is always flanked by his enormous thugs, Mooney and McGurk. He has everything to lose if trees are restored to town and fresh air becomes free once again.
Despite her age, Grammy Norma (Betty White) is full of life and energy. She remembers a time when the world was full of trees, and she is determined to help her grandson, Ted, with his plan to restore balance to Thneedville. Grammy Norma is the one who advises Ted to seek out the Once-ler, for only he can tell Ted the story of the Lorax and the trees.
Ted's mom (Jenny Slate) is an average Thneedville resident and has fully embraced the conveniences of her fun yet artificial world. She is puzzled by the eccentric behavior of her mother, Grammy Norma, and her son, Ted, and keeps an eye on both. But when her family is threatened, she goes to great lengths to protect them.
Adorable bearlike creatures who live to tumble among the Truffula Trees, play games and eat sweet fruits, Bar-ba-loots are arguably the cutest creatures in Truffula Valley. Lou is the largest, and Pipsqueak is the klutzy baby of the clan. Pipsqueak loves two things: marshmallows and drooling in his sleep.
Seen flying in gaggles across the Truffula Valley paradise, Swomee-Swans may be recognised by their graceful necks and noble chests. They'll nest anywhere: from atop light fixtures to right in a bowl on your table. The cross-eyed Bill is the youngest of the flock, and he is as funny as he is cute.
You may hear the signature sound of Humming-Fish from miles away. Finn and Gil, especially, enjoy Truffula berry pancakes almost as much as turning the Once-ler's drinking glasses into Jacuzzis. But gunk up their ponds with sticky schlopp, and you've got one angry Lorax with which to deal.

Comedy Legends and Young Superstars: Casting the Film
"Unless someone like you cares a whole awful lot, nothing is going to get better. It's not."
-The Once-ler in "The Lorax"

When casting the actors who would voice the characters in Dr. Seuss' The Lorax, the filmmakers looked to a variety of performers to find not just the ideal actors for the film, but also the perfect people to embody Dr. Seuss' iconic characters.

Producer Janet Healy reveals that many of the animators' choices are influenced by the voices of the actors. "The animators study the actors as they are doing their lines, and take the nuances of the actors' expressions and put them in the movie," she says. "That's what really brings the characters to life. They do a lot of homework and look at the actors and see what's unique about them and what they are bringing to this particular performance, and borrow from them."

Cast as the gruff yet comical Lorax was legendary comic actor Danny DeVito, who currently entertains TV audiences weekly with his portrayal of Frank Reynolds on It's Always Sunny in Philadelphia. For the filmmakers, Danny DeVito's voice represented the sharpish and bossy nature of the Lorax, while also coming off as lovable. Compliments Christopher Meledandri: "The challenge in casting this role was to find an actor who has the ability to be both acerbic and lovable: someone who could give a real comedic wit to a grouchy character but who is simultaneously incredibly appealing. Danny DeVito, with his immense talent, became the perfect fit."

Agrees Chris Renaud: "There really was no second choice. Quite literally, we had a painting of the Lorax at the time, and we put Danny DeVito's voice against it. It was just perfect. There wasn't another choice in anyone's mind. He felt like perfect casting to us, and it's worked beautifully."

The film and television actor, who is as known from the seminal TV series Taxi as he is for his roles in blockbusters such as Romancing the Stone, Terms of Endearment, Ruthless People and Big Fish, is no stranger to voice work for animated characters. His vocal work as the satyr/trainer Philoctetes in Disney's hit animated film Hercules was effortless and scene-stealing.

Danny DeVito, a father of three, is a lifelong fan of Dr. Seuss' books and is an environmental advocate. Seeing the artists' sketch of the Lorax made him even more eager to work on the project. He says: "There's a certain thing about doing the voice for a character that you love. All of Dr. Seuss' books are a lot of fun, and some of them are a bit political. I'm green, and I want everybody to take care of the forests. Chris Renaud brought the drawing of the Lorax over, and it popped into my head that it was such a great character. I love the way he was written so energetically, and I jumped at the chance to work on the film."

Danny DeVito also feels that the Lorax is a symbol of something that is inside all of us. "He's a unique species, but there is a Lorax in every one of us. He's the spirit inside of us, the one that says, 'Don't throw that on the ground. Put that in the recycling bin.' He's the guy who says, 'You know what? I think I've eaten enough sugar today. I'm going to go have an apple.'"

Cast in the role of the enigmatic Once-ler was comedic actor Ed Helms, known to audiences for his roles in The Hangover series and NBC's The Office. Unlike any other character in the story, the Once-ler has a sobering story arc that crosses time. Ed Helms had the challenge of voicing the Once-ler as the old hermit from the book, as well as the Once-ler as a young man who moves to Truffula Valley in hopes of making his fortune.

Shares Chris Renaud of his actor's talents: "Ed Helms was excited to take this iconic character, which you never see in the book, and get the opportunity to expand upon him, flesh him out and make him whole. Ed Helm's ability to be both sarcastic and biting, but also vulnerable and innocent, was what we needed to make this character work."

"The challenge of performing both those ages convincingly is enormous because they have to sound vocally distinct, while maintaining an integrity and consistency between the older and younger versions," explains Christopher Meledandri. "Ed Helms brings his brand of wit and irony to the role of the Once-ler. He has the acting chops, strong comedy instincts, and he is, at heart, a writer, which is a wonderful quality to have in a lead voice of an animated movie. The shaping of the role frequently involves many ad libs and lots of invention on behalf of the actor."

The performer was eager to take on the role. ED Helms recounts his interest: "'The Lorax' was a definite favorite on my childhood bookshelf. My mom loved Dr. Seuss and got my brother, sister and me started very early reading his books. I felt a strong connection to Dr. Seuss' fantastical world; it made me laugh and made sense to me in a weird way. Playing the Once-ler was a huge thrill because it enabled me to actually inhabit that world." When Ed Helms heard about a film adaptation of "The Lorax," he sought out the filmmakers and asked to be involved. He explains: "I heard that these guys were making The Lorax, and I asked for a meeting with Chris Meledandri. I sat down and told him that I would love to be a part of the movie, no matter how small the role, just because this story is special to me and I have a visceral connection to it."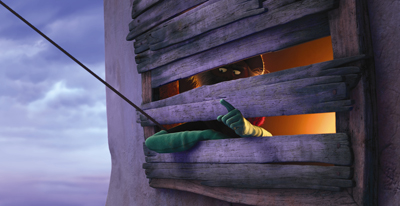 Ed Helms elaborates upon his character: "Like a lot of us, the Once-ler wants to make his mark on the world. He's driven and intelligent, and he sets out on this path to do great things and be successful. But he gets overwhelmed by it. I think that the Once-ler is intrinsically good, but he gets sucked into this feedback loop of profit and success, and that takes him down a very dark path. Fortunately, he sees the error of his ways, but it might be too late!"

When it came to vocals, Ed Helms found voicing the young Once-ler an easier task than creating the older version of the character. "The young Once-ler sounds very close to me and how I normally talk," he says. "The old Once-ler sounds very different and much older than I actually am, so it was harder to refind that voice every time I came back in for a recording session. I figured out that if I screamed and coughed a lot, then I was able to get to that older, raspier voice a little easier. The character has the same brain and he thinks the same, but he's a lot more jaded and bitter later on in the story."

Janet Healy acknowledges that Ed Helms' work helped to make the character of the Once-ler one of her favorites in the film. She says: "I love the Once-ler character, and I always have from the time we first settled on Ed Helm's voice and the character design. We did things like put a rakish hat and a vest on him, and we made the Once-ler a very interesting character."

The role of the passionate and curious 12-year-old named Ted went to Zac Efron, known to audiences for the High School Musical series and the hit musical Hairspray. Though the character is much younger than the actor, the filmmakers knew that Zac Efron's charm and youthful spirit would serve the character well. It was more important to cast someone who could bring life to the character in a unique and passionate way than it was to stay true to the literal age of Ted. Christopher Meledandri says: "Zac Efron is a gifted actor and has a boyish charm that makes him irresistible. He is able to channel that charm in his voice performance."

Zac Efron vividly remembers his parents reading "The Lorax" to him as a child and credits the book as "planting the seed of an environmentalist" in him. Reflecting upon his character, he states: "Ted is a regular kid growing up who is hungry for adventure. He's got a crush on this girl, and he has a crazy grandma and a mom who is too strict, so he wants his freedom. He lives in a world in which there is virtually no nature-no trees and no plants. Everything exists through technology, so it's fun to see him navigating a similar family life that we have today."

Voicing an animated character was a new experience for Zac Efron. He notes that though the process of recording alone in a booth felt a bit awkward at times, he enjoyed the challenge. "I thought back to my childhood and put myself in these awkward, hilarious situations that this kid finds himself in. The variations between something being funny and something not quite fitting are so slight, but they can make all the difference. It's fun to really let go, though I'm sure it looked ridiculous when I was in the sound booth."

Global superstar and award-winning singer Taylor Swift was cast as Ted's dream girl, Audrey, a high-school environmentalist and budding activist who wishes to see a real tree. Christopher Meledandri says: "We are beginning to see the extraordinary range of Taylor Swift's talents. Audrey was a new character that we introduced to the story, so it was vital that we find someone who could capture her in a convincing and compelling way. Taylor Swift's intrinsic passion and expressiveness make Audrey one of the most appealing characters in the film."

Taylor Swift's excitement for working on the project only grew when the filmmakers showed her a drawing of the character that she would voice. "I loved the character from the first time I saw any kind of drawings or renderings of Audrey," the performer explains. "I thought she looked quirky and different. There was something really special about the way that they conjured her up in their minds, and I wanted to be a part of it.

"Audrey's a total dreamer and she has these impossible dreams," continues Taylor Swift. "I've always been drawn to people with impossible dreams. She draws this mural of these Truffula Trees on her wall, and those had been long forgotten by everyone else. She dreams of the day when everything won't be so concrete and cold. Audrey is a regular high-school girl, but she's got some extraordinary characteristics about her personality. She's adventurous and she takes chances."

The small, yet powerful villain and financial king of Thneedville, Aloysius O'Hare, is voiced by comedic actor Rob Riggle. The character was created for the film, and he represents greed personified and control of all information in and out of Thneedville. Rob Riggle describes his duplicitous, yet industrious character: "Aloysius O'Hare is wise at times and unethical at others. He's an industrialist who is trying to create a Thneedville that maybe others don't want. It's the Napoleon complex that gives him his rage and anger."

Explains Zac Efron about his on-screen nemesis' motivation: "Ted has a strange vibe from him, from the very beginning. O'Hare looks like he's three feet tall and has a weird bowl haircut. He walks around with these two huge bodyguards [Mooney and McGurk] and manipulates everyone. He doesn't want any trees to come back because they'll start producing the product he's become rich off of: air."

Chris Renaud thought Rob Riggle was a perfect fit for the part of O'Hare: "The character that Rob Riggle plays is a very broad character, and he loves going broad. He has this booming voice and he was able to capture that slick, smarmy side and also the abrasive, ruthless, aggressive side of O'Hare, while still being funny. Rob Riggle has this wonderful quality to balance all of that."

Rob Riggle jokes that he was actually cast because of the convincing tirade he launched into when he sat down with the filmmakers. "I went on a tirade against trees and how much I hated them. As I read for the filmmakers, I realised that we were kindred spirits and I had to play the role." To prepare to play O'Hare, Rob Riggle wryly states, "I spent many days down at the playground, yelling at children. If I didn't like the way they ran, or they were too slow on the monkey bars, I'd yell at them."

As Rob Riggle recorded his vocals, he interacted with Chris Renaud, even though the director was across the Atlantic in France. During these sessions, the director Skyped in from the animation studio in Paris. Rob Riggle says: "Chris Renaud was very good about giving you a sense of where we are in the story and what's happening and what you're feeling. I love the fact that the director is in Paris and I was here in Los Angeles, and yet, we're making magic. We live in a great time."

Award-winning actress Betty White, who will be forever beloved for playing Rose Nylund on The Golden Girls, was cast as the sassy and energetic Grammy Norma, who tells Ted to visit the Once-ler and explains what to do when he gets there. She is instrumental in making sure that the Truffula Tree seed is found and kept safe.

Though her character is not in the book, Grammy Norma is one of Audrey Geisel's favorite characters in the film. "Grammy Norma's rich design looks nothing like Betty White, but with her iconic voice, the personality of Betty White comes blasting through," explains Christopher Meledandri. "She's the character that others have written off as being too old, but her grandson realises that her wisdom can be very helpful to him. She surprises all of us and becomes this incredible ally to Ted in ultimately achieving his goals."

Not a stranger to working in animation, White enjoyed the challenging task of voice-over work. "You have to make somewhat of a fool of yourself in the booth, but it's great fun and it's interesting," she says. "You do the voice work alone, and it's great that you don't have to put on makeup or have your hair done or anything like that. You're kind of talking to yourself, really. The hardest part is not the lines as much as the sound effects like when you have to sound like you're falling off a motorcycle or you're running into a wall. But that's show business."

Toward the climax of the film, an agile and feisty Grammy Norma teams up with Ted to fight off O'Hare and his goons in a sweeping third-act chase. "I never thought I'd be an action hero," laughs Betty White. "I may still not be much of an action hero, but Grammy Norma gets up on a truck and she does all kinds of things and runs the whole show to help her grandson."

Danny DeVito Becomes the First Actor in an Animated Movie to Voice His Role in Multiple Languages
"I am the Lorax. I speak for the trees.I speak for the trees, for the trees have no tongues.And I'm asking you, sir, at the top of my lungs."
-The Lorax in "The Lorax"

It is always a challenge to cast title characters across the globe in a way that preserves the integrity of both the animated character and the actor's original performance. The incredible personality that Danny DeVito brought to the Lorax in the English version was so compelling that the team wondered if he could capture that same brilliance in other languages as well.

Danny DeVito was approached with the seemingly impossible task of voicing his character in four different languages. Despite the fact that he wasn't fluent in any language beyond English, Danny DeVito is always game for a challenge. He agreed to voice the character in Spanish, Italian, Russian and German. Against all odds, he nailed not only the local dialects but also the comedic timing in those languages.

Commends Chris Renaud: "It's an incredible challenge that Danny DeVito agreed to undertake, and he was committed to getting it perfect. He worked with a director from the local territories, as well as linguists. Speaking any language, it's all about the nuances and the sounds. It's not easy to get that exactly right, particularly across so many languages. I said that nobody but Danny DeVito could be the Lorax, and it is now true across the globe."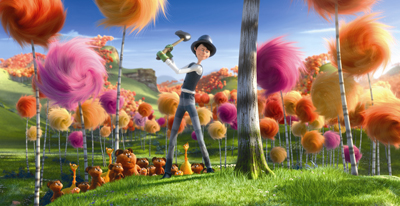 Dr Seuss' The Lorax Part 2 - www.girl.com.au/dr-seuss-the-lorax-part2.htm