Interview with Isy Galey for in.cube8r Stores
Gorgeous hand made products from in.cube8r.
in.cube8r stores have unique Australian hand made products for people who dare to be different! They have a great range of one-off, clever and beautiful products for sale by the artists themselves.
in.cube8r offers artists who make their own products, the opportunity to retail them for a very low cost. The artist can rent glass cubes in the store, display their products themselves and the store takes no commission.
A sample of unique artists and products available include:
Map 29 by Anne Marie Holt: Using Melways maps, designer Anne Marie has created a range of purses and pouches that stand out from the crowd. If a part of Melbourne or Sydney is sentimental to you (first home, where you met your partner etc) then these are cool keepsakes!
GPS pouch $45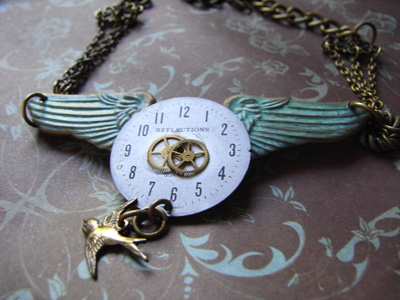 Moochnaround by Anna Fletcher: Anna offers an exquisite selection of ever changing unique handmade products with a huge range of beautiful all occasion fabric embellished tops - singlets, tees & long sleeve tops. She only makes a limited number of each top and uses beautiful fabrics from all over the world.
Evelyn Singlet $49.95, Tee $54.95, Long Sleeve $59.95.
Run Wild Horses by Sharee Humphrey: Run Wild Horses is the brainchild of country lass Sharee. She describes her jewellery as "whimsical, vintage inspired steampunk and indie treasures from a compulsive creator of all things unnecessary." Her range includes gorgeous one-of-a-kind statement pieces and simple trinkets made to delight and inspire.
Reflections Steampunk Necklace $49.95
Skadi Designs by Clare Davidson: Clare's work is predominantly inspired by tattoos, the Victorian era, Gothic architecture, Art Nouveau and fairytales. Like tattoos, she creates pieces that are, if not a part of the body then an extension of it, complementing the body's lines and forms.
Rose Cuff $200 and Diamond Rose Ring $180
Skeleton Threads Designs by Stephanie Korin: Skeleton Threads Designs are high quality handmade lighting products that turn the common household lamp into an attention seeker and conversation starter! Stephanie wanted to combine her passion for Latin America and island cultures, and the way these cultures are represented through their art; and her lamps certainly do that!
'Aloha Pinup Girls' lamp with dimmer switch $180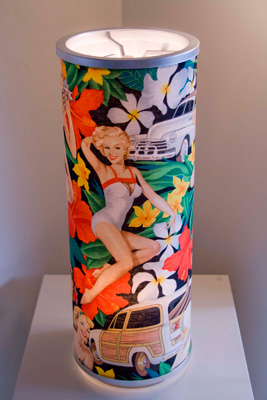 Belinda Di Nino men's and women's jewellery: Each piece is individually crafted and Belinda has two current ranges - Modular and Geo. The label covers a wide range, from production work to detailed individual pieces. Her production pieces, mostly using sterling silver, incorporate bold yet simple lines and geometric shapes.
Men's necklace $175
Jigsaw Furniture: Designer Rich Austin and craftsman Chris Auret make the unique Austin Bench from their premises in Geelong, Victoria. The Austin Bench, embodies a passion for sustainability and a concern not only for the finishing and combination of components, but also for the origin of the raw materials of production. The piece explores the possibilities of recycling and the use of timbers from sustainable sources.
The Austin Bench $660
Ingrid Tufts: Eltham based potter, Ingrid Tufts makes playful and cute items for in.cube8r. Little bottles and vases for a single specimen flower, little perfume bottles and limited edition sets of beakers. Nearly all of her work is thrown on the wheel and then altered or turned and finished. She often works with text and much of her work contains literary reference - a rich source of inspiration.
Perfume bottles and vases $15 to $36
Wayward Creations: Nadia Turner is the artist behind Wayward Creations. She works in a number of mediums including acrylic on wood and canvas, ink and watercolour, paper and textile collage to create her unique and magical artworks.
Atsoula's City $45
Handhookyarn by Berri Drum: The sweet and sassy retro crocheted collars made by 24 year old Berri Drum of handhookyarn are divine. Originally designed and crocheted by hand in Melbourne, designs are made from fine quality Egyptian mercerized cotton. Adding a cool new element to your existing clothes, they will definitely make a style statement.
Black lattice collar $68
Twisted Fig: Often more costume than fashion, Twisted Fig pieces tend to inspire a sense of wonder in the wearer, encouraging adventure and play. Almost all Twisted Fig garments and accessories are one-offs, using either reclaimed materials to make something from scratch, or pre-loved existing garments are remastered and embellished with seas of stitching, trims and found objects.
Headpiece $90 and Neckpiece $60
in.cube8r stores
: 321 Smith Street Fitzroy 3065, Melbourne
1/253 Wickham St, Fortitude Valley, 4006 Brisbane
7/3 Myagah Road Mosman Sydney 2088
You can see the full range at
www.incube8r.com.au
If you like the idea, why not start an in.cube8r store yourself:
www.incube8r.com.au/franchises
Interview with Isy Galey
Isy Galey is the in.cube8r founder and an artist.
Question:
Can you talk about why you founded in.cube8r?
Isy Galey
: I saw a niche market and need for choice in the retail sector.
Commission and consignment was all there was to choose from and lots of people can't do markets for many different reasons.
in.cube8r is a fun, new and exciting interactive business model in the form of gallery retail space where small time undiscovered artists can lease spaces to display their work to the public up to 7 days per week WITHOUT paying any commission on their sales and the sales price is of their choosing.
Question:
What originally inspired the creation of in.cube8r?
Isy Galey
: I had my own ideas for my space and there were 4 main points (all of which have been realised thru in.cube8r):
The main part of this dream was to create a space where artists didn't have to pay any commission on their work and that the price would be of their choosing.
Secondly, to give the artists power over their display and location of display. When you take your work into a shop or gallery, usually there is no say in how it is displayed or next to whom.
Thirdly, to have an interactive space. Artists can come in, change their display, try new ideas/products and also be an active part of the gallery. Recently we had a lady spend the weekend spinning her wool on site and we've had a few people running workshops. I'm open to any suggestions.
Lastly, I wanted a non elitist space. I wanted anyone who made anything to have the freedom to display their wares in a public space.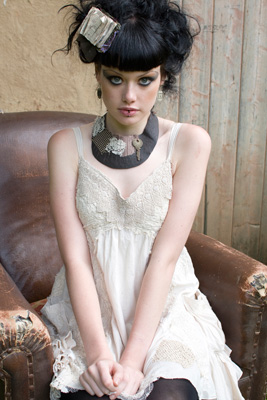 Question:
How are in.cube8r stores unique?
Isy Galey
: Because there is NOTHING else like it available, it fills a massive niche market and is HIGHLY viable.
In terms of product; everything is handmade, one-off, unique and proudly Australian.
In terms of the market; at any regular gallery/retail space artists have little to no say about where or how their independent handmade items are placed or whose work they are displayed next to and they have a commission taken against their work, we don't.
At in.cube8r, not only do artists get to choose where their items are displayed (from 24/7 window visibility to a basic $20 cube with GST) they also get to display everything themselves in their very own 40x40cm glass cubicle, or wall space (clothes rack, 2D board) exactly the way they want it to look!!
In terms of sales; customers love the concept, they come back for every birthday, anniversary, wedding, because they know that their gift can't be found else where and that 100% of what they buy gets paid back to the creator.
Question:
Can you share your hopes for the future of in.cube8r stores?
Isy Galey
: I was getting so many emails from all over Australia and NZ saying, "We need an in.cube8r in Perth, Sydney…", Franchising seemed the perfect option.
I have my hands full, but I can share the love by creating a franchise package. We have refined it down to such a fine art, it's as easy as plug-in-and-go with purpose built software which the artists can log into, anyone with good organizational skills, an appreciation for the arts can have their own in.cube8r.
We are looking for the 'right' people to represent us well and are currently looking to have one or two in every state.
My first franchisee, Vicki Sinclair bought the first franchise for Brisbane in April this year, before they were even officially for sale and Susanne Foale in Sydney is opening on 25 October.
We are looking for more people with a good business mind, great at organising and an appreciation of all things handmade.
Question:
How do you go about choosing artists and designers for your r>stores?
Isy Galey
: It's a totally non-elitist approach, anyone can have a go. All we look for is that it's not straight out component assembly, there has to be at least 50% handmade input and we keep it varied, so no 2 people working in the same way. Also we have a limit on how much jewellery we carry so sometimes people go onto the waiting list.
Question:
Can you explain how the designers display and sell their pieces?
Isy Galey
: The concept is this…
Artists can rent out a glass cube, 2D partition, wall space, shelves or clothes rack for a three month period but can change their stock over regularly.
Rents start @ $20 per week and is paid monthly; we then pay the artist monthly for what has sold in the store.
The artist benefits from the retail selling price they set and they pocket 100%, we take no commission.
Insurance etc is all included in the rental price, just GST is extra and a one off enrolment fee.
The onus is on the artist to fill and decorate that space. This principle supports my belief around self responsibility and creates a challenge for the artists to keep their space happy and varied.
We have purpose built software, which all the artists can log into and edit their stock info, see sales, print invoices from etc.
Question:
How many designers feature throughout in.cube8r stores?
Isy Galey
: We have up to 90 participants working in every medium from: glass to textiles, clay to 2D prints, metal to home made skin care.
Question:
What awards have in.cube8r been nominated for?
Isy Galey
: NEIS business of the year 3 years running and we've just won City of Yarra and Leader Newspaper favourite arts and entertainment venue for 2010.
Interview by Brooke Hunter