Have Earring Holders, Will Enjoy Jewellery More
We love all things jewellery at CreativelyBelle.com so the quest to display our handcrafted designs has resulted in a
great range of jewellery display stands
.
So if you love your jewellery you'll want to enjoy it more by showcasing your favourite earrings, necklaces, bracelets and rings with jewellery display stands at home as beautiful as they do in the most stylish boutiques.
See It, Wear It, Enjoy It


When you store your jewellery with earring holders and jewellery stands you see it more and wear it more - letting you enjoy your earrings and necklaces even more.
Jewellery Display Stands are
great presents for jewellery lovers
as well as:
*
No more messy tangles
with your necklaces, earrings and bracelets
*
Keeping your earrings together
so you can find them easily
* The
more you see
your jewellery the
more you wear
your jewellery
*
See the beautiful little pieces of art work
in your collection
all the time
*
Easier to get ready
by seeing what you have
*
Great for organising
your collection and
saving space
with their small table top footprint
*
Having a range of Earring Holders and Necklace Stands
of your own so you can theme your jewellery collection each season.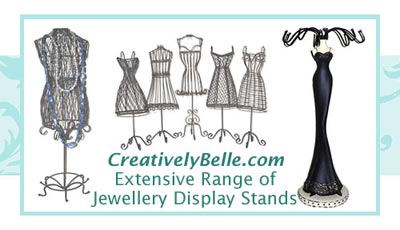 See our always growing range of
earring holders, necklace stands and ring stands
online at CreativelyBelle.com.
What you can find online at CreativelyBelle.com:
Freshwater Pearl Jewellery
, including earrings, necklaces and bracelets in pearl only designs as well as pearls with gemstones and artist glass.
Beautiful Bridal Party Jewellery
- we make a lot of custom pieces to match bridal party colours and design needs and are a member of the Australian Bridal Service.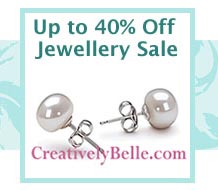 Up to 40% OFF Jewellery Sale
- for the bargain hunter online shopper in all of us!
Handmade beaded jewellery
- using the finest quality components in original and stunning designs so you get to stand out from the crowd with designer pieces.
Jewellery Display Stands
for storing and displaying your earrings, necklaces, bracelets and rings as well as beautifully designed
Jewellery Rolls
for travel, weekend escapes and storage.
Gemstone Jewellery
including pendants, necklaces and earrings in captivating designs.
50 Free Wedding Tips
- to help make this hectic time of organising that much easier!
Jewellery Competitions
- go in the running to WIN a $50 Gift Voucher when you join our
free email newsletter
with jewellery design news, tips and competition winners. More competitions are detailed in the e-newsletter.
Great Gift Ideas

I love the feeling of giving the perfect gift and so will you with the Creatively Belle collection of earring trees and handmade jewellery.
All our jewellery comes gift wrapped in charming organza gift bags to make it convenient for you.Online shopping saves time and makes life easier with being able to shop when it suits you and having the parcels delivered directly to you. Express post can also be requested.
What our customers have to say about us:

Thank you Creatively Bell for this gorgeous piece, I absolutely love the unique designs and ideas you create, gorgeous pieces that a lady can be proud to wear - Jan in South Australia
Beautiful jewellery at great prices - Glenys in Western Australia
I love this site - so many beautiful pieces of jewellery - Loraine in Queensland
I am a mum to two girls and this is a great site with awesome products, living outside of Brissie and not being very mobile at the moment means I can buy beautiful gifts online for my girls and the rest of the family without any hassles - Annette in Queensland
"I bought my first pair of Creatively Belle earrings about 3 years ago and every time I wore them, people would comment on how lovely they were. Then about a year later I had a ball to attend and bought a pair of exquisite Czech glass earrings and matching necklace, they really completed my outfit without costing the earth.
"In a recent quest to buy a good friend the perfect present I sent her a set of earrings and necklace, she adores them and likes the fact that she's wearing something that is handcrafted. With such unique and beautiful designs I have become a Creatively Belle collector." - Libby in Georgia USA.
Shopping

Ordering can be done online or over the phone - whatever suits you is easy with us.We also attend a range of shows, expos and events so come along and see our work directly.
See more online at www.CreativelyBelle.com