One look at the ingredients label of teenage skincare products and Sharen Barbera and Kirsten Harris decided they had to produce a locally made, natural alternative.
After extensive research, they found a leading chemist who took on their cause, agreeing to create products using natural ingredients sourced in the pristine surrounds of Byron Bay on the New South Wales north coast. Their criteria? No petrochemicals. No artificial perfumes or colours. No testing on animals. Only naturally derived ingredients. They got their wish list and the products were made in Byron Bay. Six months later, Byron Bay OZmetics Co. is launched.
The products are made from a spring water base rather than alcohol, soap or oil, which can play havoc on teenage skin. The locally sourced spring water is purified through a UV filtering process (no chemicals are used) then combined with essential oils, medicinal herbs and plant extracts.
A key consideration in developing the product was to ensure the skincare range was affordable to teenagers (and parents!). The Barbera-Harris team know how expensive it is to raise a family: they have eight children between them. And they wanted products that were equally relevant to guys as girls given that their sons, daughters, and many of their friends were image conscious.
"We deliberately kept our overheads low as we didn't want the kids to miss out on an exceptional skincare range," Kirsten says. "Why should adults have all the good stuff? As parents we only want the best for our children."
Sharen says too many harsh chemical products are targeted at children. "We felt we should bring out a range that we'd be happy for our children to use. But we didn't want it to be expensive."
Most skincare products for teenagers are priced between $10 and $20. Byron Bay OZmetics Co. products sell for about $15 each. "Our products are reasonably priced considering we haven't added any cheap petrochemicals or bulking agents."
In recent years there has been much press worldwide about the amount of chemicals in everyday household items, not to mention products we apply to our skin. The average person applies up to 12 toiletries/cosmetics a day. According to www.chemicalsafeskincare.co.uk, we could apply as many as 175 chemical compounds before we've even dressed.
"We wouldn't expect our kids to eat petrochemicals ( a by-product of petrol) so why would we want them to use them on their skin," Kirsten says. "We teach our kids to eat healthy food, drink plenty of water, now let's educate them on looking after themselves and feeling good about themselves."
The best way to have healthy skin is to look after it from an early age. Byron Bay OZmetics Co. is a natural skincare range for teenagers that helps keep young skin natural and healthy.
About Sharen Barbera

Sharen Barbera has worked in the cosmetic industry for 24 years. She started her career with a chemical-based skincare company and in the past eight years has worked in the natural skincare industry. Sharen has extensive experience in skincare sales, having worked for a leading natural skincare company overseas and in Australia. During this time she worked closely with a cosmetic chemist to develop natural skincare products.
"The benefits of natural skincare products outweigh chemically based products without a doubt. There's no comparison," she says.
About Kirsten Harris

Kirsten Harris knows all about good health after working for many years as a chef. "I've always been one of those people who checks the ingredients on everything," she says. After hanging up her apron to retire from chef work, Kirsten has completed a makeup artistry course and moved into cosmetic sales and marketing, to fulfill her passion for developing a skincare and cosmetic range. Kirsten has been trialing Byron Bay OZmetics Co. for eight months and loves the effect it has had on her oily skin type.
"My skin has never felt or looked better. I no longer have problems with clogged pores because I'm no longer using chemicals or oils on my skin. I am an oily skin type and the biggest mistake you can make is to think you don't need to moisturize. It gives me the horror's to think that through clever marketing Teenagers are being sold harsh chemicals to use on their skin. These chemicals dry out their skin's surface sending a message to their sebaceous glands to produce more oil, so it's a vicious cycle, the newly produced oil can't escape naturally, because the skin's surface is too dry, this then causes clogged pores and blemishes."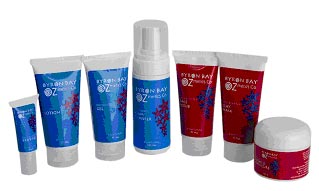 The Byron Bay OZmetics range
The Byron Bay OZmetics Co. range starts with 7 products for normal to oily skin, suitable for guys and girls!
For a 3-step daily skin care regime:
Oil Control Foam Cleanser, RRP $14.95 .


An easy-to-use foam cleanser which helps remove all traces of make-up and impurities without stripping the pH level of the skin. A gentle foam cleanser with calming and healing properties. A great shaving foam for Guys.
Oil Control Gel, RRP $14.95


This oil-free gel softens the skin and prepares it for your moisturizer. It contains a natural humectants, which aids in the prevention of water loss from the skin's surface. Regulates the skin's oil production. Contains Aloe Vera to help calm and heal most skin types. Great for guys after shaving.
Oil Control Lotion, RRP $14.95.


A light oil free daily moisturiser for day/night, nourishes skin and assists in balancing excess oil production without clogging pores. Contains vitamins to help boost and revitalise the skin.
For those emergency moments:
Oil Control Spot-Eze, RRP $12.50


A pocket-friendly gentle balm for blemishes and blackheads. Containing Tea Tree, Vitamin E and Aloe Vera to help control the spread of bacteria. Soothes and calms red blemished skin. It effectively controls the bacterial infection from spreading with its natural antiseptic properties.
For pampering:
Skin Booster Face Scrub, RRP $14.95


this gentle exfoliating scrub deeply cleanses without scratching the skin's surface. Stimulates circulation leaving the skin feeling fresh, clean and smooth. Assists in unclogging pores and helps control blackheads. Gentle enough to be used daily.
Skin Booster Clay Mask, RRP $14.95


This soothing clay mask helps soften the skin, absorb excess oil, draw out impurities, unclog pores and calm irritated skin. It contains Kaolin Clay which aids in reducing redness whilst removing dead skin cells.
Skin Booster Miracle Manicure, RRP $19.95


An amazing blend of natural salts and essential oils for a relaxing manicure. Let the essential oils work their magic to leave hands feeling soft and supple for hours. Can be used as a pedicure/ body scrub as well.
For all enquires call 02 9565 4481 or visit:
www.ozmetics.com.au
Review: Gentle alternative to harsh abrasive skin care treatments on the market, ideal for sensitive teen skin.