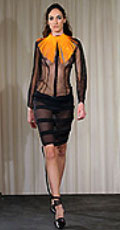 Rundle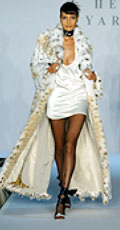 Yarmak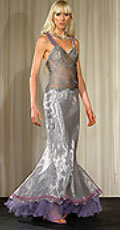 Libman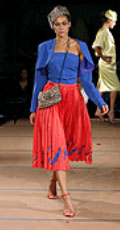 Mills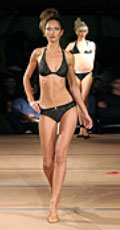 Costa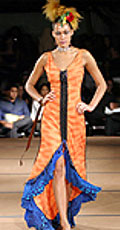 da Silva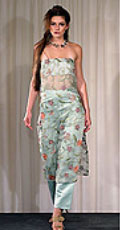 Shuayb
(New York , September 2003). The USA International Fashion Shows Spring 2004 series of couture runway shows took place September 8 -10 before enthusiastic audiences crowding three of the hottest venues in New York City: Capitale, Sessa and Eugene. The black tie events, held twice annually in February and September, represent a return to elegance and style in New York City. Featuring some of the most creative national and international designers of couture and finely tailored garments presented to an audience of VIPs, the international press and upscale fashion and boutique buyers, the collections included lavish accessories, dramatic makeup and trend-setting hairstyles.

The USA International Fashion Shows had its successful debut in February 2003 with the participation of talented designers from Africa, Latin America and the USA.

The September 2003 shows included the latest glittering collection from renowned Russian designer Helen Yarmak presented before a distinguished and appreciative audience of international diplomats, celebrities and socialites at Capitale. The evening culminated with the presentation of the International Fashion Designer of the Year award to Ms. Yarmak by Andres Aquino, founder and producer of the USA International Fashion Shows.

Special runway models included actor John Leguizamo and ballet stars Irina Dvorovenko and Maxim Belotserkovski. The evening also featured the donation of a stunning fur coat designed by Ms. Yarmak and modeled by opera star Renee Fleming, to be auctioned off to raise funds to benefit September 11th charities. Ms. Fleming, who will soon be appearing in the Metropolitan Opera's production of La Traviata, was escorted down the runway by Gregory Buday from the FDNY. The brilliant white full length fur coat was recently worn by Lisa Kudrow in the new film "Marci X".

Also participating in this season's shows were

Clive Rundle from South Africa - the profound experience of the beauty found in unexpected spaces was the theme of his season's collection.
Mayssan Shuayb from Lebanon - a delightful collection of designs characterized by their European sophistication with a Middle Eastern influence.
Patricia Mills from Ohio - her Spring collection is inspired by the golden age of Hollywood. Patricia's fashion career is a living legacy to the memory of her sister who lost her battle with the lung disease sarcoidosis. A victim of the same illness, Patricia garnered heartfelt applause from the audience when, with the help of a breathing apparatus, she took her bow after the beautiful runway show.
Sueli Costa from Brazil - Her sexy collection of swimwear for her Opera line combines Brazilian sensuality with Italian elegance and was an instant hit with the audience.
Lourdes Atencio Libman from the Dominican Republic - a dreamy, colorful collection featuring a masterful use of fabrics. Each garment is a work of art. (Lourdes made her first sale of the season right off the runway!)
Antonio da Silva from Portugal - a vivid line of versatile fabrics and cuts inspired by the passion of bullfights on the Iberian peninsula.
Sexy footwear designed by "the shoe architect" Carlos Molina accessorized many of the shows, while talented jewelry designer Maja Schulz added a glamorous touch with handcrafted necklaces, bracelets and earrings. Makeup for the Lourdes Libman, Clive Rundle and Mayssan Shuayb shows was provided by Shishedo of Japan.

A distingushed audience. The international flavor of the event drew a large contingent of diplomats including the Honorable Ivan Vosloo, Consul of South Africa in the United States as well as members of the Permanent Mission of South Africa to the United Nations; General Counsel of the Russian Federation Viacheslav Pavlovsky and his wife Katherine Pavlovsky; Sergey Lavrov, Russia's Ambassador to the United Nations his daughter Katya Lavrov, the Deputy Permanent Representative of Lebanon's Mission to the United Nations and the Consul of Ecuador in New York.

Other diplomatic attendees hail from the Czech Republic, Costa Rica and Egypt. Attending celebrities, socialites and notables included: Samusev Alexandre, President of Set Holdings; Somers and Jonathan Farkas; Kimberly Rockefeller; Amanda Hearst, Gillian Hearst and Lydia Hearst (who modeled on the runway for the Helen Yarmak show); Royce Pinkwater of Sotheby's; interior designer Catherine Aaron; Maggie Norris; Mipam Thurman (brother of Uma Thurman); Sydney Biddle Barrows; Michelle Gerber Klein; Dr. Kelly Posner; Francesca and Chris Beale; Julie Hayek; Alice Judelson; Miss USA 2003 Susie Castillo; Miss Teen USA 2003 Tami Farrell; Alan Wizig; Brian Wolk; Claude Morais; Jason Grant; Jill Zarin; and Diane Dunne, among others.

"Haute couture is fashion at its best," notes event producer Andres Aquino, "because it represents a fusion of fine art, skilled hand-tailoring and creativity. The clothes are a designer's artistic statement made without the limitation of mass production concerns. With the USA International Fashion Shows we are experiencing a renaissance in the art of couture in New York City", continues Mr. Aquino. "Over the long term, the USA International Fashion Shows are striving to become a stimulus to the fashion industry and the economy in general, creating new jobs and business opportunities." Rockin' After Parties.

Several after parties took place in conjunction with the shows. On September 8th, the new hip drink Hypnotic sponsored an open bar at Sessa. On September 9th, the Helen Yarmak show at Capitale was followed by a lavish cocktail party complete with Russian vodka, caviar and champagne. On September 10th at Eugene, famous colorist Colin Lively played emcee introducing North Carolina country singer Juleigh Ed, salsa singer and model Rafael Rivera, up-and-coming R&B singer Levron, and sultry Latin performer Magdaly Rose from the Dominican Republic. The after party featured the presentation by Andres Aquino of the 2003 Celebrity with a Big Heart Award to Costa Rican-born supermodel Mauricio Amuy. Mauricio is continuing a lifelong tradition of helping unfortunate children. The award recognizes accomplished persons in the fields of fashion, music, film or art who also support worthy children's charities.
Further information can be found at www.usafashionshows.com