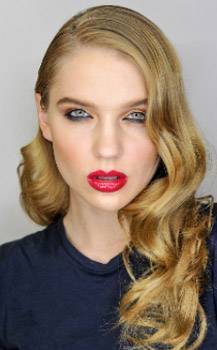 Get The Look: Sexy and Glamorous
Runway Report: Get the Look from the Talulah (Group show), Sexy and Glamorous.
'Push aside the old Gatsby, modernize it with a little disheveled twist."-­ Troy Thompson
Schwarzkopf Professional OSiS +
With Hair Director Troy Thompson for Schwarzkopf Professional
A sexy look for when you need some extra glamour

1. Work through Schwarzkopf Professional OSiS+ Grip Mousse on hair. Then
spray Schwarzkopf Professional OSiS+ Session Salt Spray from mid-­length to ends. Round brush the product in to smooth hair a little.
2. Begin with parting the hair mid-­centre of eye taking it back to the crown
3. Start at the nape of the neck and take sections, spray each section with Schwarzkopf Professional OSiS+ Session Flexible Hold Spray and using hot tongs,
create a barrel curl (under the tong to keep length). Pin with longs clips and continue up to just above the ears.
4. Smooth out top of hair and curl only from just above ear to ends (mid lengths
to ends). Using a dress out brush out hair to create smooth, bouncy locks with
a little volume.
5. Spray hair with Schwarzkopf Professional OSiS Session Firm Hold Hairspray and
cover with Schwarzkopf Professional OSiS+ Sparkler to give gloss (don't overdo
it so as to avoid hair dropping).