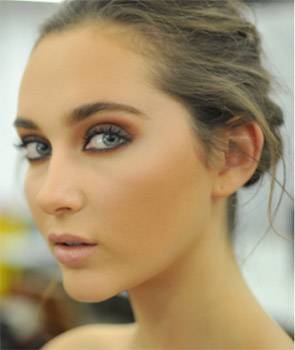 Get The Look: Untamed Formality
Runway Report: Get the Look from the Akira and Ted Baker (Group show), Untamed Formality.
With Hair Director Peter Tickner for Schwarzkopf Professional: Peter is known for his attention to detail & creativity under pressure. He enjoys the constant evolution of the craft of hairdressing and loves to think outside the square.
'A modern style that says sophistication both on the sand and in the city"- Peter
Tickner
Get the look with: Schwarzkopf Professional OSiS+
1. Apply Schwarzkopf Professional Osis + Grip, from roots to ends to give the hair guts for styling.
2. Dry hair with fingers front to back until the hair is 100% dry.
3. Using a straightener or medium curling iron, complete a set, rolling the hair backwards.
4. Use fingers to rake through the hair from front to back, breaking the curls
5. Dust hair with Schwarzkopf Professional Osis+ Dust It, and roughly rub the hair at the sides and top to achieve a textured dishevelled look.
6. Separate the hair from behind the ears to the crown into two sections, and bring the bottom section into a ponytail at the nape of the neck.
7. Gently bring the dishevelled top section into a second ponytail, an inch higher than the first. Leave pieces at each temple for softness.
8. Plait each pony, lightly pulling to create a rough texture.
9. Now wrap each into a bun, pinning to secure into desired shape.
10. Once the knots are in place, finish the look using Schwarzkopf Professional Osis+ Sparkler to add shine.
11. Set the overall shape with Schwarzkopf Professional Osis+ Session Flexible Hold Hairspray.