Hilary Duff had her first fashion show in LA last week that featured the latest fashion from the Stuff by Hilary Duff range. We have the attached some pictures from the show.
Hilary Offers Designer Commentary In Chic Runway Unveiling Of Her Affordable Couture
Beverly Hills, CA and Dulles. Hilary Duff, the multi-platinum chart-topping recording artist and concert headliner, star of films and television, designer, businesswoman and philanthropist, unveils her newly designed stuff by hilary duff Fall collection of affordable couture in apparel, accessories and home décor for tweens. The stuff by hilary duff collection designed by Hilary in collaboration with her creative director Geoffry Gertz will be unveiled exclusively on AOL RED for teens and KOL for kids in the stuff by hilary duff fashion show at
www.hilaryonred.com
.
Throughout the Fashion Show, Hilary offers her own perspective and hands-on knowledge of the collection through commentary while seven young runway models showcase each new look - from denim minis and jeans to lace trimmed tops and accessories complementing each outfit. The show also spotlights Hilary Duff's bedding and home décor. Incorporating the fast-paced tempo of the instrumental track of Hilary's brand new single Play With Fire, for which the music video will world premiere the same day as the fashion show, the exclusive AOL RED and KOL stuff by hilary duff fashion show also introduces a preview of Hilary's Holiday collection.
Hilary Duff describes her Fall collection as an aspirational and lifestyle program, weaving her enigmatic style and trend-savvy taste into affordable couture. Hilary has been instrumental in driving her design team to work with her to create product which is stylish and directly reflects her personal taste, sense of style, and authenticity.
"I am excited to unveil my new Fall stuff by hilary duff fashion collection exclusively on AOL's teen service RED and AOL's kids service KOL," said Hilary. "It's the perfect opportunity for my fans to get a sneak peak at my line, hear my thoughts on my favorite looks, and get some great ideas on the hottest styles for Fall. I've really enjoyed the challenge of creating my fashion collection. This show is the result of all my hard work."
Hilary Duff's Fall collection reflects her personal sense of style and taste. It will be available everywhere at national retailers and specialty stores. Hilary stated, "Along with my very full schedule, which includes acting, recording and worldwide concert touring and hands-on volunteer work, my work as a designer is a priority. I make sure I find quality time to be involved in all aspects of design. As a designer, I travel around the world - from Milan to Tokyo, New York to Los Angeles - to make sure my ideas are in tune and always authentic."
Beyond the "stuff by hilary duff Fashion Show," AOL will provide a full range of programming about Hilary Duff throughout the AOL network, including her regularly personal blog and details about her new movie Material Girls in theatres August 18.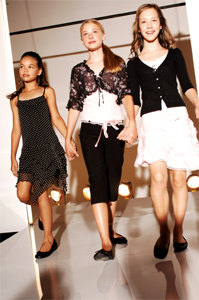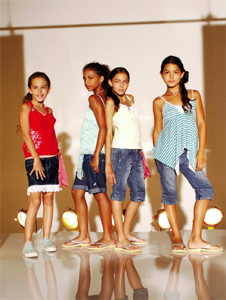 About The Collection
The Fall stuff by hilary duff collection combines street verve in unexpected shapes and details with vintage charm. Shorts are the newest silhouette for the Fall collection in both denim and tartan plaids. Denim minis and jeans borrow a little spirit from the boys by patching tie stripes and plaids. Minis are worn with leggings, the collection's key layering piece. The Fall collection uses pin tucking details, lace trims and sequin embellishment in a casual handle using jerseys and pointelle. In addition, the line offers trompe l'oeil necklaces and cameos decorating tops, tees and denim jeans, jackets and skirts. Hilary Duff's first Fall collection delivery Broken English redefines plaids and argyles by overprinting tartans with gothic graphics and crests. Specialty knit fabrics embellished with novelty graphic icons such as skulls & crossbones softened with traditional florals are also used.
The new Fall collection is available at several thousand retail outlets in the United States now at Wal-Mart with accessories at Claire's and then later this month at Kohl's, Goody's Kmart, Target, Limited Too, JC Penney, Sears, AAFES, Boscov's, Burlington, Club Libby Lu, Gordman's, Gottschalk's, Marmaxx, Meijer, Shopco, Stage Stores and Toys 'R' Us.
Hilary Duff has emerged as the design force behind her stuff by hilary duff label, plunging into all parts of the design process. She meets often with her new creative director Geoffry Gertz and her New York-based manufacturers for product development, researches in vintage stores, selects at print studios and maps design strategies for coming seasons. Hilary and Gertz kicked off their design collaboration by meeting extensively in Milan and London for inspirational research. Her original taste has developed and been enhanced through her active research with street fashion, flea markets and clubs, as she interprets emerging trends for her vital and growing young customer base.
Hilary Duff has assembled a team for design, marketing, promotion and sales of her new and expanded stuff by hilary duff label. Overseeing the label is brand management firm The Robert Thorne Company, which collaborates with Hilary in spearheading her fashion, beauty and home product lines and her online and promotional initiatives, overseeing production, sales and marketing. "Hilary's the tastemaker of her generation, a talented and intuitive young woman who's earning much-deserved credibility as a designer," said TRTC's Thorne. "She has real designer instincts and works tirelessly to set just the right trends at the cutting edge for her customer." As her new creative right hand, Hilary engaged creative director Gertz, a 20-year veteran of the international fashion business, having overseen an $800 million fashion line before joining Hilary Duff, to help manage her in-house design team for her rapidly expanding global fashion business. Said Gertz, "Collaborating with Hilary is a joy. I love her contemporary vision for fashion. Mixing vintage details with edgy modern design is fast becoming Hilary's signature for affordable 'tween' couture."
About Hilary Duff and AOL
Hilary Duff and AOL have had a long history - having premiered her debut single So Yesterday. Within the past few years, Hilary's appeared multiple times on AOL's popular daily kids radio show Radio KOL - listened to by more than one million kids per week. Radio KOL has also broadcasted live from Hilary's concert tours. In 2005, Hilary Duff and KOL launched the interactive "Hilary World," which offered a variety of behind-the-scenes content, including exclusive interviews, a monthly Hilary Advice Column, Hilary's Favorite Picks on books, CDs and movies, and much more. Later that year, Hilary partnered with AOL's teen service RED to create a daily blog for all her fans. Hilary also ranks among the Top 10 celebrity searches on AOL. Now, AOL will showcase her new stuff by hilary duff products exclusively at
www.hilaryonred.com
and AOL Keyword hilary.
About Hilary Duff
Hilary Duff is an internationally celebrated multi-platinum chart-topping recording artist, concert performer, actress, designer, philanthropist and businesswoman. Hilary Duff's recent world concert tour spanned the globe, with multi-city appearances in the U.S., Europe, Australia, Canada and Latin America. Hilary's latest CD Most Wanted was #1 for two consecutive weeks on the Billboard 200 music chart in the U.S., #1 for two consecutive weeks on the Canadian chart and also reached top-charting success in several other countries. Her new single release, Play with Fire, will drop in early September followed by a new CD later this year. On the big screen, Hilary Duff reprised her starring role as Lorraine in Cheaper By The Dozen 2 and can be seen on screen this month in Material Girls. As a designer, Hilary Duff is actively involved with her creative director in leading the design process to grow and expand her fashion, beauty and home products business globally, featuring her tween label stuff by hilary duff launching its Fall collection in nearly 7,500 stores with a 2006 fashion product expansion of enhanced design, and her teen designer label hilary duff kicking off with Hilary Duff's fragrance line from Elizabeth Arden and followed by a juniors line of apparel in 2007/08.
stuff by hilary duff range is exclusively available at Kmart stores nationally.