As the countdown for Christmas begins so does the hunt for the perfect gift.Although Christmas shopping for kids can be fun, finding the right interactive toy for the right age can be tricky, here are some helpful hints on top picks this christmas.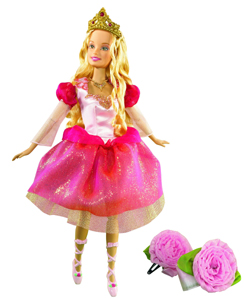 Dance With Me Barbie
For girls that love to dance, the innovative and interactive
Dance With Me Barbie®
is inspired by Barbie in the 12 Dancing Princesses' DVD movie.
This unique doll will magically follow a girl's dance moves when the special ankel and wrist accessories are worn, or girls can follow Barbie whilst she teaches dance steps through demonstration and voice prompts.
Girls will feel like a princess whilst they watch Barbie and learn dance. Make your ballerina's wish come true this Christmas with
Dance With Me Barbie®
.
Age 3+
RRP: $89.95
Review: This one is at the top of kinder girls Christmas list. More than a Barbie,
Dance With Me Barbie®
will keep young girls interested for hours. Their own special friend to dance with any time they like.

Pixel Chix™ Love-2-Shop Mall
The coolest chick in town this Christmas is
Pixel Chix™
with the hippest '2D girl living in a 3D world'. In fact she now has an entire mall dedicated to her shopping needs. The Pixel Chix™ Love-2-Shop Mall comes with a flip screen allowing your
Pixel Chix™
; gal to move between the shops for double the fun. There are two malls, each with two shops - a boutique/food court and a salon/pet shop. Attach the fantastic
Pixel Chix™
House and Care to the Love-2-Shop Mall, and girls can watch their
Pixel Chix™
interact with each other and create a whole new world of
Pixel Chix™
fun!
Seven different input buttons allow for interactive play including new work, money and shop buttons - the more the
Pixel Chix™
works, the more cash she has to splash on her favourite things... The fun doesn't stop there, connect both malls together so your
Pixel Chix™
buddies can hang out or shop together. When
Pixel Chix™
gal is exhausted from all that shopping and socialising the mall closes up into an adorable handbag shaped case, so girls can take it on the go.
Ages 6+
RRP: $54.95
Review: Confused about what to get girls this christmas that are in early school years,
Pixel Chix™
is a definite winner. You're not styling without it!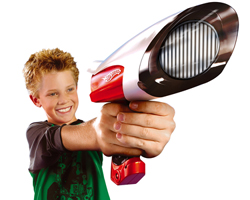 Hot Wheels Radar Gun
Once and for all you can prove who is number one in the speed stakes with the '2006 Australian Toy of the Year'
Hot Wheels Radar Gun
! With two models - Hot Wheels 1:64 scale and human 1:1 scale, the Hot Wheels Radar Gun empowers boys to measure the speed of all moving objects, from a Hot Wheels Car on a track set, to a bike on the BMX track! Simply point, click and clock the speed! Measuring up to 128km/ph, the Hot Wheels Radar is sure to provide kids with endless entertainment.
Ages: 5+
RRP: $39.95
Review: The ulimate in boys toys -
Hot Wheels Radar Gun
- just be careful they don't pull you over for speeding...