Bride to Business - The Mastermind Behind Australia's Newest Bridal Website
For many, wedding planning is an exhausting task that leaves brides confused and out of pocket, as was the case for Brides Central mastermind Katrina Skebes. With a background in corporate events, Katrina was able to create a platform for brides to collect all the information they need in one trusted location, helping to take the stress out of the planning process.

Brides Central curates a collection of the best wedding vendors, locations, suppliers and designers to offer brides a range of high-quality, trusted brands which are updated weekly, with the aim of making every bride's wedding day a little easier. The fondant on the cake – the real weddings, shared by customers who used Brides Central to create the magic of their special day.


Interview with Katrina Skebes, Brides Central Creator
Question: What is Brides Central?

Katrina Skebes: Brides Central is an online platform for newly engaged couples, to plan and inspire their wedding day. A space housing the latest in weddings, trusted suppliers, venues and Australia's first Designer Portal, (showcasing Australian and international designers) with brides' budgets and styles in mind. Couples can save images, contact vendors and plan their seating chart – to name a few. That means there's no need to carry around a binder or magazines any longer! We also offer subscription to our monthly eNewsletter – a wrap-up of industry news and an easily digestible splash of inspiration. With much more coming soon, including our virtual wedding planner online, Brides Central has everything to get you from step A to "I do".


Question: What inspired you to create Brides Central?

Katrina Skebes: With a creative mind and an eye for detail, I always knew that I was destined for something exciting and busy. I planned my own wedding while working in special events in the corporate and finance sectors, and it led me to studies in weddings and events. Soon after creating an Instagram presence, I felt I needed a space for brides to access clean, curated information and a break from the cluttered industry.


Question: Can you provide us with some tips on how you created the Brides Central website?

Katrina Skebes: Late nights, long emails and mood boards with loads of pink highlighters! I am a visual kind of girl and even though I'm a 36-year old Millennial/Gen X, I still love to put pen to paper and visualize my work. After working with two other website developers I felt the concept wasn't getting across and my vision wasn't being interpreted the way I needed. I hit Google one last time and found the agency that housed everything I needed.

Digital 8 was the only agency that understood and delivered results within days after giving them a brief. The creative UX/UI designer had me in tears after producing my first draft only 4-days into development! I was so excited to launch with a company that offered web development, project management, design and marketing all under the same roof. My database developer and frontend developer have been a godsend to Brides Central. So, all in all… find a good web developer and work with a team that can make your dreams become a reality!


Question: What advice do you have for a newly engaged couple planning their wedding?

Katrina Skebes: Three tips we always stand by – BE TRUE, BE ORGANISED and DELEGATE.

1. Always stay TRUE to your vision, there isn't any greater story than your own. Pinterest is fantastic and Instagram is incredibly useful, but keep in mind not everyone's budget and wedding is the same. Pin your theme, designs that you adore and stay true to what you want on your special day. In years to come, you will look back and see that your unique wedding represents you and your partner, telling the story of your love for one and other.

2. Be ORGANISED – make sure you confirm key appointments with your suppliers/vendors and note down any questions before attending venues so that when you turn up on the day, you're prepared to get the answers you came for.

3. Ask family and friends to help where they can. Why? Because you need to DELEGATE. Start by asking someone to oversee moving ceremony flowers to the reception, or to make the playlist of all your favourite songs.

Your wedding day is so busy, and you can't run the show on your own. Bridesmaids and groomsmen need to be fed and looked after, and the photographer isn't going to wait for you to pin the flower girl's dress up. Be respectful, thankful and ask for help throughout the whole wedding planning process to ensure everything on the day goes smoothly.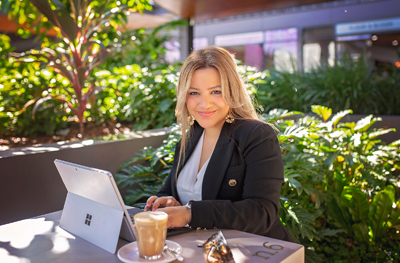 Question: What's the best piece of business advice you received whilst creating Brides Central?

Katrina Skebes: Stay focused on the end goal. It became clear early on, some business operators chop and change their direction and sometimes lose focus on why they started their own business in the first place. In our office we have the quote from Walt Disney, "I only hope that we never lose sight of one thing " that it was all started by a mouse". I love this because one small idea built a dream. What we started out to achieve was to help brides, couples, the best man, the maid of honor and the mother of the bride, who all have the same goal of creating a beautiful wedding.


Question: What's a typical day like, for you, now?

Katrina Skebes: Early mornings, school and kindy drop offs, coffee and emails first! I love working with my team on new blog and social media content and following up with vendors. Some days you might find me out and about sourcing new venues or florists, but our focus at the moment is building the website with more content and useful tips for our brides.


Question: What's next for Brides Central?

Katrina Skebes: Wedding planning apps, gift registry tools and so many new trends coming to Australia from our international designers to name a few. Destination weddings, new venues and more suppliers from around our beautiful country will be a key focus. Stay tuned…


Interview by Brooke Hunter