Eight Romantic Ideas for Valentine's Day in Melbourne!
We're sharing eight romantic ideas for Valentine's Day in Melbourne! This city has an abundance of picturesque sights, delectable cuisines, and vibrant nightlife to fill your Valentine's Day with memorable experiences.


Soak in the Melbourne Skyline with a Romantic Dinner Cruise
The Spirit of Melbourne Dinner Cruise
Address: Berth 3, Southbank Promenade, Southbank VIC 3000
Telephone number: +61 (03) 8610 2600
Operating hours: 7:15pm to 10:30pm (Thursday, Friday and Saturday)
Romance fills the air at the picturesque Yarra River, lined with skyscrapers while offering a stunning city skyline. There's no better way to enjoy this view than to hop onboard one of the river cruises while tracing the distinct architectural landmarks of Melbourne at twilight passing by. This is the best way to take gorgeous Melbourne photos. One of the most popular in the city, this cruise brings you and your beloved on a three-hour sumptuous four-course meal while you gaze at the beautiful views surrounding you. Starting your Valentine's Day with a romantic cruise like this certainly sets the right tone for the rest of your night!

Take a Romantic Horse and Carriage Tour
A Classic Carriage Hire
Address: Swanston St & Flinders St, Melbourne VIC 3000, Australia
Telephone number: +61 0425 709 911
Operating hours: 1:00pm to 9:00pm, Thursdays to Mondays
Want to feel what it is like to be a royal couple? Ride in a horse-drawn carriage with your true love, and go on a tour of iconic places in Melbourne. Waving at adoring crowds is entirely optional. Specially designed for couples, The Deluxe Romantic Tour with the Classic Carriage comes complete with champagne, flutes and a red rose to surprise (and delight) your beloved. Wish to capture more Instagrammable Melbourne photos? Steady your selfie finger as the carriage takes you across the Princes Bridge, giving you a great view of the Yarra River" the perfect romantic spot for picture-taking. Just remember not to get so caught up with taking photos that you forget to soak in the sights and enjoy each other's company!

Admire Sweeping Views of Melbourne from Eureka Skydeck 88
Address: Riverside Quay, Southbank Melbourne 3006
Telephone number: +61 (03) 9693 8888
Operating hours: 10:00am to 10:00pm daily (last entry at 9:30pm)
Enjoy a panoramic view of Melbourne at the top of Eureka Tower. For a breathtakingly illuminated visual encounter of the city, we recommend visiting at night. At a staggering 285 metres above ground, making it almost the height of the Eiffel Tower, the tower's 88th floor is the only place in Melbourne offering a 360-degree view of the city. You can spot various Melbourne attractions at night from up here, such as Federation Square and Flinders Street Station. After that adrenaline-filled activity, finish your night with a romantic dinner at the Eureka Skydeck 89 restaurant. To avoid disappointment, booking in advance is recommended.

Wine-Tasting at the Yarra Valley
Vinetrekker
Telephone number: +61 03 9699 8148
Tour hours: 8:30am to 6:30pm
Australia is home to some of the most beautiful wine regions in the world and the Yarra Valley ranks among the country's top ten. Pamper yourselves with a culinary adventure, washed down with award-winning wines. Book a day trip out of Melbourne to enjoy the rolling hills of nearby Yarra Valley. Pan Pacific DISCOVERY members can redeem their Black Local Experience award for one Yarra Valley wine day tour with a complimentary bottle of wine inclusive of transportation.

Spend a Starry Night at the Melbourne Zoo
Address: Elliott Avenue, Parkville, Vic. 3052
Telephone number: +61 1300 966 784
Cuddle with your better half and cosy up with the wildlife with a night at the Melbourne Zoo. Experience a sleepover at the zoo and enjoy an intimate look at the diverse bushland animals of Australia. Thankfully, you will not lie with the lions if you sign up for the zoo's Roar 'n' Snore Overnight Camp. Instead, you get to wine, dine and sleep comfortably at the historic elephant exhibit. Built in the 1940s, the exhibit has been refurbished as a camping facility. A night at the Melbourne Zoo is both romantic and educational"highly recommended for wildlife lovers.

Cruise and Picnic at the Melbourne Royal Botanic Gardens
The Melbourne Royal Botanic Gardens
Address: Birdwood Ave, South Yarra VIC 3141, Australia
Telephone number: +61 0481 455 410
Operating hours: Summer season: September to May, 10:15am to 5:00pm & Winter season: June to August, 11:00am to 3:30pm
Bask in lush flora and fauna at Melbourne's Royal Botanic Gardens. With a stunning collection of over 8,500 plant species around the world and a visitorship of 1.8 million a year, the Gardens is Melbourne's pride and joy. Take a more unusual route to admire the Gardens' gorgeous views with a cruise on the Ornamental Lake, which meanders around the gardens' small manicured islands. Make yourselves comfortable while the professional punter shares about the gardens' history and its vast collection of wildlife and plants. Feeling peckish? The garden serves as the perfect backdrop for an idyllic picnic. During or after your boat tour, enjoy a picnic hamper of light bites and sparkling wine while taking in the kaleidoscope of colours around you. Pan Pacific DISCOVERY members can redeem their Platinum Local Experience award for a picturesque lake tour and complimentary picnic basket for two.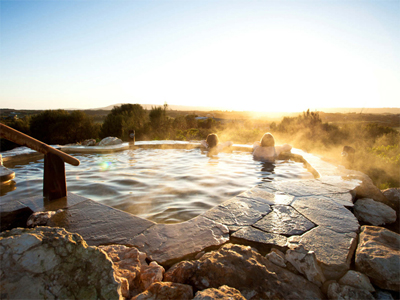 Go on a Sunset Kayak Tour
Kayak Melbourne
Address: Community Boating Hub at The Dock, 912 Collins St, Docklands VIC 3008
Telephone number: +61 418 106 427
Office hours: 9:00am – 6:00pm
There is something magical about sunsets"the honeyed rays of sunlight radiating over Melbourne city create a spectacular view at this hour. The best way to enjoy this visual feast is to embark on a kayak tour along the Yarra River at dusk. Viator offers a 2.5-hour sunset kayak tour, led by an experienced and friendly guide. The guide also serves as an information resource, helping to answer any questions you may have on the sights you encounter along the river. You'll board your boat and enjoy on-the-water dining with a fish and chips dinner, then you may paddle your way into the heart of Melbourne, surrounded by serene beauty. Watch the city change from the warm hues of dusk to the cool colours of twilight and night, illuminated by skyscrapers that line the river.

Visit a Hot Spring Spa
The Peninsula Hot Springs
Address: Springs Lane, Fingal 3939, Mornington Peninsula, Victoria, Australia
Telephone number: +61 3 5950 8777
Operating hours: 7:00am to 10:00pm daily (Bath House)
Escape the big city with a tranquil retreat to refresh yourselves and spend some quality couple time – unwind with a day trip to The Peninsula Hot Springs. This is an award-winning natural hot springs and day spa destination just 90 minutes from Melbourne. Here, there are private baths with natural thermal mineral waters in a serene setting. Select the romance package that includes massages and geothermal bathing for an intimate and rejuvenating experience. Relaxing with your loved one in a romantic private bath in a tranquil setting surrounded by greenery is definitely one of the top romantic moments.


Pan Pacific Melbourne is a great place to spoil your lover with rooms from just $279, make any day a special one! For bookings call (03) 9027 2000 or visit https://www.panpacific.com/en/hotels-and-resorts/pp-melbourne.html.