SDCC INTERVIEW: KRISTEN STEWART AND TWILIGHT - NEW MOON
Kristen Stewart, New Moon Interview by Paul Fischer at Comic Con, San Diego.
QUESTION: Can you talk about how you see yourself in the next chapter of this saga? And how important is it for you in particular to insure that Bella grows, and has grown, and that you can bring more to it this time around?
KRISTEN STEWART
: I think she grows up light years in this one; there's something to be said about the way she behaved herself in the first. It takes an extremely assured - more than that - really, a strong presence of a person, to throw yourself into a world that you have no - absolutely no sense of, like, what it might be like. But to just trust whatever gut feeling pushed you into that. But what I really liked about the second one is that - I was saying this before. I feel stupid repeating myself. But, to know yourself for real - I think you probably would have to go through more of a range of emotion than she had gone through at that point in her life. So, to commit to someone like that - to have it taken away, and then have to snap back - I mean, now I actually think that it's not - I'm not looking at a kid who's sort of immaturely but impressively going for something. Now you're like, "Okay, this young lady, this woman, might be actually getting to know herself, and doing the right thing." She definitely grows. I mean, she definitely matures.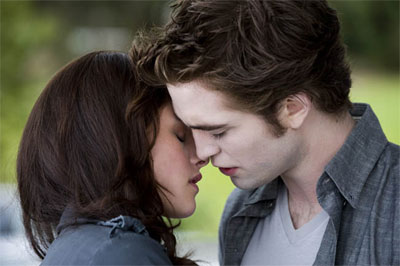 QUESTION: Does having a male director give this particular chapter of the saga a very different stylistic or thematic sensibility?
KRISTEN STEWART
: I don't think so. Like, whenever I compare - it's so common. People always want to know the differences between directors. It's like, every single person is different, just like any human being would approach a different project. I don't think - I mean, it's not like Catherine was like, "All right, I'm in it to make a feminist film." And it's not like Chris is trying to, like, balance out the girl power. You know what I mean? It's like - I think what he brought to it was - like, contemplation. He didn't feel any sense - like, he didn't rush. He gave us all time to really actually go through the dark things that we had to go through. And made us all feel really safe to do it. And you can't work for someone unless you think they care. And I feel like he would have done anything for either of us on the movie.
QUESTION: Everyone talks about Edward and Robert. Can you speak to what makes Taylor so interesting?
KRISTEN STEWART
: Yeah. He's very honest. I don't know, he's just very open. I mean Edward and Bella is just so tense all the time, and Jacob and Bella is just so open and free, and they can talk to each other about anything, you know? And I would definitely say that we have a relationship similar to that. And I'm not like that with everyone, either. Like, it's so rare for me to be able to do that. I don't know what it says, but it definitely says something about him. He puts people at ease, you know?
QUESTION: Are you guys looking forward to working with David Slade, who's on to the next one? Have you met David already?
KRISTEN STEWART
: Briefly, yeah.
QUESTION: What was the dialogue like? He's a cool guy.
KRISTEN STEWART
: He's funny, yeah. He's a weirdo. But they're different films.
QUESTION: How so?
KRISTEN STEWART
: They're different movies. I mean, literally - they're broken up into four different parts. I mean, if we had been able to shoot in sequence - like, if we had shot one, two, three, four one now, it would be really weird to switch up directors. But considering we all walk away, and leave it alone and stop thinking about it, to step back with other people is not a difficult thing.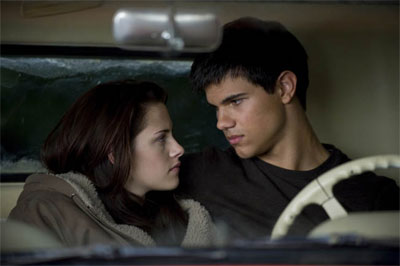 QUESTION: In fact, you are shooting something else at the moment, are you not?
KRISTEN STEWART
: Yeah.
QUESTION: It accounts for this interesting look you have here.
KRISTEN STEWART
: Yeah. That's right. I'm playing Joan Jett in a movie called The Runaways.
QUESTION: And you sing, right?
KRISTEN STEWART
: Yeah. Yeah. And Dakota does, too. She plays the lead singer.
QUESTION: Has Joan been giving you a lot of input into how to play the part? Has she been on the set a lot, and really guiding you through this, or is she more hands off?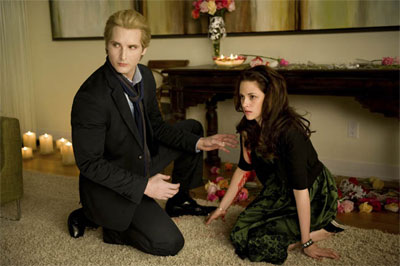 KRISTEN STEWART
: I'm always with her. Thank God. I would feel like - if she wasn't there every day - and it's not about seeking, like, approval. It's just having her energy, and - making sure everything's not - making sure she's not crying in a corner. This was the most important time of her life. I mean, this was like - she says the most ridiculous things to me. She's like, "Yeah, well, that's what it feels like to peak at 16." It's like, "You think you peaked at 16?" It's like - but in her mind - and so that just tells me, like, how important this part of her life was. And how important the band was. I mean, they really said a lot.
QUESTION: Are you coping better with this craziness, or are you still finding this intense?
KRISTEN STEWART
: I'm getting better at, like, the craziness that everybody thinks that would be the difficult part to deal with, which is like, loads of people and stuff like that. But that's not what I've ever had a problem with, but the self-evaluation in interviews, and self-definition. I don't know myself very well. You know what I mean? It's like, I always take it very seriously. And I'm doing that less and less, which is maybe not such a good thing. But no it's fine.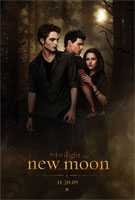 The Twilight Saga: New Moon
Starring
: Kristen Stewart, Robert Pattinson, Taylor Lautner, Dakota Fanning, Chaske Spencer, Bronson Pelletier, Alex Meraz, Kiowa Gordon, Tyson Houseman, Ashley Greene, Peter Facinelli, Elizabeth Reaser, Kellan Lutz, Nikki Reed, Jackson Rathbone, Edi Gathegi, Rachelle Lefevre, Billy Burke, Charlie Bewley, Jamie Campbell Bower, Daniel Cudmore, Christopher Heyerdahl, Cameron Bright, Noot Seer, Michael Sheen, Graham Greene, Tinsel Korey
Director
: Chris Weitz
Genre
: Dramas
In The Twilight Saga: New Moon, BELLA SWAN (Kristen Stewart) is devastated by the abrupt departure of her vampire love, EDWARD CULLEN (Robert Pattinson) but her spirit is rekindled by her growing friendship with the irresistible JACOB BLACK (Taylor Lautner). Suddenly she finds herself drawn into the world of the werewolves, ancestral enemies of the vampires, and finds her loyalties tested.
Robert Pattinson Twilight
www.girl.com.au/robert-pattinson-twilight-interview.htm

Kristen Stewart Twilight Interview
www.femail.com.au/kristen-stewart-twilight-interview.htm

Kristen Stewart Twilight Saga New Moon
www.girl.com.au/kristen-stewart-twilight-new-moon-interview.htm

Chris Weitz Twilight New Moon
www.girl.com.au/chris-weitz-twilight-new-moon-interview.htm

Xavier Samuel The Loved Ones & Twilight Eclipse
www.girl.com.au/xavier-samuel-the-loved-ones-twilight-eclipse.htm


Twilight Review
www.girl.com.au/twilight-review.htm

Twilight Saga New Moon
www.girl.com.au/twilight-saga-new-moon-review.htm

Twilight Saga Eclipse
www.girl.com.au/the-twilight-saga-eclipse-review.htm


Taylor Lautner Inside Out the New Moon star
www.girl.com.au/lautner-inside-out-new-moon.htm

Stephenie Meyer Twilight Interview
www.girl.com.au/stephenie-meyer-twilight.htm

Twilight New Moon Packs Competition
www.girl.com.au/competition-twilight-new-moon-packs.htm