Myclotheshorse.com
is the online Fashion Designer Boutique with a difference. It has a vast following of modern fashion savvy women across Australia, who love to take advantage of top quality Australian designers like Zimmermann and Ginger & Smart all under one roof, with year round sale prices at an average of 70% off the RRP!
Come and check out our wide range of designers at our website:
www.myclotheshorse.com.au
Women love the unique prints, colour and product mix from Charlie Brown and Sally Smith, complementing Fleur Wood's vintage inspired dresses made of delicate fabrics and attention to detail like that of Natasha Gan's beautifully constructed clothing.
For stunning glitz and glamour and luxurious fabrics turn to our collection of Dorian Ho evening dresses and the Wayne Cooper label.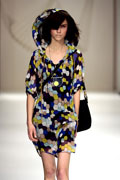 The Ginger and Smart and Zimmermann clothing designers represent the sophistication, lifestyle, relaxation and pure class for smart sartorially savvy women today.
Hot new designer Melinda & Narina offer a fresh colour palette in classic forms with innovative detailing throughout their collections, from their vibrant and sensuous kaftans to summer dresses that are both vibrant and sensuous. Their clothing label is complimented by our newest addition to the Myclotheshorse designers: Shakuhachi. The clothing fashion range offers modern geometrical designs and relaxed sophistication in demin, dresses and short suits.
The ranges from these and many more designers encompasses every occasion for the modern girl and woman, from causal beach wear to evening gowns, jumpers, day dresses to summer camis to office skirts and blouses.
These warehouse-sale prices are possible thanks to a close working relationship with the designers, purchasing their end of season fashion lines and passing the huge discount onto our customers. Therefore you are able to get the Australian fashion designers that you know and love for a fraction of the price!
Sign up to the newsletter to get the word on new stock and new designers and special discounts straight from the horse's mouth! Find out about this month's sales and specials on our site.
The website offers a stylish easy to use way to find your favourite Aussie designers, with a personal friendly service and fast delivery.
Visit the website at
www.myclotheshorse.com.au