New Augmented Reality Globe Offers Children A World Of Excitement
NeoBear, a creative science and technology brand for children has just launched its latest augmented reality (AR) educational toy, AR Globe, transforming a classic educational tool into an interactive, animated adventure for learning and play.

This high-tech multi-purpose, first-of-its-kind globe brings lessons to life through innovative technology and hands-on engagement to educate and inspire children in exploring beyond the world they know and to learn about the entire world visually and three-dimensionally.

Much more than a map, NeoBear's AR Globe makes the way children perceive the world more interesting and comes alive with dynamic 3D animation, human voice narration, diagrams, all-dimensional multi-sensory interactive learning and videos with interesting facts, educational lessons, games and simple text on science, nature, human origins and civilizations, from the time of the earth's formation through to the modern age.

When viewed through the specially developed NeoAR app, using a mobile device such as a smartphone or tablet, children are able to see various aspects of the planet on the AR Globe, including territories, buildings, animals and natural disasters in all of the countries around the world, bridging the gap between reality and virtual reality.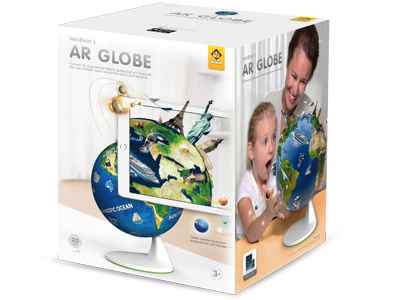 Children can discover the world through wildlife by watching a Humpback whale jump, spin and splash out of the waters of the Pacific Ocean or by following the flight of a Bald eagle over North America. Aspiring astronauts can expand their horizons and observe the rotating universe in 3D from the viewpoint of outer space. Pioneers can journey beyond borders to learn about local cultures, customs, and cuisines, meet notable citizens and tour famous landmarks of the world's nations.

The NeoAR app can be downloaded to supported smartphones and tablets via the Apple store and Google Play. The app is easy to use and regularly updated with new content for a wide range of ages, abilities and interests offering multi-theme modes to provide endless worlds for exploration and encouraging self-directed play.

NeoBear AR Globe is recommended for ages 3+, and is available from Kmart stores nationally for RRP $49. For further information please contact CDB Goldair Australia at 1300 465 324.