Perth Fashion Festival Rocks like Rolling Stones
Western Australian rock'n'roll fashion label Wheels & Dollbaby will turn up the dial when designer Melanie Greensmith launches her Spring Summer 10/11 collection at the 2010 Perth Fashion Festival.
The highly anticipated runway show on September 13 at Fashion Paramount is sure to leave guests lusting for the iconic brand's signature glamour, sex and style.
Among the audience at the sell-out show will be actress and model, and former wife of Rolling Stones frontman Mick Jagger, Jerry Hall, who is set to grace the red carpet and sit front row.
"I am thrilled that Jerry will be part of Perth Fashion Festival and was so excited to hear that she has become a big fan of Wheels & Dollbaby," Ms Greensmith said.
"Jerry's bought a load of items from my collection and she looks fabulous in all of them!"
These two talented women have quickly struck-up a friendship since Jerry's arrival in Perth and have plenty in common, particularly partnering up with rock'n'roll royalty.
Greensmith is married to Divinyls guitarist Mark McEntee, and Hall, who is in Perth to star in a stage version of The Graduate, has invited the pair to attend opening night this Saturday.
In keeping with the Rolling Stones theme, singer and model Leah Wood, daughter of Rolling Stones guitarist Ronnie Wood, will grace the catwalk and also perform at the Wheels & Dollbaby Spring Summer 10/11 collection show.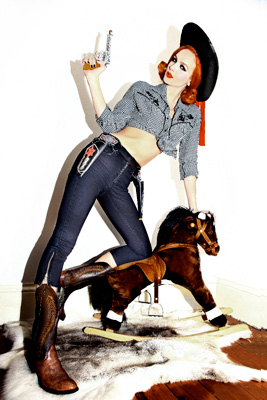 "I'm so excited that Leah will be the voice of my runway show. She's an amazing singer and it will take the night to a whole other level." Ms Greensmith said.
"I am really looking forward to this year's Perth Fashion Festival. Nothing beats putting up a fantastic show with such amazing talent in my hometown."
The label is no stranger to celebrity with brand ambassadors and clients that include Dita von Tesse, Deborah Harry, Pink, Katy Perry, Kate Moss, Sadie Frost, Kelly Osborne and Pearl and Daisy Lowe.
Commenting on Wheels & Dollbaby's return to the Perth Fashion Festival, Festival Director, Mariella Harvey-Hanrahan said; "we're thrilled to be welcoming Wheels & Dollbaby back on the catwalk this year. Melanie has gone on to achieve international stature with her exceptional creations and her presence is always a huge inspiration to the other designers involved in the Festival."
"Melanie's label and runway shows epitomise rock star chic and are fun, frivolous and energetic. Her show was sold-out in record time for the second year and I have no doubt that Melanie will deliver another brilliant collection and outstanding catwalk production." Ms Harvey-Hanrahan said.
Wheels & Dollbaby collections are constructed and handcrafted in Australia utilising vintage inspired and sourced fabrics. Melanie Greensmith, head designer and director of Wheels & Dollbaby has sustained brand identity through continual dedication to her cult, loyal followers and celebrity icon advocates.
The Wheels & Dollbaby show will be held at Perth Fashion Festival's Fashion Paramount at the Old Gasworks Building at 337 Wellington Street, Perth. Perth's answer to New York's Bryant Park, the renovated warehouse space will house over 600 guests at each of the Festival's runway shows.
Perth Fashion Festival
9-15th September, 2010
Tickets:
www.moshtix.com.au
www.perthfashionfestival.com.au