Richard Vission
Getting his start as a DJ, Vission is considered to be a pioneer in the Los Angeles dance/electronic music scene and his weekly radio show, 'Powertools' on Power 106 FM (Los Angeles), is the longest running dance mix show in the United States. As one of the most sought after DJs in the world, Vission performs over 100 shows a year; from co-headlining some of the largest music festivals in the U.S. (i.e.: 'Monster Massive,' 'Together As One,' 'Global Dance Festival,' and 'Love Festival') to rocking private celebrity events like Madonna's birthday party.
Vission made his foray into writing and producing pop songs when he was asked to co-write a few songs with American Idol judge, Kara DioGuardi. Since then, Vission's name has become synonymous with 'hit-maker'. Madonna loved one of his remixes so much, she had one of her music videos re-edited to a Richard Vission mix and she also included him (and his turntable) in her live performance of 'Music' at the 2001 Grammy Awards. In 2009, Black Eyed Peas performed to the Vission remix of 'Meet Me Halfway' at the American Music Awards, in addition to performing it nightly on their world tour.Vission's latest single, 'I Like That' with Static Revenger starring Luciana, has gone double platinum in Australia and was the number requested video on MTV Australia. The song was also nominated for two awards at the 2010 International Dance Music Awards. The single was first released on Vission's record label, Solmatic, but its growing popularity in the clubs sparked a bidding war over it among several major record labels. The song is now signed to Interscope Records (North America), Mercury Records (UK), EMI (Continental Europe) and Vicious (Australia).
Vission resides in Los Angeles and is currently in the studio with Far East Movement (Interscope), Natalia Kills (Interscope), Lolene (EMI), Eva Simons (EMI), and Vassy (Ultra).
Richard Vission Discography
Black Eyed Peas - Rock That Body - Interscope
Pick Me Up - Emilia De Porret - Solmatic
I'm in the House - Steve Aoki - Dim Mak/Thrive
I Like That - Richard Vission Static Revenger feat. Luciana
Bad Romance - Lady Gaga - Interscope
Black Eyed Peas - Meet Me Half Way - Interscope
Just Dance - Lady Gaga - Interscope
Esmee Denters - Outta Here - Geffen
Reckoner - Radiohead - Richard Vission Remix
Superstar - David May - Kontor
Magnificent - U2 - Interscope
Bottle Pop - Pussycat Dolls - Interscope
Feel It - Dj Felli Fell - Island Def Jam
Troublemaker - Weezer - Geffen
I Kissed a Girl - Katy Perry - Promo
Apologize - OneRepublic ft. Timbaland - Interscope
The Way I Are - Timbaland - Interscope
Controversy - Prince - Promo
Let's Dance - David Bowie - Promo
Crazy - Gnarles Barkley - Atlantic
Man Eater - Nelly Furtado - Geffen
Promiscuous - Nelly Furtado - GeffenComing Undone - Korn - Virgin
With Love - Hilary Duff - Hollywood Records
Sexy Back - Justin Timberlake - Promo
Fearless - The Bravery - Island Def Jam
Mr. Brightside - The Killers - Island Def Jam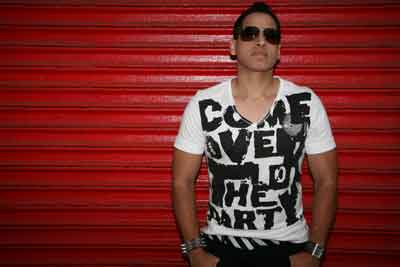 Interview with Richard Vission
How did it feel to hear the tracks you've mixed played all over the airwaves?
Richard Vission
: It feels awesome!
Did you have any pre-conceived ideas about the music industry?
Richard Vission
: I don't really think about the industry - I put out music and let what happens happen.
Do you write your own songs? What's your inspiration?
Richard Vission
: I write my own songs - I usually start with the track. With 'I Like That' - Static Revenger and I collaborated on the track and later sent it to Luciana.
What music/artists do you listen to when you are not playing your own?
Richard Vission
: I'm listening to The Muse, Die Antwoord, Far East Movement, Sander Van Dorrn.
What's next? Tour/Album/Single?
Richard Vission
: I'm working on a few things at the moment - releasing four singles, one every month for the summer. 'I Like That' is just taking off in the US and we'll be touring here to support the record
Was there a moment you contemplated throwing in the towel?
Richard Vission
: Never - I love making music too much.
What/who was your inspiration to go into the music industry?
Richard Vission
: It started with DJing - I was infatuated with mixing at an early age and that led into production.
What is the biggest challenge you have faced along the way to your musical success?
Richard Vission
: The biggest challenge is dealing with the business side of things -sometimes it can become to hectic and can get in the way of your creative process.
What's a typical day like?
Richard Vission
: Wake up at 6:30am - answer emails, hit the gym by 8am, breakfast, more emails, shower, studio for eight hours, dinner, home, more emails and the Colbert report - lights out.
What has been your favorite part of becoming a music artist?
Richard Vission
: My favorite part is being able to make music everyday - that part never gets old!
If you could collaborate with another artist, who would it be?
Richard Vission
: Bono from U2 first, Prince a close second.
Are you single? What do you look for in a partner?
Richard Vission
: I'm engaged - I found someone who has all the qualities I look for...down to earth, fun and intelligent and she's very, very sexy!
Do you have a website fans can visit?
Richard Vission
:
www.richardvission.com
Can you tell us 5 things required for a happy healthy & enjoyable life?
Richard Vission
: answer
What message would you like to say to your fans?
Richard Vission
: 1. Love
2. Laughter
3. Eat healthy
4. Workout
5. Ping pong
60 Second Quiz
Full Name
: Richard Vission
Nickname(s)
: The Chief
Star Sign
: Gemini
Music Talent
: Being able to mix four records at the same time.
Favorite Food
: Sushi
Favorite Film
: Inception
Favorite Actor
: Morgan Freeman
Pet
: German Sheppard and Chihuahua
Best Feature
: I'm kinda funny
Worst Feature
: I forget to close cupboards and cabinets
Person You Would Most Like to Meet
: Baraka Obama
Hobbies/Interests
: Ping pong and collecting KISS stuff
First Job
: Hardware store
Are you a Pub, Bar or Club kind
: Club
What Can You Never Leave Home Without
: my iPhone - it runs my life
What is the first thing you think of when you wake up in the morning
: I try to remember my dreams.