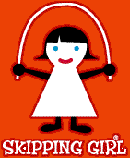 SKIPPING GIRL www.skippinggirl.com.au
Skipping Girl is an Australian accessories and clothing company founded in 1998 by Hayley Allen, a fashion graduate.
It all started from an idea to make woven nylon totes inspired by a bright sturdy traditional shopping basket picked up in a fruit and spice market in South India.
Applying original graphics and colours and developing a skipping girl pattern with a skipping rope handle the cult accessory was born.
Now the company has evolved with a larger collection including t-shirts, bangles, hairclips and purses.
Skipping Girl is sold through selected retailers Australia Wide.
Products are exported to New Zealand, U.K, Japan and the US with stockist including Barneys and Harvy Nichols.
Touted as the must-have accessory for Summer, and featured in UK Vogue and Elle, Skipping Girl has been bought by a range of celebrity customers including Claire Danes, Anastasia and Gwen Stefanie.
You just have to get your hands on one of these!