Sophie Hart Upcycling Interview
From the amazing designer dress bought years ago to last season's best buy, everyone has items in their wardrobe they can't bear to throw away, but also can't be seen in publicly. Now, thanks to Upcycling, these once-glorious, today-terrible garments can be tailored and altered to be brought back on-trend - to re-join its owner's outfit repertoire.

Put simply, Upcycling is taking something old or useless, and making it useful again. A growing global trend that includes homewares, décor and now fashion, now can all be Upcycled - which is great for the frugal, the green and the emotionally attached.

"It's time Australia starts Upcycling. It's a budget-friendly way to rescue a wardrobe. Why throw out your favourite items if they just need a few tweaks here and stitches there to be fabulous again? Then you can spend money saved on a new piece or on accessories, shoes or a great bag," said leading stylist Sophie Hart, who is working with LookSmart, The Stylist Tailor, to help spread the word about the Upcycling craze.

Australia's and New Zealand's premier tailoring brand, LookSmart, is spearheading the Upcycling trend and with Sophie Hart, successfully brought life back to four customers' threads.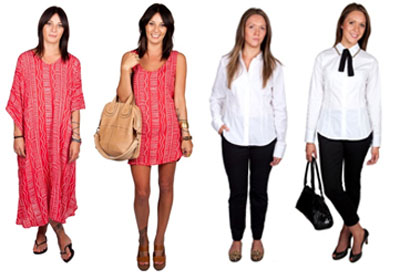 Casual Summer Hotness
A kaftan is often a statement piece with an eye-catching print, this being the case wearing it two summers in a row is not an option for a stylish lady.

Rather than leaving it hanging in the back of a closet, this shapeless kaftan was shortened, taken in at and waist and scooped at the neckline to create a hot summer mini perfect for a day at the beach, long ladies' lunch or just a stroll through town.

Sophie said: "A kaftan that was in last year needs a revamp for the new summer season. This long, colour-rich piece was restyled with the wearer's body in mind - we highlighted her best features - those long legs - and took the look from drab to fab."

Office Bland to Corporate Glam
Pulling off office chic day-in-and-out can be challenging, and expensive. Here, dowdy black pants and a white shirt were Upcycled to bring the staple pieces back on-trend and create a professional, chic look. Perfect for the boardroom.

The pants were cropped and tapered through the leg to create a three-quarter style pant, reminiscent of Audrey Hepburn. The classic white shirt had darts added to make it more tailored and gold embellishments were hand-stitched to the collar to add a special touch. A simple black tie around the collar completed the new stylish look.

"Black pants and a white shirt are essentials in any office-workers' wardrobe so we took these staples and created a classic, fashion-savvy outfit that will take its wearer from corporate meetings to after-work drinks. The cropped-pant is bang on-trend this coming season so these pants will be worn countless times during the work days ahead," said Sophie.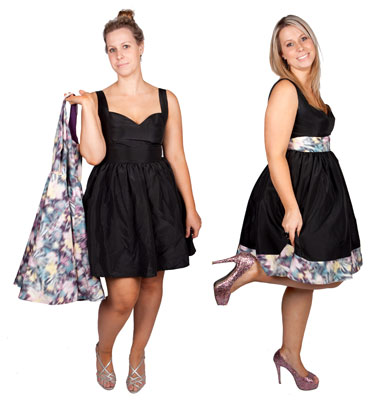 When two become one
A LBD is part of every female's wardrobe, and after a few seasons most can do with a re-fresh. Here, Sophie and the LookSmart team took a patterned dress and used it to add length to the original black number. Adding a sash around the waist took the piece from sweet to swanky for the season ahead.

Sophie commented, "We added some splashes of pattern and colour to this classic black dress so it's fun enough for the party season, but still conservative for more formal events."

Boxy Suit to Box Suite
Men's suits generally change style every four seasons, and box-shaped styles have reached their expiry date. A suit is a significant purchase. Upcycling a suit is a great alternative to purchasing a brand new ensemble.

A boxy jacket was remodelled with tapered arms and shoulders. Wide-leg pants were taken in all-round to create a thinner look, and the before-baggy pink shirt was tailored to highlight a manly physique. With this Upcycled suit, VIP invitations will become part of everyday.

"A sharp suit is a businessman's calling card and an ill-fitting ensemble can be spotted from 1,000 paces - it's not a good look. The new cut of this suit is bang on-trend - slick lines, thinned pant legs and shortened arms in the jacket let the pink-coloured shirt be the eye-catching feature of the entire look," said Sophie.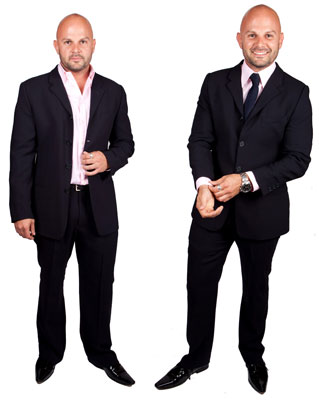 Top Upcycling Tips from Sophie Hart and LookSmart Alterations
1. Don't be afraid - If you haven't worn a piece or it has sat at the back of the wardrobe for years, chances are you aren't going to wear it out anytime soon. So take the plunge, have a play with Upcycling and end up with something you love.
2. Start Small - If it's your first go at Upcycling keep it simple. Why not try shortening a maxi or updating buttons?
3. Know your limitations. Major alterations to garments should always be left to the professionals - find your local LookSmart and let them do what they do best.
4. Ask advice, your tailor may have a brilliant idea you may never have considered.
5. Look to current trends for ideas. Fashion rarely reinvents itself completely; it's just about small changes. Transform last season's sale rack into this seasons 'it' thing.
6. Think about what you like in your wardrobe and works for you, your body shape and lifestyle. Use this as a guide when deciding how to Upcycle your clothing.
7. Consider everything - change a neckline, shorten sleeves, add some darts - there's so many parts of a garment that can be tweaked to bring them back on-trend.
8. Do Upcycle signature pieces - it's hard to throw out your formal dress or first corporate suit, so don't. Instead, look at what's different about what's in now, and make those alterations to your sentimental pieces. It's cheaper than buying expensive, new versions and means you can spend more on cute accessories.
9. Once you've taken the first step into Upcycling, look in your wardrobe to see what else can be tailored and altered - it's amazing what a few stitches can do to the look of an entire outfit.
10. Be creative - Play with Upcycling and you'll find the possibilities are endless!



Interview with Sophie Hart
Question: What is Upcycling?

Sophie Hart: Yesterday I did my own wardrobe edit with my assistant, my wardrobe is quite massive and I pulled quite a few pieces out. Basically Upcycling is getting old season items of clothing that aren't on trend anymore and tailoring them to make them more fashionable.

I had a wrap dress that has amazing colours but it is a bit ageing because it is a wrap dress so we cut the wrap around off and made the dress into a cute kimono style top.

Upcycling gives you something that nobody else has; you can create your very own couture item!


Question: What are the most common forms of Upcycling?

Sophie Hart: If you have wide leg pants, they're really easy to make skinny leg style. Also taking shoulder pads out because a few seasons ago shoulder pads were quiet prominent and they're not such a big trend anymore, so taking shoulder pads out can give jackets a new look.

You can also take a fuller skirt and make it more fitted or a little bit more a-symmetrical down the bottom which is more on-trend at the moment.


Question: What is the best thing about Upcycling?

Sophie Hart: If you're into clothes and you've spent a lot of money on clothes, in the past, or if a piece of clothing means something to you, (a lot of people hold onto clothes for memory sake and often the item doesn't get worn again) you can take that piece and make it rewearable by Upcycling!


Question: Can everyone upcycle their clothing?

Sophie Hart: Yes! You can upcycle a wedding or bridesmaids dress because you spend so much money on them and I know so many people buy wedding dresses thinking that their daughter is going to wear them but obviously that doesn't happen because trends age. You can dye and/or cut short a wedding or bridesmaids dress to make it rewearable; you could dye the bodice of a wedding dress black and wear it again with skinny jeans!

Bridesmaid's dresses are often pastel which is on trend for Spring and Summer (which is fast approaching), you could shorten the dress to wear it again and be on trend.


Question: What else can we upcycle, other than clothing?

Sophie Hart: Yes originally people would upcycle vintage furniture and that is where the concept came from. Accessories could be upcycled, I alter and change jewerelly all the time, you could change a chunky necklace that has loads of layers or a pendant hanging off it with a pair of pliers.


Question: How can two items be upcycled into one?

Sophie Hart: Be creative! If I was going to make two items into one I'd look for a reference from a fashion blog or online and look for something that will trigger ideas for something that you already have in your wardrobe that you can make into another piece; references help you see what will work, visually.

Everyone has quite a few simple black dresses in their wardrobe and it's easy to get another dress with a little bit of colour and add a detail band or extend the original black dress at the bottom. Using another tone or colour makes the original black dress a little bit more special and gives you something that nobody else has.


Question: How long have you been Upcycling for?

Sophie Hart: I have been working with LookSmart as their styling representative for six months. I am a fashion stylist but I also style real people and I always recommend Upcycling to clients especially in this day-and-age with credit crunches and also people wanting to be individual and have something that nobody else has. We are all shopping at Zara and TopShop and it is very common that somebody else will have the same jacket as you at the party you go to; Upcycling allows you to have something individual.


Question: What inspired you to become a stylist?

Sophie Hart: I never really knew it was a career, when I was younger and now it's quiet well-known whereas when I started it wasn't really very well-known. I particularly chose to begin styling because I was really good at it and it came naturally. I would be stopped on the street and asked where my clothes came from and people would also love the interior pieces I had at my home. As cliché as it sounds being a stylist was natural, for me; in saying that it's always been a passion, I have always been interested in clothing, interiors, architecture, fashion history and trends. I am more into style opposed to just fashion.


Question: What's a typical day like, for you?

Sophie Hart: Typical day (laughing)! The best thing about being a stylist is there is no such thing as a typical day, it is always crazy. Generally if I am shooting I could start between 4am and 9am and be on set all day whether I am styling outfits in a studio or location. My job involves a lot of running around, organisation, sorting of clothes and looking at references. I also deal with talent; as much as people think being a stylist is all about clothes, style and fashion, 50% of my job is being able to deal with people and be able to work out what people want, it is almost psychology because I have to read minds and know what people want without them telling you. A stylist is a very people person orientated job, you have to be quiet bubbly and switched on. A 10 hour day, is a normal day!


LookSmart, The Stylist Tailor is Australia's and New Zealand's premier stylist tailoring service. Servicing the fashion industry, LookSmart customises clothing to suit the wearer and create the perfect look through the perfect fit. LookSmart tailors are skilled in fit, alterations and clothing maintenance to make every item suit the individual's shape and style. With over 95 convenient locations, LookSmart takes pride in providing a level of quality that has gained the respect of leading fashion retailers, the corporate world and nearly one million happy customers. LookSmart Alterations is The Stylist Tailor. Visit www.looksmartalterations.com.au for more information.

Interview by Brooke Hunter