Tash Phillips Interview
California Eyes is available on iTunes for Australian and New Zealand audiences who wish to get their first taste of an ebullient young artist with a powerful voice that belies her 15 years.
Co-written by Natasha Phillips, or Tash as she is to be known in the music world, with producer Eric Berdon, the single offers listeners a 'sun-drenched, highly energetic and slightly impish" tour of a teenager's day in Los Angeles.
California Eyes also draws on the eminent mixing and co-producing talents of Michael "Smidi" Smith as well as the lustrous backing vocals of Windy Wagner - an artist whose credits include singing for Britney Spears, Ashley Tisdale, Hannah Montana and Kelly Clarkson.
Michael "Smidi" Smith, whose work is associated with producing for the Pussycat Dolls and Miley Cyrus, describes Tash as a combination of talent and poise that is rarely seen in someone so young.
"I expect her songs and voice will be loved by all who hear them, "Michael "Smidi" Smith says.
Like the songs in her upcoming debut album, Tash, which is due for a mid-year release, California Eyes takes it inspiration from the teenager's life. Tash says the song's lyrics draw on her experience of living away from her home in Cottesloe, Western Australia to work on establishing a recording career in Los Angeles. She says the song is about an unstoppable teenage day in Los Angeles and the mischievous things teenagers "might like to do when their parents aren't watching."
"There wouldn't be that many 15-year-olds who'd get to spend half the year living on the other side of the world while they pursue their careers, Tash says.
"So I started writing about all the things a teenager might do if they had the opportunity to live in a city like Los Angeles for a while.
"You know the kind of things; sunset parties, bumping into celebrities, lying about my birthday, singing karaoke, jumping in the pool with clothes on and sneaking into movies.
"Of course, I have had adults looking after me in Los Angeles and I've been really busy working on my music, so I wasn't quite running off to sunset parties, but hey, I have bumped into celebrities and I am always up for karaoke."
The Ukrainian born teenager, who arrived in Perth with her family speaking no English just over a decade ago, began transforming her passions for singing and acting into a professional career over five years ago.
She has performed in television, theatre and charity events throughout the country and at 13 was cast in Trapped and the follow-up series Castaway which currently airs on the Seven network.
The 52-part double series - about children who found themselves cast away without adults - was filmed in Broome, Western Australia, over 12 months in 2008 and 2009.
As her success and fan base grew, Tash set her sights on recording in Los Angeles and in 2010 Richard Ellis of 12 to 20 branding - a name associated with building the careers of Ashley Tisdale, Avril Lavigne, Jonas Brothers - was enlisted to handle branding and marketing.
Early this year, Tash signed licensing agreements with Opus 1 Music and Heavy Hitters Publishing, creating a vehicle to sell her songs to network television shows, movie trailers and advertising campaigns.
Along with leading performing roles, Tash has also co-written and recorded two tracks, I Am Not Backing Down and Let Me Be The One, with Aria- Award winning Sony Producer Audius M'tawarira.
California Eyes is available on iTunes or at
www.myspace.com/natashaphillipssings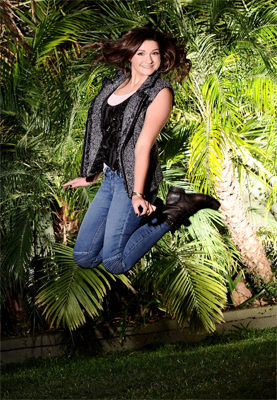 Interview with Tash Phillips
Question:
Can you talk about the time you spent in Los Angeles, recently?
Tash Phillips
: I was there for a few weeks co-writing new songs with producers, settling on an idea for the music video to 'California Eyes' which has been released on iTunes in Australia and New Zealand.
Question:
How would you describe California Eyes?
Tash Phillips
: A day in the life of an unstoppable California Teenager!
Question:
You starred in Castaway; can you talk about that experience?
Tash Phillips
: Castaway was so much fun! There were eight teens cast for main roles from all around Australia. Me of course being one of them.
We moved to a town called Broome in the Kimberly Region of Western Australia because the show was based on an Island and Broome's really tropical. We filmed the show there for six months!
I definitely realised i was not prepared to get up at 5am every morning!
The show is usually referred to as 'a children's rated version of lost'. Our parent's were held hostage on an island while we were trapped on another with no way to get across. We had to learn how to work together and how to fend for ourselves, we matured a lot and there were quite a few love interests going on!
I played a character called Lily, the mother figure of the group. Always trying to do good and stop fights :)
Question:
Do you prefer singing or acting?
Tash Phillips
: I love them both for many different reasons. I do screen acting so it's really natural and laid back (of course it depends on the character) whereas singing is really energetic and your running around on stage. They're both completely different and I love that!
Question:
How did it feel to hear your song played all over the airwaves?
Tash Phillips
: It hasn't been played...YET! In the midst of getting the word round :)
Question:
Did you have any pre-conceived ideas about the music industry?
Tash Phillips
: YUP! That it was an extremely tough/competitive business and you have to be so prepared to work your ass off and I was right... ;)
Question:
Do you write your own songs? What's your inspiration?
Tash Phillips
: I've co-written all my songs with different producers...my inspiration definitely comes from watching other artists, songs I hear and conversations I have!
Question:
What music/artists do you listen to when you are not playing your own?
Tash Phillips
: I tend to buy what's most popular on the iTunes charts. As much as I wish I could, I don't have time to really sit down and discover songs.
Question:
What's next? Tour/Album/Single?
Tash Phillips
: Well California Eyes has just been released so everyone should definitely check it out! It exposes who I am as a person and exciting music that's yet to come! In a few months I'll be releasing an EP...an album and touring are further down the track.
Question:
Was there a moment you contemplated throwing in the towel?
Tash Phillips
: Not really, I like what I do too much. There have been stressful times but nothing a few episodes of 'Family Guy' can't fix!
Question:
Do you prefer performing live or recording?
Tash Phillips
: This question is too hard. They're both completely different.
When performing, there's a crowd of people watching you so it's fun and energetic and you get this thrill!
When recording, you're by yourself in a recording booth. You don't care about what you look like or if you make a mistake, it's a really relaxed atmosphere.
Though your best work comes out in a recording because you don't have that extra pressure.
Question:
What/who was your inspiration to go into the music industry?
Tash Phillips
: I'm not exactly sure...I sort of fell into it from Music Theatre. After I moved to Australia from Ukraine when I was 5...I was a ballroom dancer till I was 9. I got bored of that so then I went to a performing arts school. I did Jazz, Tap, Ballet, Acrobats, Music Theatre...everything! Then I started private singing lessons and i guess i liked singing the most. After performing on TV a lot for singing I thought it was a good idea to get an acting agent. Two months later I landed a main role on a hit kid's TV show!
Question:
What is the biggest challenge you have faced along the way to your musical success?
Tash Phillips
: Finding true friends.
Question:
What's a typical day like?
Tash Phillips
: It's NEVER typical. It depends on what I'm doing with my career, singing or acting and if I'm in LA or Australia.
Right now I'm in Australia working with my publicist so basically I have interviews every second day for Newspapers, TV Shows, Magazines..etc, catching up with friends who I haven't seen in yonks! Doing some schoolwork, working out and hitting the beach to get a tan after LA's winter! The extremity of how white I am compared to my friends is actually embarrassing!
Where as when I head back to LA in a couple of weeks I'll be busy shooting a music video for California Eyes for a few weeks, finishing up writing/recording some songs, flying to New York with my LA publicist and anything else that will pop up! So the days are quite diverse!
Question:
What has been your favourite part of becoming a music artist?
Tash Phillips
: The rush of excitement I get when I know I've written an awesome song.
Question:
If you could collaborate with another artist, who would it be?
Tash Phillips
: Female: Katy Perry, her songs are really fun and we have a similar style. She just seems like such a cool chick!
Male: Enrique Iglesias, his songs are aweeeeeeeeesome!
Question:
Do you have a website fans can visit?
Tash Phillips
: Sure do, it's
www.tashphillips.com
make sure you checkout my Facebook/YouTube/Twitter from there.
Question:
Can you tell us 5 things required for a happy healthy & enjoyable life?
Tash Phillips
: 1st thing: Get PLENTY of sleep. It rejuvenates your body and you start the day much happier.
2nd thing: Choose your battles. It took me a while to accomplish this! But laughing little things off is such a weight lifted off your mind!
3rd thing: Always go to bed on a positive note. There are constantly things throughout the day that stress me out so EVERY NIGHT I watch an episode of my favourite show in bed on my mac :)
4th thing: Don't deprive yourself of foods you love. I have found the best theory that works well with me. You eat really well 6 days a week and pick one day where you just eat what you want!
5th thing: GRAB A COPY OF CALIFORNIA EYES!
Buy it now at Dick Smith
Buy now at BigPond Music