Jane Eyre
Cast
: Mia Wasikowska, Michael Fassbender, Jamie Bell, Sally Hawkins, Dame Judi Dench
Director
: Cary Fukunaga
Genre
: Drama, Romance
Rated
: M
Running Time
: 120 minutes
Synopsis
: In a bold new feature version of Jane Eyre, director Cary Joji Fukunaga (Sin Nombre) and screenwriter Moira Buffini (Tamara Drewe) infuse a contemporary immediacy into Charlotte Brontë's timeless, classic story. Mia Wasikowska (Alice in Wonderland) and Michael Fassbender (Inglourious Basterds) star in the iconic lead roles of the romantic drama, the heroine of which continues to inspire new generations of devoted readers and viewers.
In the 19th Century-set story, Jane Eyre (played by Ms. Wasikowska) suddenly flees Thornfield Hall, the vast and isolated estate where she works as a governess for Adèle Varens, a child under the custody of Thornfield's brooding master, Edward Rochester (Mr. Fassbender). The imposing residence - and Rochester's own imposing nature - have sorely tested her resilience. With nowhere else to go, she is extended a helping hand by clergyman St. John Rivers (Jamie Bell of Focus Features' The Eagle) and his family. As she recuperates in the Rivers' Moor House and looks back upon the tumultuous events that led to her escape, Jane wonders if the past is ever truly past…
Aged 10, the orphaned Jane (played by Amelia Clarkson) is mistreated and then cast out of her childhood home Gateshead by her cruel aunt, Mrs. Reed (Golden Globe Award winner Sally Hawkins). Consigned to the charity school Lowood, Jane encounters further harsh treatment but receives an education and meets Helen Burns (Freya Parks), a poor child who impresses Jane as a soulful and contented person. The two become firm friends. When Helen falls fatally ill, the loss devastates Jane, yet strengthens her resolve to stand up for herself and make the just choices in life.
As a teenager, Jane arrives at Thornfield. She is treated with kindness and respect by housekeeper Mrs. Fairfax (Academy Award winner Judi Dench). Jane's interest is piqued by Rochester, who engages her in games of wit and storytelling, and divulges to her some of his innermost thoughts. But his dark moods are troubling to Jane, as are strange goings-on in the house - especially the off-limits attic. She dares to intuit a deep connection with Rochester, and she is not wrong; but once she uncovers the terrible secret that he had hoped to hide from her forever, she flees, finding a home with the Rivers family. When St. John Rivers makes Jane a surprising proposal, she realises that she must return to Thornfield - to secure her own future and finally, to conquer what haunts both her and Rochester.
Release Date
: August 11th, 2011
Return to Thornfield
For over 160 years, Charlotte Brontë's novel Jane Eyre has been one of the world's most popular books. A mainstay of school reading lists, it has been translated into virtually every language. A story with a protagonist whom Charlotte Brontë saw as "a heroine as plain and small as myself," it continues to inspire generations and to influence storytellers.
The power of the story and the popularity of the 1847 novel have led to a host of adaptations of the book; there have been 18 feature versions (dating back to 1910, and most recently in 1996), and 9 telefilm versions. The team behind what would become the 2011 version, Jane Eyre, was motivated to reach a world filmgoing audience while also honoring the novel.
Producer Alison Owen, an Academy Award nominee and Emmy Award winner, offers, "If you say to someone, 'What's the definitive film version of Jane Eyre?' no one really has an answer. Having made a number of movies from or about women's fiction, I wondered, 'Why not?'"
"We're a company that is rapidly building a healthy reputation for being able to successfully convert well-known written works into big- and small-screen entertainment. Taking on Brontë seemed like the natural next step up the literary ladder," adds producer Paul Trijbits. "It's a book we already knew had an enormous fan base, so the responsibility was also a major consideration. We wanted to move this interpretation forward into the 21st Century whilst maintaining the story's haunting beauty."
Alison Owen and PaulTrijbits' Ruby Film & Television began work on the project, which they took to one of the U.K.'s most prolific film funding organisations, BBC Films, to begin the development process.
Owen adds, "It's timely in that Charlotte Brontë, seen as 'the darker sister' when compared to Emily and Anne Brontë, is being rediscovered much like Jane Austen was nearly 20 years ago.
"As a producer, I make sure to have general meetings with my favorite writers all the time; right after I'd thought about Jane Eyre, I was meeting with Moira Buffini. I happened to mention it and it turned out to be one of Moira Buffini's favorite books, if not her favorite."
Moira Buffini seized on the chance to adapt the book, and she and Alison Owen quickly outlined their vision for a full-on big-screen approach to the story. They knew it had to differ from adaptations that had gone before. Moira Buffini's approach was to draw out the gothic elements of the story, and make them engines of the piece.
"Moira Buffini wanted to make it dark and spooky on an intensely romantic journey. That was her take, which I wholly supported," recalls Alison Owen.
Further, as the novel would be adapted into a two-hour movie, AlisonOwen found that "what was brilliant about the script Moira Buffini delivered was the structure she'd chosen. The book is quite difficult in some ways to translate to film. Everyone remembers the sections of Jane's childhood, of Jane being a governess at Thornfield and falling in love with Mr. Rochester, and then bolting.
"But from then on, there's another set of characters introduced - the Rivers family. You can do that in a novel, but it's harder to do two-thirds of the way through a movie. Moira Buffini's stroke of genius was that instead of abbreviating or losing this part entirely, which previous adaptations have done, she put it right at the beginning - and turned the novel's early sections of the young Jane at Lowood and her initial days at Thornfield into flashbacks. Therefore, midway through the third act, we catch up with Jane and you get the emotional punch of being in real time at the end as she comes to terms with everyone and everything."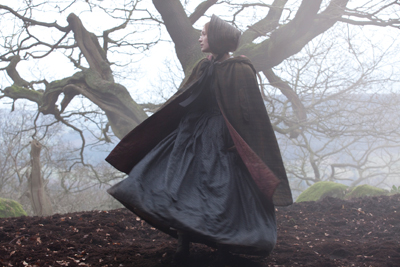 Moira Buffini comments, "I hope this will please the many who love the book; while we may not be faithful to the original structure, our version does include every key stage of Jane's story. Giving the complete picture was also meant to help the uninitiated - those coming to this story for the first time - to understand and identify with Jane all the more."
Once the script was ready, Alison Owen sought a director who would be on the same wavelength. Student Academy Award winner Cary Joji Fukunaga had just made his breakthrough feature debut, Focus Features' Sin Nombre, which earned critical acclaim and awards beginning with its world premiere at the 2009 Sundance Film Festival and continuing on through its global release.
The epic dramatic thriller about Central American immigrants seeking the promise of the U.S., "although seemingly quite far removed from the story of Jane Eyre, also tackled the subject of loss and the search for a better life," notes the producer. "What is apparent as soon as you watch Cary Joji Fukunaga's work is that he's a visceral filmmaker with a strong auteur voice - something that we very much wanted for Jane Eyre."
Cary Fukunaga admits to having entertained the idea of a Jane Eyre movie before, noting that "a few years ago, after writing Sin Nombre but prior to shooting it, I was looking for material to adapt that was in the public domain. Jane Eyre was one of the first novels to pop into my head. I've always liked exploring the idea of 'family' or lack thereof, and particularly remembered the protagonist's having to overcome so many challenges in her youth to find love and true family.
"While I was in the U.K. for the opening of Sin Nombre, I learned that a feature version of Jane Eyre was in development. I wanted a chance to read what was being done, so I arranged a meeting."
However, having previously been writer/director, Cary Fukunaga admits that the prospect of collaborating with a screenwriter made him "apprehensive at first. What made it viable to me was that Moira Buffini's adaptation was founded on a structure that had an immediate, contemporary feel, while also remaining faithful to the story. I could see the movie I wanted to make out of it, so it was a compelling and convincing starting point. At the end of my very first meeting with Alison Owen and Moira Buffini I said, 'I'd like to make this movie' and, surprisingly, they said, 'We'd like you to make this movie.' So it was off to the races."
Alison Owen remembers, "Cary Fukunaga read the script and immediately responded with such passion. He really got it! When you meet someone, and they are on the same page as you, it's as strong an indication as any that they're the right person to make the movie. He explained from the outset how he would like to cast it younger than might be expected and how he had ideas to bring out the gothic elements. That was all music to Moira Buffini's and my ears."
Cary Fukunaga notes, "I knew I was taking on a story that is a period film and a romance with elements of horror. Walking the line among these tones would be difficult, because it's easier to default to one or the other. I wanted to maintain consistency in the style of telling the story."
He offers, "Where Jane Eyre is similar to Sin Nombre is in its exploration of the mysteries of human relationships, especially familial ones. Jane hasn't had a family her whole life and is in search of one, not to mention a place to call home. But every time she becomes close to someone, they are taken away from her.
"Another similar theme is that a female protagonist is on a journey and finds someone she can relate to, who has suffered loss like she has, as she is plunged into complex situations and emotions. With secrets from the past emerging, will she once again lose someone close to her?"
Cary Fukunaga called in a key collaborator from Sin Nombre early on, director of photography Adriano Goldman, who reports that "for a cinematographer from Brazil, the prospect of shooting a period film in England was so intriguing, that it was enough for me to commit."
They decided, says Cary Fukunaga, that their approach to Jane Eyre "was to be more traditional [than Sin Nombre's shooting style]. For one thing, on this movie we had trained actors. We never considered going digital; this was always going to be filmed in 35mm.
"The next question was, which shooting format? 2:35/1 is the obvious choice for an historical film. But what are important in Jane Eyre are the relationships; Rochester and Jane's pivots on tête-à-tête conversations, and there is tension underneath. So we flirted with going 1:33/1, which would certainly have put the focus on the characters. But we felt that the way to go was 1:85/1, which is old-school yet still gives you a lot of screen space."
Cary Fukunaga comments, "Both Adriano Goldman and I both like improvisation much more than storyboarding everything and over-planning. There was a moment in the first week of shooting Jane Eyre, where we were running out of time - so we just said, 'Let's shoot this handheld.' It looked great; it's a beautiful scene.
"When you're laying down a camera track or committing to certain moves, that might box in an actor. You've got to take into account your time. Are we getting to cover the scene in the ways we need, while allowing for what comes out in a performance?"
Adriano Goldman clarifies that "the framing was conceived as being very well-balanced; we decided to put characters in the center of the frame a lot. I wasn't going to put a lot of equipment around the sets, so we could move easily. Also, we were relying on natural light and, from the period, fireplaces or candles and oil lanterns. Which, after all, is what the characters would have relied on at that time.
"On our first phone call about the project, Cary Fukunaga told me that he wanted the colors to be muted. The approach was soft contrast, meaning, not much difference between 'the bright side' and 'the dark side.' So, even the dark colors are milky. This was going to be not only for the shooting and the lighting but also for the wardrobe and the sets, a consistent palette without greens or reds."
The cinematographer remarks that the classic Days of Heaven "was a base reference for us. Not so much because of its style or framing - we didn't want to copy anybody - but because of the mood it created for its characters."
Given the story's mysteries in and around a large residence, another classic film became a reference; Adriano Goldman notes, "Thornfield put us in mind of the Overlook Hotel in The Shining."
"Thornfield is an iconic character in its own right," notes Moira Buffini. "It's atmospheric and haunting - and, it would seem, haunted…"
Cary Fukunaga says, "Finding locations that were what I envisioned - or close to them - was the biggest logistical challenge on this project."
Alison Owen and Cary Fukunaga rejected any number of potential U.K. candidates in favor of Haddon Hall, which location manager Giles Edleston states has "more rooms and sets than a filmmaker could ever wish for." Located in Bakewell, Derbyshire and built atop a limestone outcrop, Haddon is one of the oldest houses in England, with the original corner of the house dating back to the 11th Century. A private house that once stood in the same region is thought to have inspired Charlotte Brontë in her imagining of Thornfield; since the setting in the novel is, in fact, Derbyshire, it marked another instance where the modern take was firmly anchoring the story in its roots.
"What rings true from the book is how intimidated Jane would have been when she first comes to a house like this one," comments Haddon's head steward, Jo Walker.
Privately owned by a family and with no residents, Haddon offered the Jane Eyre team unparalleled flexibility. Haddon's house and grounds are open to the public. They have been seen on-screen over the years in - among many other projects - Elizabeth, also produced by Alison Owen. Giles Edleston notes, "Although I've filmed there before, every time I'm at Haddon the place looks completely different on-camera. Around Derbyshire, you could shoot several films and not have to repeat the same landscape."
Haddon's readiness extended to specifics that were required in the frame, such as fireplaces and candles. Production designer Will Hughes-Jones first had to "make sure that they were working. Haddon didn't have restrictions on them, which most country houses do - due to insurance requirements. This is not to say that they didn't watch us like hawks, to make sure that we were behaving ourselves. Also, Haddon does have fire alarms, light switches, and things of modern-day life that have to be covered up."
Readiness was not all; the Haddon dining room became not the Thornfield one but rather Rochester's study, with the production's furniture, carpeting, and tapestries temporarily replacing the dining room's settings and rugs.
Similarly, although the most "modern" room in Haddon, in that it is from the Elizabethan era, was originally built as a combination exercise room and salon, in Jane Eyre it becomes an attic store room caked in dust.
In part because it had once been closed for 200 years, Haddon escaped modernisation by the Victorians - something few stately homes in Britain can claim - and moreover has been deliberately maintained in a 1700s-era state for the past nine decades.
Hunkering down at Haddon enabled the Jane Eyre crew to better recreate the specific period in which the story is set. Will Hughes-Jones comments, "Haddon was a predominantly blank canvas that could become our Thornfield. It is actually mostly empty, so we had to furnish the rooms we wanted to use; putting curtains up in a room with more than two dozen windows, or filling up a room to become a store room of furniture."
"Cary Fukunaga's concept for Thornfield, and the production, was to be as true to the book as we could make it. He wanted it to feel very dark, very masculine, with lots of wood and stone as a contrast to Gateshead, where Jane is early on in her life."
The production designer had to make sure to keep the timeline straight because, he notes, "The screenplay adaptation that Moira Buffini has written keeps you not quite knowing what's going to happen next, because you go backwards and forwards through time and Jane's memories. This is also extremely clever because Jane is in jeopardy from page one, so there is tension and you fear for her from the start."
Cary Fukunaga adds, "The original novel featured many spooky elements, from early Victorian gothic atmospheres to outright spiritual presences; I liked the imagery and was excited by the idea of pushing that side of the story further than in previous adaptations - not full-blown horror, but a definite vibe."
Will Hughes-Jones elaborates, "We didn't always look to obvious period references; often, we would identify visuals that we wanted, and only then make sure that they were period-appropriate. The term 'gothic' is often misunderstood. We are quantifying it as more of a genre for the telling of the story, rather than in terms of the gothic revival in Victorian architecture - ornate and spiky details, which we tried to avoid, because it was not right for the period.
"For the scenes where Jane moves around the house and is spooked, and other scenes, when Cary Fukunaga would ask us to impart 'a gothic feel' he was referring to the actual feel that you get within a space. Haddon Hall itself held a lot of secrets. One day, we were walking around with custodians of the building, and mentioned how we needed a secret door for the cast to go through. One of the custodians said, 'Like this?' and pulled back a tapestry - and there was a secret door. Haddon is full of them. You can get lost in Haddon for hours. In lighting and mood it can feel dark and frightening. Then again, when the sun is shining on it, it's a beautiful place."
Outside the walls of Haddon, the county of Derbyshire was itself a character, providing arresting landscapes for Jane's story. Cary Fukunaga and the crew were stunned at the gothic impression made by the surrounding rocks and cliff faces that make the Derbyshire dales so dramatic.
The director marvels, "There's something about the craggy rocks, and the kind of bracken that grows here, that makes it darker and more oppressive than the more expansive Yorkshire moors. So we definitely wanted to shoot there, even though it's more populated; it was challenging, because when we wanted to get an epic shot there would be a radio tower - or an entire village - in view.
"Although we made it seem like Thornfield is in the middle of nowhere, just beyond the edge of the frame was modern civilisation."
Also in Derbyshire, the crew clambered to the top of the gardens surrounding Chatsworth House, the largest private country house in England, to film Rochester's first encounter with Jane. Seen in Pride & Prejudice as the exterior of Mr. Darcy's family home, Chatsworth is the home of the Duke and Duchess of Devonshire. It was built in the 17th Century, with a farmyard and adventure playground added on in 1973.
Amongst the winding paths and woodland lay a high-set bend in the road, punctuated with a formidable dead oak tree. The morning of the location shoot, shrouding smoke and dark clouds engendered concern that the backdrop was almost too gothic to be believed. The tree seemed to loom over the actors and crew, warning of an enormous drop below from where Jane was supposed to have climbed.
But as stunt coordinator Franklin Henson worked closely with trainer Dan Naprous of The Devil's Horsemen on the pivotal sequence, it was clear that Chatsworth's landscape was a potent asset.
Two cameras had to be on hand to capture the memorable moment wherein Rochester rears his horse up when Jane suddenly materialises and the horse falls over. Mia Wasikowska, starring as Jane Eyre, was present and in the shot as much as possible, but the do-not-cross line for the actress was six feet away from the rearing horse being ridden by Michael Fassbender's Rochester stunt double.
Large protruding tree roots were removed and heavy protective padding was laid into the path and covered with soil for the dramatic fall. The move was practiced with precision to enable the horse to tumble backwards without crushing the rider. But it was unnerving and tiring work for the stunt team to have the horse hit the mark and fall correctly for each take. "The horse doesn't want to play after a while," Henson points out. "Maybe three takes and, after that, you've lost its patience."
Weather conditions added to the challenges of filming on the Derbyshire dales. What the British call "the Dunkirk spirit" was frequently relied upon when faced with freezing rain, snow, fog, and high winds, and only occasional moments of blazingly bright sunshine that fully reveal the untouched rural beauty of the region. Edleston reveals, "What the audience won't know is that we were thick in mud, and that visibility was down to 100 yards. But the end result on-screen is worth it."
"We were completely at the mercy of the weather," remembers Cary Fukunaga. "If you have only one day to shoot the rainy scene and there's bright sunlight, you must change and adapt."
Adriano Goldman notes, "It was tricky. We always tried to be shooting outside when the light was best, but we had to be consistent with the mood that Cary Fukunaga had established from the beginning."
"So when there was no fog, Will Hughes-Jones would say, 'Let's bring in the fog!' and the special effects crew would make some for us."
Alison Owen laughs, "Filming in England makes for a Rubik's Cube of daily reorganisation, in terms of what the weather is doing. We're used to it, but I did warn Cary Fukunaga beforehand."
Weather and locations are just part of making the past present in filming a period drama. Costumes, language, and manners must mesh perfectly. To ensure accuracy, historical advisor Jenny Uglow, OBE, was on hand to answer any and all questions about the period.
Cary Fukunaga received a BA in history, and has been "passionate about it since I was a kid - especially the 19th Century." Accordingly, he would pepper Jenny Uglow with questions about "random things; what sorts of parlor games people would play, at what times the servants would eat, what kind of food was eaten in the main household and in what style it was served. All the heads of our departments tried to make Jane Eyre as realistic as possible. It goes to a level that most people won't notice or appreciate, but having that is a help to me."
Dialect coach Jill McCullough worked with Mia Wasikowska and Michaela Fassbender to get the accents accurate, taking them respectively "from Australian and Irish to Yorkshire. What's interesting is that, back then, the upper class had broader accents than what is generally heard in period films; posh characters being depicted usually speak with RP - 'received pronunciation' - accents. But we're having Rochester speak in an 'unusual' way that is more historically accurate."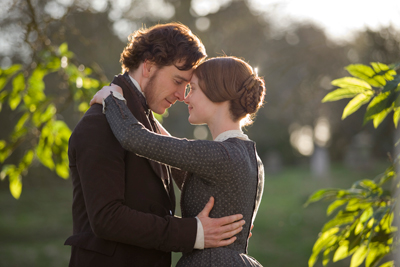 On an even more specific design point, Will Hughes-Jones remarks, "Cary Fukunaga and I had long discussions about the pipe that St. John smokes. Through our research, my team found that the pipe that Cary Fukunaga had in mind did exist at the time but was not yet in the U.K. So we found something else. What's refreshing is that Cary Fukunaga is collaborative and open-minded."
The director also praises "[costume designer] Michael O'Connor and his department for detailing the types of petticoats and undergarments, and the types of thread used."
Will Hugh-Jones remembers, "Michael O'Connor and I coordinated color, tone, and patter. For example, we had a conversation about what Mrs. Reed would be wearing in a certain scene, with the furniture in the room tailored to complement her dress, and vice versa.
"We also worked closely with Adriano Goldman and Cary Fukunaga, since how light played in a room would determine how we decorated it and with what. For instance, there's a canopy over Jane's bed at Thornfield so Adriano Goldman can legitimately create shadow play over her face."
Michael O'Connor reports, "In addition to the script, I'd go through the book, constantly marking up pages mentioning anything to do with types of material or clothes and branching out to how people lived, if there's something to do with the setting or the style; the detail of a shop front, or the cover of a bed."
Calculating the dates when Jane's story takes place has remained open to interpretation, so Michael O'Connor had to pinpoint them. He muses, "The book was published in 1847, but Charlotte Brontë seems to be writing of the 1830s and there is a spirit of an age even slightly earlier. Cary Fukunaga was quite tempted to go for the Regency period [1795 to 1837], when there was much social chronicling. We decided on the early 1830s for the young Jane, and the early 1840s for the teenaged Jane, which was noteworthy because that was when photography started. Up until then, there were images of people painted in costume.
"We looked at the work of painters like Franz Winterhalter and, in particular, a wonderful untrained British illustrator named Mary Ellen Best. Their works are romantic and beautiful. Then you would see a photograph around the same date showing the real clothes and think, 'That looks like it doesn't fit quite so well as in the painting....'"
Cary Fukunaga, as part of the contemporary perspective being applied to the conception and telling of the story, introduced O'Connor to the work of American photographer Alec Soth, as well as that of Dutch photographer Hellen van Meene, as a reference template for desired moods and tones.
The director reports, "With all creative departments, I normally use photographic references rather than ones from film or other mediums. I find that a photograph can very quickly communicate all that we are trying to accomplish in one frozen moment, and Van Meene's photos were particularly relevant to what we were trying to accomplish visually with our movie."
"They're incredibly beautiful shots," marvels Michael O'Connor. "These are really clean images with strong colors; in some cases they are washed-out, yet with one strong color. Stylistically, they translated for parts of the movie; I kept them up on a wall to refer to.
"We also examined original costumes of the 1830s and 1840s to see how they were manufactured. This was before the sewing machine, so everything was still being made by hand."
All of the costumes for the principals on Jane Eyre were also made from scratch. Michael O'Connor notes, "When you're fitting an ornate costume and wig in a studio in Central London, you have to be aware of the reality of recreating that operation in the field. I've learned that from previous jobs."
Michael O'Connor's field experience has served him well; honored with an Oscar for his work on The Duchess, he knows that "in making the costume for the actors, you are forming part of their character.
"The first people the actors see after they've met the director are from the costume department. There's conversation, a dialogue. By no means is everything made at that point; it's not a fait accompli, because I will wait for their feedback. I like having the chance to introduce some other element, sometimes just to be practical."
He states, "The satisfaction on-set - amidst modern elements all around you - comes when you suddenly see these shapes and these colors in the intended historic settings. The actor is ready and fitted, hair and make-up is being done, and the combination of all the departments' work comes together and completes the picture."
Taking the Leads
Alison Owen states, "I would not have made Jane Eyre unless we had the right person to play Jane. This is not a role that you can shoehorn somebody into. Both Cary Fukunaga and I wanted someone with a natural affinity for the character, and who was of a comparable age to the Jane of the novel.
"In the book's Thornfield sections, she is about 18 years old. One theme that Jane Eyre explores is a young girl's awakenings to feelings that she didn't know she was capable of having. Some are sexual, and some are emotional. A lot of the other pervious screen versions had cast someone who was older; as wonderful as some of these actresses were, they've been more women than girls."
Mia Wasikowska was the right age - and was at the right time in her career, now taking on leading roles. Alison Owen remembers, "Mia Wasikowska just sang out to us. If you look at the range of actresses out there, you will find some fantastic ones; there's no doubt about that. But Mia Wasikowska is born to play Jane; she inhabits and, ultimately, defines the role."
Kismet was at work; reflecting the enduring power of the novel, Mia Wasikowska was already reading it on her own and after only a few chapters was moved to inquire with her agent as to whether "there was a script around or anything happening with it, because I thought it would be an incredible role to play. She e-mailed me back saying, no; there was one a while ago but it had gone away. A few weeks later, she said the movie was happening, sent me the script, and told me that the director, wanted to meet me."
At that meeting, an immediate understanding was forged. Mia Wasikowska reflects, "I first met Cary Fukunaga in November 2009. We hung out for a day and talked about the character. We found that we shared similar ideas of what she was going through; we spoke about strength, and about the kind of agony you feel when you are in love with somebody.
"It's an honor to portray Jane. What I love about her character is, despite all the hardship that she faces throughout her life, she has this innate sense of self-respect and an incredible ability to do what's right by herself as an individual. I believe that is key for people, especially women, to remember; it's important to do what's fulfilling for you as an individual, even when it can be easier to do what's comfortable."
Cary Fukunaga comments, "Mia Wasikowskadidn't just bring talent; she brought her ideas for the role. She was about doing what was right for it, ready to give her all."
For her preparation, Mia Wasikowska collected a number of visual references "to form an image of Jane in my head. I looked at a lot of photographs and images, pictures, and drawings of the time - for example, the way people physically held themselves. I also went through the novel again, trying to find moments that were particularly pivotal to her character which would help me figure out who she was and how she was feeling at particular times."
While identifying those feelings, she also had to articulate them. She explains, "There were a lot of scenes to play that were emotionally challenging and intense - and with language that we don't really use any more. The trick is making that feel right so you can comfortably speak the words. A phrase such as 'I am not speaking to you through mortal flesh' is so poetic and visual, but I had to make it sound real as well."
With such emotions going from the page to being expressed by actors, Jane Eyre would depend heavily on the chemistry between the performers playing Jane and Rochester - and playing out the co-existing passion and restraint of the turbulent relationship.
Alison Owen remarks, "There's more than a bit of the good girl/bad boy attraction in this relationship. That's another instance of how the story has been a key influence on many women writers of fiction.
"Mia Wasikowska and Michael Fassbender play it so beautifully. It's tender, romantic, sexy, and exciting - the sparks fly!"
Cary Fukunaga confides, "I'm not a highly emotional person, but there are powerful scenes between Mia Wasikowska and Michael Fassbender- and I hope this extends to the audience - that nearly brought me to tears. You sense the desperation and the need in both characters.
"At that initial meeting I had with Alison Owen and Moira Buffini, Michael Fassbender's was the first name out of our mouths. I thought his interpretation of Bobby Sands in Hunger was amazing and intense; I wanted him for Rochester."
Alison Owen praises Michael Fassbender as "a consummate actor, and I can't think of another one around who's got Michael Fassbender's sexual charisma. Certainly you could see both of those qualities in Fish Tank. I would bet that after this movie, people don't read Jane Eyre without picturing him in their minds as Rochester."
The actor had seen and admired Cary Fukunaga's Sin Nombre, "and I thought, 'What a bold choice to direct this movie.' I knew he would take on this classic British piece and bring a different edge to it. I don't know if he's aware of how many times Jane Eyre had been done for British cinema and television. But he's brave and I think that's exactly what was needed."
Iconic or not, Michael Fassbender found himself drawn to a character whose "gruffness and darkness make him more challenging to take to. This is not a straightforward love story.
"I play Rochester primarily as a Byronic hero. He's quite jaded, yet he is sensitive and has a good heart. He's in touch with his sensuality and humor. He's traveled, and some things happened along his journeys which have stayed with him."
Michael Fassbender delved into his character's history and how it informs Rochester's interactions with Jane. He says, "Rochester has been hurt. He went to Jamaica at such a young age, and his life got spun around. I think that he would have been quite happy without huge amounts of money, but his father said, 'You have to go and marry this woman, because you need to be taken care of financially.' Subsequently his older brother died, and he took over Thornfield.
"He's somebody who is quite opposed to aristocratic judgments. He doesn't mind crossing boundaries through perceived social handicaps. He doesn't mind that Jane is a governess, or that for him to be with a governess would be frowned upon."
The actor sees the relationship as "Rochester's last hope, really. He sees Jane when everyone else looks past her, and she inspires him, bringing him back to a point in his life where he was more pure and overtly better-natured, not as cynical and arrogant. When Jane responds to him in a way that doesn't kowtow to his beliefs and that challenges him, he sees a real fire within her that she's been suppressing. That intrigues him. The audience should be invested in the prospect that these two people can heal each other and nourish each other."
Since that is by no means a certainty in the story, both leads strove not to sentimentalise their characters' interaction. Mia Wasikowska enthuses, "Michael Fassbender constantly surprised me on the set. I would arrive excited to see what he was going to do and how he was going to do it. He has this incredible strength that comes through; his eyes are so piercing! Acting opposite him, I could completely believe he was his character."
Michael Fassbender was surprised by Mia Wasikowska as well. He notes, "Mia Wasikowska comes from a dance background, which is so disciplined and so regimented. She has taken that discipline into the art form of acting. She has so many facets to her, and has got such a maturity about her; she's much more centred and together than I'll ever be ...
"She is fully present as the character in take after take, but the most impressive thing about Mia Wasikowska is that she is very comfortable in herself."
Part 2 Jane Eyre - www.femail.com.au/jane-eyre-lending-support.htm