Giulia Piolanti Michael Jackson The Immortal World Tour Interview
The Estate of Michael Jackson and Cirque du Soleil have announced that Michael Jackson The Immortal World Tour will arrive in Australia in September this year. This once-in-a‐lifetime electrifying production uses Cirque du Soleil creativity to give fans worldwide a unique view into the spirit, passion and heart of the artistic genius who forever transformed global pop culture. Written and directed by Jamie King, the show includes 49 international dancers, musicians and acrobats. Since its world premiere in Montreal in October 2011, the enormously successful arena production has thrilled audiences across North America, Europe and Asia.

Michael Jackson The Immortal World Tour is a riveting fusion of visuals, dance, music and fantasy that immerses audiences in Michael's creative world. Aimed at lifelong fans as well as those experiencing Michael's creative genius for the first time, the show captures the essence, soul and inspiration of the King of Pop, celebrating a legacy that continues to transcend generations.

The Immortal World Tour takes place in a fantastical realm where we discover Michael's inspiration and the wellspring of his creativity. The secrets of Michael's inner world are unlocked"his love of music and dance, fairy tale and magic, and the fragile beauty of nature.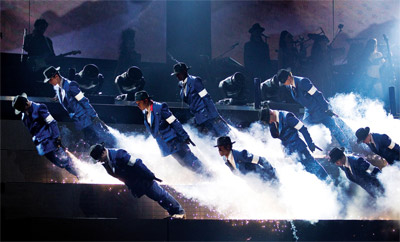 The underpinnings of The Immortal World Tour are Michael Jackson's powerful, inspirational music and lyrics"the driving force behind the show"brought to life with extraordinary power and breath-- taking intensity. Through unforgettable performances Michael Jackson The Immortal World Tour underscores Michael's global messages of love, peace and unity.

Writer and Director Jamie King is a multiple Emmy Award® and MTV Video Music Award® nominee and has choreographed some of the most popular music videos and directed some of the highest-grossing concert tours of all time. For the past 12 years, he has served as Madonna's creative director, and most recently directed world tours for Rihanna, Celine Dion, Spice Girls and Britney Spears. King has worked with an array of superstars including Ricky Martin, Christina Aguilera, Mariah Carey, Shakira, George Michael, Elton John, Diana Ross and Jennifer Lopez. This is Jamie's first show with Cirque du Soleil.

For tour schedule and ticket information, please visit www.cirquedusoleil.com/michaeljackson


Tour Schedule

Perth: Perth Arena - Wednesday 18 September 8pm, Saturday 21 September 4pm & 8pm, Thursday 19 September 8pm, Sunday 22 September 5pm and Friday 20 September 8pm

Sydney: Allphones Arena - Thursday 26 September 8pm, Saturday 28 September 4pm & 8pm, Friday 27 September 8pm and Sunday 29 September 4pm & 8pm

Brisbane: Brisbane Entertainment Centre - Wednesday 2 October 8pm, Saturday 5 October 4pm & 8pm, Thursday 3 October 8pm, Sunday 6 October 8pm and Friday 4 October 8pm

Melbourne: Rod Laver Arena - Wednesday 9 October 8pm, Thursday 10 October 8pm, Saturday 12 October 4pm & 8pm, Friday 11 October 8pm and Sunday 13 October 4pm & 8pm

Adelaide: Adelaide Entertainment Centre - Tuesday 15 October 8pm, Wednesday 16 October 8pm and Thursday 17 October 8pm

Book tickets at ticketek.com.au or 132 849
Premium Tickets, VIP Experiences & Official Travel Packages: www.showbiz.com.au/michaeljackson



Interview with Giulia Piolanti
A rhythmic gymnast since age of 6, Giulia participated in many national competitions before moving to Milan and developing her passion for dance and theatre. She attended a dance academy for three years, studying a variety of dance disciplines but also taking singing, acting and diction lessons. In 2000, she joined the dance company 'Kataklo" and for seven years performed around the world, including the Opening Ceremony of the Winter Olympic Games in Turin (2006).

In 2005 Giulia saw her first Cirque du Soleil show, Saltimbanco, and immediately knew she wanted to perform for the company. Two years later, she was asked to join ZED, before joining Michael Jackson THE IMMORTAL World Tour.

Beyond performance, Giulia has worked as a model for exhibitions and art books with photographers from America, Austria, Switzerland, Italy and England. She loves the magic of this show and is a strong believer in the common language that is shared by the performers on stage and the communication with the audience.


Question: Can you tell us about the Michael Jackson The Immortal World Tour?

Giulia Piolanti: Michael Jackson The Immortal World Tour has been a great experience for me. It has been almost two years since the beginning of the show and right now as I speak to you I am in Korea. I experience many emotions bringing Michael Jackson onto stage with the dancers, acrobats and the crew. Travelling as part of the Michael Jackson The Immortal World Tour is an amazing life.


Question: What role do you play in the Michael Jackson The Immortal World Tour?

Giulia Piolanti: In this show I have different types of roles; I am a pole dancer, a contortionist and a dancer. I am very versatile.


Question: Can you tell us about your costumes?

Giulia Piolanti: Wow! The costumes are one of the best parts of the show. My costumes as a dancer include five different outfits. As a pole dancer I have one very sexy bikini which is super colourful and shiny. As a contortionist I have a green unitard which makes me look like a lizard or a sexy green monster with a mask on my face. It's like having a different personality having to wear different costumes.


Question: Which musical acts are you involved in?

Giulia Piolanti: As a pole dancer the song is Dangerous which is a song about a dangerous women which fits perfectly with the role of a pole dancer because the girl on the pole is sexy and it can be dangerous especially because I have dancers above me trying to reach me although I slide away from them at the same time to fool them with the way I move.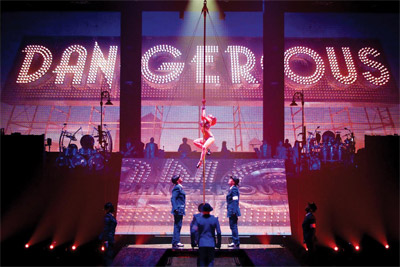 As a contortionist the music is Scary which fits perfectly as it's the story of these monsters coming out of a book and it is one of the most famous songs of Michael Jackson. To be honest there were a few songs, used in the show, that I didn't know so well when I joined the tour but now they're my bible.


Question: Is there a particular Michael Jackson song featured in The Immortal World Tour that is your favourite?

Giulia Piolanti: I really like Man in the Mirror.


Question: What rehearsal and training is involved in getting a show like this organised?

Giulia Piolanti: We have training, daily. It is currently 2pm and as soon as I finish speaking I will be training as the show is always a working progress. Never think that once the show starts running that training is over, we are always working on improving and making the show better. This is something that I personally really enjoy about Cirque du Soleil especially because every performer has a different idea and a different type of movement and the show becomes stronger and stronger. It is currently stronger than ever which is thanks to the crew and the collaboration with everyone including the chorographers; it's a great environment to work in.


Question: What's it like performing alongside Michael's performances and real-time projections of those performances on stage?

Giulia Piolanti: The real Michael Jackson performances are more or less the base of the show but of course Cirque du Soleil tries to convey his chorography with the acrobatics side of the circus which makes the show even more exciting and interesting.


Question: What inspired you to join Cirque du Soleil?

Giulia Piolanti: They offered me a position in the Michael Jackson The Immortal World Tour. I was in another Cirque du Soleil show, in Japan and they offered me a position which I decided to take because it was a new challenge and adventure. Of course the idea of being part of a show of Michael Jackson was what brought me to say yes.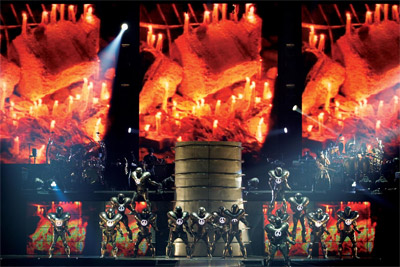 Question: What are you enjoying most about being a part of the Michael Jackson The Immortal World Tour?

Giulia Piolanti: I love travelling, it is a great aspect because you really get to see the world and the reaction of people, from all over the world because each country has a different way to enjoy the show, which is very amazing, for me. I love the idea of travelling all over the world with Michael Jackson, it is really important to me. I love the amazing team I am working with, I learn something new every day whether that is from an exchange with a dancer or an acrobat. It is an amazing side of life, I am very lucky, I feel very lucky.


Question: What's the most difficult thing about travelling with Cirque du Soleil?

Giulia Piolanti: You are always in movement and you are living in a hotel room which is not a real type of life. I don't have a husband or children but I do miss my parents but at the same time I love to send them postcards from every city, which is very nice and they're so proud of me. There is no reason to stop and leave this tour. Sometimes I may not like the food of a certain country but there is nothing that I don't really like about being a part of the Michael Jackson The Immortal World Tour. I'm looking forward to coming to Australia because I've never been there, before; I'm very excited!


Interview by Brooke Hunter