Mandy Moore and Zachary Levi Tangled Interview
Cast
: Mandy Moore, Zachary Levi, Donna Murphy, Ron Perlman, M.C. Gainey, Jeffrey Tambor, Brad Garrett, Paul F. Tompkins
Director
: Byron Howard, Nathan Greno
Genre
: Family, Animation,
Rated
: PG
Running Time
: 100 minutes
Synopsis
: Walt Disney Pictures presents Tangled, one of the most hilarious, hair-raising tales ever told. When the kingdom's most wanted-and most charming-bandit Flynn Rider (voice of Zachary Levi) hides out in a mysterious tower, he's taken hostage by Rapunzel (voice of Mandy Moore), a beautiful and feisty tower-bound teen with 70 feet of magical, golden hair.
Flynn's curious captor, who's looking for her ticket out of the tower where she's been locked away for years, strikes a deal with the handsome thief and the unlikely duo sets off on an action-packed escapade, complete with a super-cop horse, an over-protective chameleon and a gruff gang of pub thugs.
In select theatres in Disney Digital 3D™, Tangled is a story of adventure, heart, humour and hair-lots of hair.
Release Date
: January 6th, 2010
Website
:
www.disneymovies.com.au
Interview with Mandy Moore and Zachary Levi
Question:
How much effort do you need to place into your voice, because you don't have your face on screen to act alongside?
Mandy Moore
: We have talked about this a lot. Initially it is odd to come to terms with the fact that you are not working with any of the other actors, all of your work is done, by yourself. There is a moment in time, that I though 'Oh! This is going to be weird.'
When you are doing a live action project television or film, whatever it may be, you feed off someone's energy but also it is a symbiotic relationship- their reaction dictates what your reaction is. Not knowing necessarily what you are suppose to be doing, initially, was odd but once I got over that, it wasn't too different. I didn't feel like it needed to be over the top, with animation there needs to be a slightly more heightened performance, only because you are not relying on your facial expressions and mannerisms to help tell the story and show emotions. I found it fun, finding the right tone.
Zachary Levi
: You still act it out a little bit.
Mandy Moore
: Yes!
Zachary Levi
: You have to do it very quietly so you do not put noise over your dialogue but if you were to go back and watch any of our video footage…
Mandy Moore
: I'm very animated...
Zachary Levi
: I'm sure it's hysterical! You are running in place.
Mandy Moore
: Or holding a frying pan...
Zachary Levi
: All of those things, you definitely put yourself into it. It also gives the animator a reference point because they watch the video footage and then take their cues from it and pepper in your actual physicality's into your role.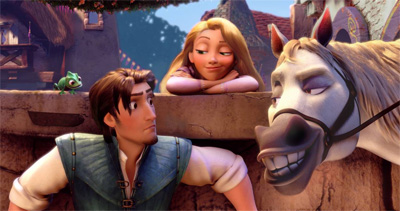 Question:
How do you go about creating chemistry using only your voices; especially when you're not recording at the same time?
Zachary Levi
: That's how good we are!
Mandy Moore
: (singing) That's how good we are.
Zachary Levi
: (laughing) I love that it turned into song!
Mandy Moore
: Yes, it did!
Zachary Levi
: Rarely do I get that out of Mandy (Moore)!
It's really a testament to the directors, I think. Byron Howard and Nathan Greno are in the room with everyone, when you're recording. They're able to really think back and have reference points because they know what performance they got out of Mandy (Moore) for any particular scene and they think 'okay, if Mandy (Moore) was here then we need Zachary (hary Levi) to be in this realm. Then, when you watch the movie it works! It blew my mind.
Question:
Did you record second, Zachary Levi?
Zachary Levi
: No…
Mandy Moore
: Not necessarily.
Zachary Levi
: It depended on what they had because Mandy (Moore) was bouncing around a lot, she was in New York, London and different places.
Mandy Moore
: And you (talking to Zachary Levi) were recording your show and could only record on weekends.
Zachary Levi
: Exactly! I would come in, once every six weeks, for five hours and maybe that sequence or scene had been recorded by Mandy (Moore) already, maybe it hadn't. Even if it had there were still so many tweaks that would happen, later on. We'd end up doing the same scene five times, depending.
Mandy Moore
: I never heard any of Zac's (Zachary Levi), I never asked "Can I hear a sample?" None of us got that, either. You went in blindly but you trust your instincts, like you would with anything else.
Question:
On average, how many times did you say each line, you had?
Mandy Moore
: It varied…
Zachary Levi
: It depends. Some lines you could get it in one, if it was something that was very simple, like 'hey'. But, oddly enough sometimes those one word lines could be…
Mandy Moore
: …the thing you got stuck on, forever!
Zachary Levi
: You could do twenty takes of it.
Mandy Moore
: You'd be saying "I don't know how else I can say 'hi'!
Zachary Levi
: Yeah Yeah! Then the directors, producers and whoever else was in the room would be trying to give you direction, "say it more…" and sometimes they'd use wording and I'd be thinking 'I don't understand what that means!' Then you just end up saying it a bunch of different ways and they'd say "Oh! That was the one!"
Mandy Moore
: Yep! You've got it!
Zachary Levi
: Oh good!
Question:
How did you originally get involved in Tangled?
Zachary Levi
: Auditioned
Mandy Moore
: Yes, auditioned.
Question:
Are you a Disney fan?
Zachary Levi
: Yes!
Mandy Moore
: Of course!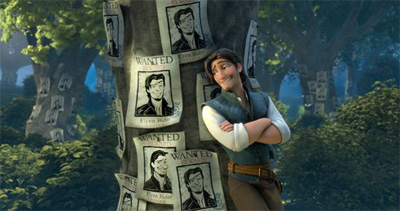 Question:
What are some of your favourite Disney movies?
Mandy Moore
: (pointing at Zachary Levi) Aladdin
Zachary Levi
: (pointing at Mandy Moore) The Little Mermaid.
Mandy Moore
: (talking to Zachary Levi) You are a Disney nerd.
Zachary Levi
: I'm a Dis-Nerd
Mandy Moore
: Copyright Dis-Nerd!
Question:
What influenced your voices for the characters of Tangled?
Mandy Moore
: I didn't do anything; I don't think I did…
Zachary Levi
: No, I am a huge fan of cartoons, in general and I feel like I have stuck with them. I have watched cartoons so much as a child and Byron Howard, Nathan Greno would show me story boards and sometimes I'd say "Oh! I've got it, that's like the scene from Aladdin; it's one of my favourite scenes!" They'd understand and say 'It kind of is that, I guess'.
Question:
Was it hard hearing your voice back whilst watching an animated character?
Mandy Moore
: It was weird.
Zachary Levi
: It's like the answering machine; you hear your voice and think 'What! I can't possibly sound like that'! I think everyone feels that way, it is just weird. We both watched it and said "errr… I wish I didn't sound like that"! I think that she (Mandy Moore) sounds amazing!
Mandy Moore
: Aww….
Zachary Levi
: Not just with the singing (especially her singing) but I think her characters voice is so full of life and has such an incredible balance. You really buy this young girl who has been trapped in this tower.
Question:
Did you enjoy recording the songs for the film?
Zachary Levi
: The duet was my first time singing professionally recorded material. I grew up doing a lot of musical theatre so I have sung for the majority of my life but I was waiting for the right opportunity and right fit, where I could sing professionally and Tangled was it. When I got the job I was beside myself excited- I didn't think I had a chance at all! Normally with major animated features, now days, it is huge A-list actors and I thought for sure they'd get somebody bigger than me!
Question:
Mandy Moore, you sang on the soundtrack for Tangled, were you approached to do this?
Mandy Moore
: No, the soundtrack is songs from the film. When we both auditioned and I know they were both specifically looking for people that could both act and sing, they didn't want to have two different people playing the characters.
Zachary Levi
: Which they have done in the past.
Mandy Moore
: It was exciting, especially growing up with Disney movies and loving them so much, the idea that Disney doesn't really make those movies, as much, anymore - that is what made it so exciting.
Question:
Was it difficult overcoming the Rapunzel storyline you knew for this cheekier version?
Mandy Moore
: I didn't know the story too well. I knew that there was a princess trapped in a tower, with extraordinary long hair and she was waiting to be rescued 'Rapunzel, Rapunzel, let down your hair'; I didn't really know what happened after that. I knew enough to know that I really appreciated the twist that they put on the story that allowed Rapunzel to 'wear the pants' she gets to rescue the guy and she is the one that is determined to take this adventure and convince him and saves him! Rapunzel is sort of fearless, the only thing she has been told about the outside world is that it is 'scary' and 'there are people that are out to get her', but that doesn't deter her from ultimately trying to realise what it is that she is meant for, in the world.
Question:
Do you think she overcomes the fear in the 'I Have A Dream' scene?
Mandy Moore
: Yes! That is cute.
Zachary Levi
: That is so great!
Interview by Brooke Hunter