Angus, Thongs and Perfect Snogging is the hilarious coming of age story which is based on the international best-selling series of books by Louise Rennison. The film follows Georgia Nicolson as she overcomes the trauma of being a teenager and moves up the 'snogging scale'.
Angus is Georgia's cat and he alongside her best mates try and seek out her two main hopes, first: to get a gorgeous 'sex-god' boyfriend and secondly: to throwthe greatest 15th birthday party ever. Both of these dreams are misunderstood by her parents.
Georgia is overwhelmed when handsome twins, Tom and Robbie (Aaron Johnson) arrive at her school, Georgia thinks Robbie is the boyfriend of her dreams, shetries to 'get' him, with a bunch of embarrassing ideas that she 'thinks' will show him that she is mature and sophisticated. All of Georgia's plans causehavoc, including dying her legs orange, making her hair fall out and stalking her worst enemy and Robbie's girlfriend.
Whilst Georgia is obsessed with landing Robbie as her boyfriend for her party, her Dad has to move to New Zealand and she thinks her Mum wants a divorce! It all unfolds hilariously and any female of any age will walk out smiling from Angus, Thongs and Perfect Snogging.
Aaron Johnson Interview
How is playing Robbie different to any other character you have played before?
Aaron Johnson:
Well to play Robbie I brought a lot of experience from my school life, a lot of Robbie is me. It was really good fun,especially being in the band, as the bass player, it was really cool to be a part of that and on stage rocking it out. Although being called a 'sex-god' isa lot to live up too.
You play the 'sex-god' of the film, how does that feel?
Aaron Johnson:
We just laughed about it, it is really really made up and me with make-up. I don't really know how to take things like that, we all just laughed it off. It was great though that they took me in and sort of made me a pin up
Are you a 'sex-god' or similar to your character in real life?
Aaron Johnson:
Nah. I'm not really, well I don't really think about it like that. I'm not a dream boy like Robbie. Robbie is charming, caring and cool because he plays the bass in the band. I'm different to that.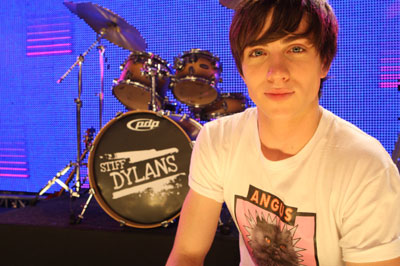 You seem to have a lot of girls calling you 'fit' do you have trouble walking down the street without gaining loads of attention?
Aaron Johnson:
Not at all! (laughing) It's kind of like how all the girls want to be just like Georgia and go out with Robbie. We are very different from our characters. I don't know why, but it is like girls are falling for what they see in the film. I would be a bad disappointment in real life.
What was your favourite part of the film?
Aaron Johnson:
It was heaps of fun filming the birthday party scene, with the Stiff Dylan's (Robbie's band) on stage. At the beginning I was nervous about playing with the band, but once I was up there rocking it out it was awesome. It was fantastic having everyone jumping at your feet whilst you played live, it was a big buzz.
What about the kissing scene?
Aaron Johnson:
Well that was all good fun too. But at the birthday party we were all together, it was the whole cast and I got to be with the band, the families, the boys and the ace gang. It was literally a party for two whole days. With the kissing scene it was all good fun Georgia and I were cozy and we were joking about. Before it everyone was asking if we wanted mint fresh gum or mouth spray and we were like "No, but we'll have a doughnut though", it was funny too because we both had curry for lunch. We didn't really care, as we were friends.
What's your best snogging tip?
Aaron Johnson:
Only kiss someone that you are into, not for the sake of kissing someone. Use a mixture of flow and kissing and vary it between bottom and top lips. You can move in with the tongue if you want and if you want to get really kinky add some biting (laughing) if that's what your into.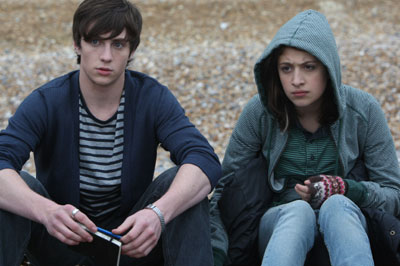 How do you feel when you watch yourself of the big screen?
Aaron Johnson:
Don't know. I don't really think about it. We were at the Sydney screening last night and I was with Georgia and we both didn't even recognise it! We were too busy looking in the background and saying things like 'look at all the babies' and spotting people from the crew in the background. We were sort of taking the mickey out of each other. We are both sort of modest people and we have to be humble, it is hard watching yourself. You sort of want to cringe and not watch yourself as it gets embarrassing. It is strange and you don't really enjoy it.
Who do you look up to?
Aaron Johnson:
Who I inspire too changes a lot. My inspiration is really the top actors like Al Pacino or could be someone new and interesting. I think Cate Blanchett is the best actress in the world at the moment it is amazing how she goes from Queen Elizabeth to Bob Dylan, she is really out there and is an inspiration, I can aspire to women. I like /Tarantino/ as a director. And actors such as Brad Pitt who change their style. Natalie Portman is a very clever actress. A younger Leonardo Dicaprio is very good, such as when he was in What's Eating Gilbert Grape, that was challenging to Basketball Diaries. He has a very interesting career I'd like to follow. You can't base yourself and be inspired by just one person, you need to be inspired by everyone's talents.
Where would we find you on a Sunday?
Aaron Johnson:
My perfect Sunday would be, being at home and getting to see my family. When I do go home on a Sunday it would be great to be at the local country pub with Mum and Dad and the family, my sister and her boyfriend having a huge Sunday roast, the biggest roast ever and a couple of pints. That would be the best thing!
Do you miss your family?
Aaron Johnson:
When you are into your work you don't really realise, but then you'll think it's been five days since you have spoken to your Mum. I'll be in LA or NYC and they're at home, I travel on my own because that is just what I have to do. Yes, there are lonely days but I am a very sociable person so I make friends really easily. It is a different life, I get to travel and do exciting things.
Angus, Thongs and Perfect Snogging is out on September 18th for the school holidays and is rated PG.
Brooke Hunter