FOR DANIEL RADCLIFFE THERE'S LIFE AFTER POTTER.
By Paul Fischer.

Daniel Radcliffe is all grown up, consistently mature and a charmer. Now promoting the latest Harry Potter film The Order of the Phoenix and attending his fifth press junket, Daniel Radcliffe is poised and funny than most seasoned professionals. But then he's had lots of practice. And now, young 17-year old Radcliffe has proven that there is indeed life after Potter, with his now infamous nude scene on stage in Equus and the Australian film December Boys under his belt. Asked about whether he chose to do Equus in particular in order to prove to himself and audiences that there is life post-Harry, Daniel Radcliffe smiles. "I do give a lot of thought, but Potter's never something I would want to distance myself from because I'm incredibly proud of it. It's given me the most amazing opportunities, I've met some of the most fantastic people and got to work with these brilliant actors. But I certainly also want to establish myself as an actor in my own right rather than being just the actor who plays Harry Potter and as you say, it's just as much, if not more, to prove to myself that I can do it than to be able to prove it to the audience. Of course there will always be people who see us as our respective characters no matter what we do, but ultimately that's more their problem than ours because they are not the people who are going to be stopping us from doing other different things."

There was certainly a fair share of ballyhoo surrounding that famous nude scene, and coupled with the actor's first screen kiss in Order of the Phoenix, Daniel Radcliffe is destined to win over many new fans. Comparing the kiss to the Equus moment, Daniel Radcliffe laughs. "I did the kiss first and I think the reason that it wasn't a problem or a sort of worry in the slightest was that in the back of my mind, I was thinking I'll be naked on stage in six months, so I've got to get over this, because if that's a worry, then the whole [nude blinding horses] would be a greater worry. But really, with the kiss, everyone assumed it was a really big sort of moment but it's just like doing any other scene, which is very disappointing for people to hear I know but that's unfortunately how it was."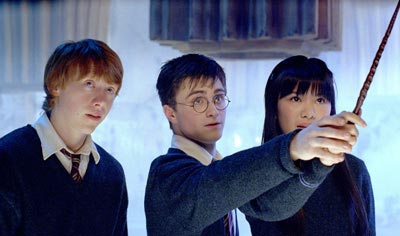 Clearly, however, Daniel Radcliffe was also excited about the direction Harry goes in the fifth film. Darker than its predecessors, Phoenix's Harry is in full-blown adolescence, complete with regular outbursts of rage, a nearly debilitating crush, and the blooming of a powerful sense of rebellion. It's been yet another infuriating and boring summer with the despicable Dursleys, this time with minimal contact from our hero's non-Muggle friends from school. Harry is feeling especially edgy at the lack of news from the magic world, wondering when the freshly revived evil Lord Voldemort will strike. Returning to Hogwarts will be a relief--or will it? Capturing Harry's rebellious side in the fifth film was something Daniel Radcliffe relished and identified with. "I loved doing all that stuff to do with Harry in this film because David [Yates] kept referring to Dumbledore's army as being like the French resistance, which was a metaphor that really appealed to me. Also, Harry as a leader and a teacher was able to show off his wizarding skills and that showing off stuff was really, really fun to do." As to venturing into the darker psyche inhabited by Harry, Daniel Radcliffe comments "I think everybody's got that side of them which they can draw upon when they have to if they're trying to act it."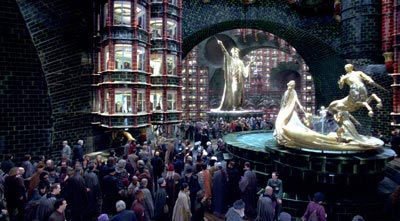 It's hard to imagine that it's been six years since a much more wide-eyed Daniel Radcliffe assumed the role that would change his life. The young actor has literally grown up through the character of Harry, but for Daniel Radcliffe, he doesn't consciously think about growing up in the course of the five films. "I don't think you realize it when you're growing up," the actor says, thoughtfully. "I think it's just one of those things that sort of just happens to you and somebody shows you a photograph of yourself when you were 10 and you recoil in horror. To us, we've just grown up and don't think of ourselves as having grown up on screen. But it's been great, really good fun and we've met some of the people who we're really, really good friends with through these films who we probably wouldn't have had the chance to meet had we not done them, so it's been fantastic."

Harry Potter mania is almost at an end - almost, for the time being. There is of course the 7th and final book due out in about two weeks, but no, Daniel Radcliffe has no idea what Rawlings has in store for Harry but he's more than aware of the hype that the first book is creating. "I do think there's always going to be that hype around it but the thing is, with the books and the films, it's deserved because they do get better and better and more exciting. My favourite book is the fifth and my favourite film is the fifth as well. To be able to say that five movies into a franchise is I suppose quite rare, but also, I don't know how the book releases affect us. I think you're very, very anxious about what's going to happen, but I don't think we get totally distressed by it."

And Daniel Radcliffe will be seen in the Australian film December Boys, opening both in the US and Australia in September, representing yet another new chapter in the life of Daniel Radcliffe.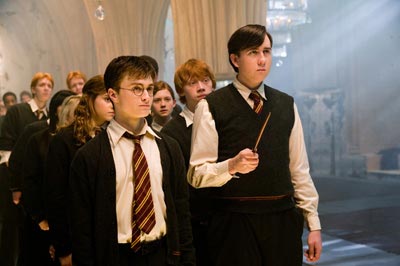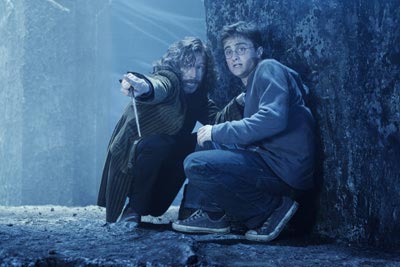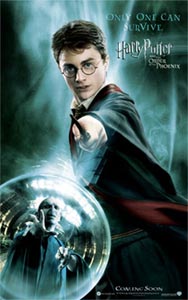 Harry Potter The Order of the Pheonix
Starring: Daniel Radcliffe, Rupert Grint, Emma Watson, Robbie Coltrane, Ralph Fiennes, Michael Gambon, Richard Griffiths, Brendan Gleeson, Gary Oldman, Alan Rickman, Imelda Staunton
Director David Yates

In "Harry Potter and the Order of the Phoenix," Harry returns for his fifth year of study at Hogwarts and discovers that much of the wizarding community is in denial about the teenager's recent encounter with the evil Lord Voldemort, preferring to turn a blind eye to the news that Voldemort has returned. Fearing that Hogwarts' venerable Headmaster, Albus Dumbledore, is lying about Voldemort's return in order to undermine his power and take his job, the Minister for Magic, Cornelius Fudge, appoints a new Defense Against the Dark Arts teacher to keep watch over Dumbledore and the Hogwarts students.

But Professor Dolores Umbridge's Ministry-approved course of defensive magic leaves the young wizards woefully unprepared to defend themselves against the dark forces threatening them and the entire wizarding community, so at the prompting of his friends Hermione and Ron, Harry takes matters into his own hands. Meeting secretly with a small group of students who name themselves "Dumbledore's Army," Harry teaches them how to defend themselves against the Dark Arts, preparing the courageous young wizards for the extraordinary battle that lies ahead.

Review: It's no surprise that the more we learn about Harry Potter the more we crave. It's completely intoxicating and as his character and the ones around him develop we can only expect bigger and better movies to come. Never has there been a series to keeps building on attraction as Harry Potter. It will be a sad day when there is no more to come. Not surpisingly 'Harry Potter The Order of the Pheonix' is by far the best movie in the series to date, and Harry Potter fans everywhere eagerly await the next blockbuster.