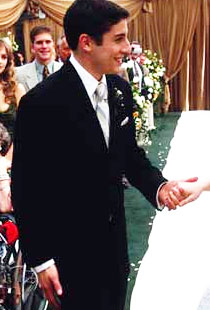 Jason Biggs/American Pie: The Wedding Interview by Paul Fischer in Los Angeles.
Jason Biggs may have had as many flops as successes since breaking out in the first American Pie film. Now taller and wiser, the actor is on a roll, from his recent adult Broadway debut, to the starring role in the next Woody Allen film, which is set to open August's Venice Film Festival, and of course the third chapter in the American Pie franchise. Things really couldn't get much better as PAUL FISCHER found out when he caught up with the young actor.

Jason Biggs couldn't believe it when he was just informed that his next film - Woody Allen's Anything Else, has been selected to open this year's prestigious Venice Film Festival. "I can't believe it, that's so amazing", he says with typical boyish enthusiasm. Yet it's hard to imagine that the veteran director and actor cast Jason in his latest comedy, based on two of the actor's films: American Pie and Loser, of all films. "Yes, he apparently enjoyed some of the classics that I had done in the past", he says laughingly, referring to Loser. Biggs may be riding high with the success of the Pie films, and his upcoming slate, but for the 25-year old New Jersey native, Biggs had to cope with failure, both before and after achieving instant fame via the first American Pie. The actor says that he has had to acquire a thick skin "not just as a result of the recent commercial flops" such as Boys and Girls, Saving Silverman and Loser, "but my experiences as growing up in the industry and being a child actor," Biggs recalls. "I've done some wonderful things and was convinced that each of those great things that I did was my big break," from his Broadway debut at 13, opposite Judd Hirsch in Conversations With My Father, to regular stints in the TV soap As the World Turns, and later in the short-lived Camp Stories. "After Camp Stories, I went unemployed for a year and a half so I saw the peaks and valleys of this industry a long time ago. So when American Pie came along, and it succeeded as well as it did, it was wonderful, but it can all go away just like that. I HAVE had some flops and I will have some more, hopefully," says Biggs.

Biggs was at one time adamant that he would never return to the character that started it all: the geeky, accident-prone Jim in American Pie. "I did the third film for the money, of course," he says jokingly. "Obviously it all comes down to the writing. We were given this great script which perfectly concluded the series. And besides, who doesn't want to be part of a trilogy?" In American Pie: The Wedding, Biggs' Jim and Alyson Hannigan's Michelle decide to tie the knot, with a bit of unwanted help by the perpetually crazed Stifler -Seann William Scott]. While American Pie: The Wedding contains some nice romantic moments, there is no getting away from the outrageousness that defined its predecessors, and Biggs says that he wouldn't have it any other way, admitting that he loves going as far as possible. "I'll do anything for the funny, going to those extremes," Biggs says. "I think it's great fun. I mean, this character and his involvement in those scenes are very unique, but I'm the guy that does it and that's my thing. I have no qualms, so long as it works and people laugh, then cool and at this point the bar has been raised and the expectations have been set, so now when I read the script for this one and the previous one it was like, what do we have? How do we top or at least hold a candle to the previous set pieces?"

Amidst the craziness of American Pie: The Wedding, there is also a certain romanticism in this chapter. After all, the film DOES revolve around Jim and Michelle's eventual nuptials. But while co-star Alyson Hannigan is preparing for a real-life wedding later this year, there are no such plans for Biggs, having come off a three-year relationship with a girl [not an actress] he'd met a friend's birthday party. Now single again, Biggs isn't giving much thought to a dream wedding, a constant question he is asked while promoting American Pie: The Wedding. "I don't know, it's just something, I got to be honest, that I haven't thought through much." In fact, Biggs is treading softly back into the dating game, no easy feat having played a character such as Jim in three movies. "I'm just recently sort of getting back into the dating world, so I have my own issues to deal with. I don't really worry about people thinking of me as the pie guy and not wanting to date me because they think I'm a loser or sexually inept. It's more about: "Is the girl into you because you're cool and because she likes you and is she able to separate you from your work, or is my film work or recognition a distraction to her?"

While trying to rediscover that wary world of dating, professionally, Jason is on a major roll, beginning with the Woody Allen film. "I'm playing a young comedy writer, in New York City, of course, who, in the beginning of the film, meets Woody Allen's character, who is also a comedy writer. They befriend each other and Woody's character sort of takes mine under his wings and becomes his mentor, taking it upon himself to try to teach him the ways of the world. He does that most specifically, in the relationship arena and my relationships with my girlfriend played by Christina Ricci, and my talent manager [Danny DeVito], which are the two relationships that I have in my life that are not advantageous for me in any way, shape or form. Both of them are holding me back from real happiness and so Woody's trying to get me out of there but I have loyalty issues and I can't leave anybody." Working with the legendary director was certainly a unique experience for Biggs. "He can be brutally honest and you have to be prepared for it. I worked every day with him; he did not beat around the bush and didn't package his direction in nice little fluffy packages, but gave it to you straight, making comments like: You put me to sleep." If box office failures gave the actor a thick skin, working with Woody Allen was similar. "At first, it was like, oh my God, I can't believe I'm letting him down. I've heard numerous stories of people being convinced that they were fired."

From Woody Allen to Kevin Smith, as Biggs took on a smaller role in Smith's Jersey Girl, starring power couple Ben Affleck and Jennifer Lopez. "I played Ben Affleck's a music producer and I play his assistant. It's a small role, just a couple of scenes." But they were enough for Jason to witness the blossoming love affair between the film's stars. "Yes, I saw it with my own two eyes. I didn't really work with Jennifer, I had a couple of montage shots with her, met her twice, had brief exchanges, she was very pleasant but all of my work was with Ben. Now during my scenes with Ben, Jennifer came by once or twice and I would see Ben between takes sort of going off and having a quickie," he adds laughingly. Always keep 'em laughing is Biggs' motto.