Identity Thief
Cast: Jason Bateman, Melissa McCarthy, Jon Favreau, Amanda Peet, Tip "T.I." Harris, Genesis Rodriguez, Morris Chestnut, John Cho, Robert Patrick, Eric Stonestreet
Director: Seth Gordon
Genre: Comedy

Synopsis: Horrible Bosses' Jason Bateman and Bridesmaids' Melissa McCarthy lead the cast of Identity Thief, an all-star comedy in which a regular guy is forced to extreme measures to clear his name. With everything to lose after his identity is stolen, he'll find out how crazed you can get trying to settle a bad credit score.

Unlimited funds have allowed Diana (McCarthy) to live it up on the outskirts of Miami, where the queen of retail buys whatever strikes her fancy. There's only one glitch: The ID she's using to finance these sprees reads "Sandy Bigelow Patterson"…. and it belongs to an accounts rep (Bateman) who lives halfway across the U.S.

With only one week to hunt down the con artist before his world implodes, the real Sandy Bigelow Patterson heads south to confront the woman with an all-access pass to his life. And as he attempts to bribe, coax and wrangle her the 2,000 miles to Denver, one easy target will discover just how tough it is to get your name back.

Identity Thief Release Date April 4th, 2013
Website: www.identitythiefmovie.com



A Welcome Transaction: Identity Thief Begins
Every day, millions unknowingly leave their personal information unprotected. From social media sites that accept credit card numbers to smartphones and personal computers with easy-to-access passcodes, the ability to send, receive and steal information has never been simpler. While this welcome technology makes our lives more efficient, it also opens the door for the fastest-growing criminal out there: the identity thief. According to the FTC, approximately nine million United States residents have their identities used fraudulently every year, with staggering financial losses resulting from the theft. And while having your financial life purloined is no laughing matter, the subject proved to be quite interesting for actor/producer Jason Bateman, who came across an original story based upon the timely topic.

"A friend of mine, Peter Morgan, who's a producer, brought me this script," recalls Jason Bateman. "It contained this easy, self-contained concept of one guy who steals another guy's identity and the victim has nothing better to do than to find the man who did it, put him in a car and make him undo it all. So it set itself up in a format of two of my favorite movies, Planes, Trains and Automobiles and Midnight Run."

With a working story and many ideas for the film percolating, Jason Bateman pitched the idea to producer Scott Stuber while they were shooting Couples Retreat on Bora Bora. For Scott Stuber, reteaming with Bateman for Identity Thief would prove an easy decision to make. "Jason Batman and I were in the midst of our third movie together, and he came to me with this great comedy, which I immediately liked," recalls Scott Stuber.

While Scott Stuber and Jason Bateman were busy developing the film, the story and script took an unexpected turn with the release of the blockbuster comedy Bridesmaids. Scott Stuber explains: "We all saw Bridesmaids and were completely blown away by Melissa McCarthy's performance. Jason Batman had this great idea to try to get her to do the project and to change one of the characters to a woman. It injected a fresh take on the concept and unlocked a lot of the things that weren't working in the original script. We then hired Craig Mazin, who's worked on The Hangover films, and he wrote a terrific new draft."

For Jason Bateman, while the story was poignant for today's information-driven society, it was the dynamic between the two characters and what they learn from each other that drove the revised premise and made the tale hilarious and endearing. "When I started doing research, it was shocking to see how prevalent identity theft is today," he says. "We are a lot more exposed than we think. It's important in any comedy to have it be relatable and tangible so that people think that the situation could happen to them. The story escalates in a natural and linear way, and Craig Mazin injected heart into the story. He keeps a pace that is exactly where you want it to be on each page."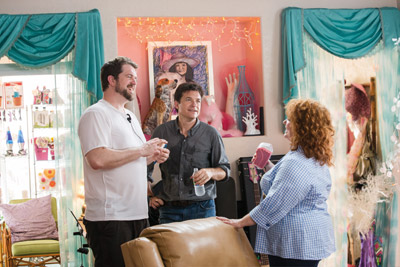 In the comedy, audiences follow the trials and tribulations of Sandy Bigelow Patterson as he travels across the country in order to find and bring back the person who has stolen his financial life. "Sandy Bigelow Patterson is your average guy who's got a wife, two kids and has landed a great new job," explains Jason Bateman. "He's always done the right thing and then he just arbitrarily gets his identity stolen by Diana, which puts his life in a tailspin. Craig Mazin did a great job of constructing the character in such a way that he found some comedy in Sandy being a victim. That made him a lot of fun to play."

Craig Mazin reflects on the process of creating Sandy and Diana: "There's a saying that 'good process leads to good movies.' Maybe that's not always true, but it certainly was in this case. Scott Stuber called me up, pitched me the logline and said 'It's Jason Bateman and Melissa McCarthy,' and it blossomed very quickly. Jason Bateman and I actually worked out a lot of the story together-he was a great producer as well-and when Melissa McCarthy came on, she and I really got into the humanity of Diana. Everyone understood that Jason Bateman and Melissa McCarthy were going to be funny. The real work was making them real and relevant. Not everyone gets their identity stolen, but everyone has a moment in their life where they ask themselves, 'Who am I? Who do I want to be?' Jason Bateman and Melissa McCarthy are entertaining as hell, but you also feel for them, because there's quite a bit of them in all of us.

"The key for me was making sure Sandy's and Diana's characters connected with the audience in a way that was deeper than just the events of the plot," the writer continues. "The story centers on identity theft, but the movie is really about what it means to know and accept who you really are-even when that's painful to do. Jason Bateman, Melissa McCarthy and Seth Gordon brought that dynamic to life in the most incredible way. The movie is packed with huge laughs, but at its core, it's very humane and touching. I can't wait to share it with everyone."

Finding the right name for the story's hero was essential to the story's plausibility. "We knew that character's name had to be unisex so that Diana could walk into a store and say, 'Hi, I'm Sandy Patterson,'" explains fellow Bluegrass Films producer Pamela Abdy. "As we developed the script, we felt it would be a funny running joke if a guy had one of those names that leaned more to the feminine side, so that most people's reaction would be, 'Isn't that a girl's name?' We wanted it to be this constant struggle he's been tormented with his entire life. Jason Bateman's amazing at playing characters that are constantly getting beaten down, and Sandy is right in his wheelhouse."

Now that the script was in solid shape, Jason Bateman, Scott Stuber and Pamela Abdy locked down Melissa McCarthy to play the character of Diana, an identity thief who treats herself to the finest things that her victims' credit cards can buy her. For Melissa McCarthy, the opportunity to team up with Jason Bateman was a welcome one. "Just having Jason Bateman call and say, 'I'd like to talk to you about something,' made me dork out a bit," she laughs. "I met with him, and he pitched me this idea. I also liked that Diana was scrappy and gets physical with him. I can't think of a comedy where you see a man and a woman physically fighting and it's not slapsticky. In this film, it's more like 'I'm trying to kill him.'"

Melissa McCarthy was flattered that the team rewrote the part for her strengths and sensibilities. The actress offers: "What also made the project interesting was that we were starting from the ground up with the character and we could give Diana depth and layers. I thought if someone's stealing, you never want to make that character completely evil because it would be one-dimensional and boring. I loved the thought of her being so on the outside of everything in her life that the reason she steals and gets into people's credit histories is to be a voyeur. She sees what trips they go on or their family pictures or that someone has bought an engagement ring and is about to get married. It's all the steps in life that she is not able to take, so it is less about her stealing and acquiring things as it is feeling like she is part of these people's lives."

Living off of Sandy Patterson's credit dime has its perks, from luxury spa services to jet skis, and Diana rarely sees a store that she doesn't like when she strolls through the mall. "I loved the thought of Diana being a hoarder of sorts but that she is also neat, clean and organised," informs Melissa McCarthy. "Diana will buy five blenders because whoever was on the phone with her told a long story about having pool parties, as opposed to Diana actually wanting a blender. She doesn't need the things she buys, she just wants to talk to somebody in the process of getting them."

The producers were quite satisfied with their decision to switch the gender of the story's antagonist. "Melissa McCarthy elevated the character in the best way possible," compliments Scott Stuber. "She's totally menacing and can do some horrible things, but she does it with such heart that you can't help but root for her. Diana's clearly out of control, but she does it in a way that you're going to want her to win and want her to change."

With Jason Bateman and Melissa McCarthy on board, the producers reached out to Seth Gordon, who previously collaborated with Jason Bateman on the hit comedy Horrible Bosses. For the director, it was an easy decision to make Identity Thief his next project. "We were doing press for Horrible Bosses in London, and Jason Bateman brought up the idea for the film," recalls Seth Gordon. "He gave me a brief description of what it would be and his idea to switch one of the roles from male to female, which was being tailored for Melissa McCarthy. As soon as I heard the concept and that Melissa McCarthy would be the criminal and that Jason Bateman would be chasing her down, I was sold. I knew it was the recipe for a very funny film.

"I love a movie where two characters are trapped together and forced onto a journey," continues Seth Gordon. "We wanted to put two very different people together who go on a chase and in the process learn unexpected lessons from each other. Even though we don't talk about it out loud in the movie, people can connect to that basic notion of feeling not good enough or not worthy of what they have. Melissa McCarthy has the ability to bring that to life in such a compelling way and Jason Bateman is the best straight man of his generation, which is why he was born to play Sandy Patterson."

"Seth Gordon is the first and only person I thought of to direct," commends Jason Bateman. "He's got a great ease about him, and one of the most important things in making a comedy is having the set be a nice place to work. Seth Gordon is collaborative without being a doormat and he has vision and insights, which made him the perfect person. I'm new at this producer thing, but I have been told left and right that it doesn't usually happen like this, so I feel lucky that we were able to get our first choices of Seth Gordon and Melissa McCarthy."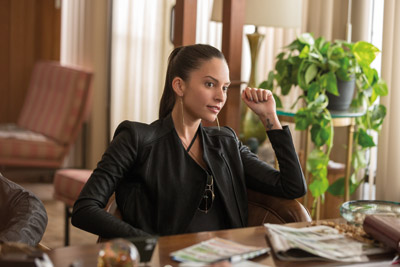 Cops, Cons and Skiptracers: Supporting Cast

With Jason Bateman and Melissa McCarthy good to go, the filmmakers began to cast the many supporting roles. Naturally, the next part was Sandy's loving, supportive wife named Trish, played by Amanda Peet. Initially resistant to her husband's idea of tracking down the criminal who has stolen his identity, Trish soon realises it is their only chance to get out of the financial mess that the whirling dervish called Diana has whipped up.

"Sandy and Trish are caught between a rock and a hard place and have no other choice but to take matters into their own hands and not rely on the help of the law or anyone else," explains Amanda Peet. "Though Trish is a little worried because Sandy is a conservative, law-abiding person, and he's going to go off on this crazy wild-goose hunt to find a criminal." Amanda Peet knew she'd made the right choice for her next project. "When you're in a room by yourself reading a script and you start falling off the bed laughing, it's a good sign. I kept emailing Jason Bateman with 'This is so brilliant.' I also feel like it's very topical with the economy the way it is and families struggling."

Scott Stuber had no doubts they'd found the perfect Trish for the comedy. He says: "Jason Bateman and Amanda Peet are friends, which is a big plus when it comes to playing husband and wife of 12 years, so right away you knew there would be good chemistry. Amanda Peet's a terrific actress and brings such great energy in her performances, so she was a great fit for the character."

Diana's actions wreak havoc on every member of the Patterson household, including Trish and Sandy's two young daughters, Jessie and Franny, played by Maggie Elizabeth Jones and Mary-Charles Jones, respectively. "We were lucky we found two strong, young actresses who could hold their own," says Seth Gordon. "It was important for the characters that the girls who played them be sisters. We knew this would give them a real comfort with each other, and they could play around and riff with Amanda Peet, Jason Bateman and Melissa McCathy."

In the film, Sandy has worked at Prominence Financial for many years with very little to show for it. Despite his dedication to the company and outstanding work ethic, Sandy is becoming increasingly frustrated as he struggles to make ends meet. He reaches his breaking point when his boss, Harold Cornish, asks him to come into his office and cut bonus checks-checks that are meant only for partners at the firm.

When casting the role of Harold Cornish, Jason Bateman turned to his longtime pal, Jon Favreau. "I have known Jon Favreau for many years, and I knew that he could come in and take a role that wasn't that fleshed out on the page and make it into something special. That is exactly what he did," commends Jason Bateman. "I am so grateful that he was able to do the part."

"Scott Stuber sent me the script and when I read it, I liked the role of Harold Cornish because I haven't played this type of part in a while," returns Jon Favreau. "I knew that I would get to come in for a few days and bang it around a bit with Jason, which is always a lot of fun because there's such subtlety to his comedy."

"We all know Jon Favreau as a fabulous director, but he is also one of the great comedic actors of his generation," adds Pamela Abdy. "He took a very simple role, which was written for plot and setup, and brought a whole new layer to the character that was incredibly funny. It sets up and helps earn the moment that Sandy quits his job and finally stands up for himself."

After Sandy realises that he will never have the life he wants working at Prominence Financial, he agrees to join co-worker Daniel Casey (portrayed by John Cho) at his new startup company. His new boss gives Sandy his dream job, complete with a vice president title, terrific salary and plush office. "Prominence is an investment firm run the old-school way, which is basically thieving," John Cho dryly states. "It's definitely a cutthroat business, and people don't feel appreciated. It's one of those companies where the profits stay at the top and don't trickle down, so I am sure people are not going to have a difficult time comparing it to the place where they work."

Daniel's decision to hire Sandy sets off a chain of events that rock Sandy's world. Explains John Cho: "Daniel brings in a majority of the new business to Prominence, and he is not seeing a dime from it. So he defects and starts his own company, with more equitable profit sharing. Sandy is attracted to that and decides to come on board. The first day in the office, Sandy gets a visit from the police about a drug ring in Florida, and it starts to make Daniel very nervous. He lets Sandy know that unless it is cleared up quickly he has to let him go."

For Seth Gordon, John Cho's presence on set was an unexpected bonus. "John Cho came on board just before production," says the director. "Everyone knows him from comedies like the Harold & Kumar films, but he brought this edge to Daniel we really needed. The role is important because if you don't believe the working relationship between Sandy and Daniel-that they're starting a new company together-then the entire movie is compromised. We needed somebody who would approach it with that level of intensity, and John Cho did a great job."

At the Denver Police Department, the officer investigating Sandy is Detective Reilly, played by Morris Chestnut. While the cop is initially somewhat helpful, his attitude quickly changes. Morris Chestnut explains: "Reilly comes to Sandy's job with a warrant to search the premises for drugs and guns because Sandy's name was on a list of buyers in a drug bust. He doesn't find anything, but it pushes Sandy to go track Diana down so his name can be cleared. Reilly also likes to take subtle jabs at him because, despite knowing that there is a woman who has stolen his identity, he feels like there might be something else Sandy is hiding. So he is keeping a real close eye on him."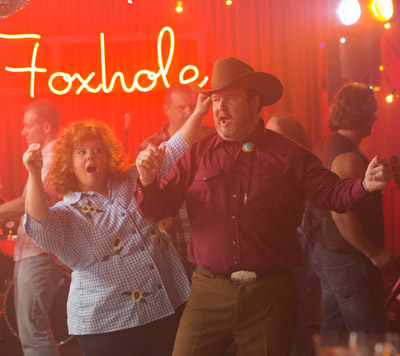 Morris Chestnut tackled another one of those roles that expanded as the production started shooting. Abdy sums that the performers were all game: "When you get on set and the magic starts to happen, sometimes you find a kernel of an idea that's good and you want to explore it and see if it works. Not all of them will live in the film, but a handful will. That's the magic of comedies. You come up with new ideas on set and you play with them. You hope to have actors like Morris Chestnut who are willing to jump in and make things messy. He was fantastic in rolling with the punches."

Once Sandy persuades Diana to come back to Colorado, all that stands in his way of getting his life back is a two-day drive across the country. What he soon finds out, however, is that he isn't the only one tracking Diana. They both come face to face with a menacing skiptracer, played by Robert Patrick. Seth Gordon elaborates: "A skiptracer is essentially a bail enforcement agent-like a bounty hunter or a 'collector'-who is tracking someone who has skipped bail or owes a lot of money. These guys can travel interstate and take somebody hostage and bring them to the person who is owed the money. It's this bizarre loophole in interstate law, and I thought he would be a great antagonist. Still, we knew it would require an actor who naturally has an ability to be menacing without being a cartoon character. I thought Robert Patrick was perfect, and I've loved him ever since he was the T-1000 in Terminator 2."

"Before I read the script I didn't know a skiptracer was a real occupation," laughs Robert Patrick, who was recently seen in Universal and Bluegrass Film's 2012 hit, Safe House. "He's a cross between a bounty hunter and a debt collector. When Seth Gordon and I started talking about the character, we decided to make him an Army guy who's created this niche for himself and works for debt collectors. He gets the information, tracks people down by their credit card use and then captures them, puts them in the back of his van and takes them back to who they took the money from. While Diana might not look intimidating, she proves to be one of the most difficult targets he's ever tracked."

Jason Bateman agrees that Robert Patrick was just the man for the job: "Robert Patrick is one of the great heavies, and we needed the character to represent real stakes. By having him on your tail there was a sense of threat and urgency. A different actor would've said, 'Well, I'm doing a comedy and I'm playing the bad guy, so I need to come in and get some laughs.' There are no laughs written for that character, but if you play him perfectly and you're in these crazy situations, there are going to be laughs that come from that. Fortunately, Robert Patrick trusted that, and as a result he gets some laughs. But more importantly, he's real scary, which is what we needed."

Nothing comes easy for Sandy when it comes to getting Diana safely back to Colorado. As if having a skiptracer tracking your every move wasn't enough, Sandy soon discovers Marisol and Julian, a team of professional enforcers who want what he's got: Diana. "When we found Genesis Rodriguez to play Marisol, who's so funny, and T.I., who lives in Atlanta, to play Julian, we changed the characters. As a result, they and their boss, Paul [played by Jonathan Banks]-working from his jail cell-rounded out the antagonists," explains Seth Gordon. "We needed audiences to believe that all of them were real and threatening and are a force to be reckoned with."

"Marisol is bat-shit crazy," Genesis Rodriguez succinctly puts it. "She's a cold-blooded assassin who is partnered with Julian, and they are the oddest pair. You would think to be an assassin you would need to be emotionless, but they're very emotional and constantly bicker with each other like an old married couple."

"Marisol thinks she's running things," adds Tip 'T.I.' Harris. "She wants to boss me around, despite the fact that I do most of the heavy lifting. The truth is that I do most of the work, and she talks most of the shit. But I guess, like they say, she's easy on the eyes, so I grin and bear it and let her get away with it."

Julian and Marisol arrive at Diana's home just as Sandy is ready to haul her off, and the producers were happy with their young performers' take on the action-heavy roles. "Genesis Rodriguez and T.I. are both bright actors," commends Pamela Abdy. "They have a terrific dynamic, so it provides a different flavor to the movie and gives you two other villains that are very different from the skiptracer."

Throughout their journey, Sandy and Diana meet a number of odd characters, but perhaps none is more memorable than a gregarious Southerner named Big Chuck, played by Eric Stonestreet. When Diana visits a bar called The Foxhole (also the code name for the film during production) across from the motel room she shares with Sandy, she and Big Chuck instantly hit it off. An Emmy Award-winning actor best known for the hit television show Modern Family, Stonestreet describes his larger-than-life character: "Big Chuck's a real estate agent who happens to be at The Foxhole when Diana and Sandy come in to grab a drink. He is looking for a good time, and he looks at Sandy as his ticket to be with Diana. Big Chuck soon realises that in order to get the prize, he's got to go through Sandy, so he's willing to do whatever he needs to do."

"We had a hard time finding the right person to be a match for Diana," relays Seth Gordon. "We wanted to have a character that could be a mark for Diana, in terms of a scam, but also someone who audiences would root for her to be with. Finding someone who could give us that macho, big presence led us to Eric Stonestreet, who I knew was an amazing actor from when I directed an episode of Modern Family."

Eric Stonestreet came in and saved the day," adds Jason Bateman. "We had a situation with our schedule, which took us down to the wire in terms of getting the kind of actor that we wanted. Thankfully, Eric Stonestreet's schedule worked out. He and Melissa hit it off immediately, which was important because there are some intimate moments between the characters."

With the casting process complete, the filmmakers were quite pleased with the outstanding comedic cast they had assembled. "I was happy with our actors, from top to bottom," praises Seth Gordon. "In a comedy, the tiniest part can jeopardise a scene and can send the movie off tone. We worked hard to find performers who could make all of those smaller parts shine, and that started with actors like Carlos Navarro [Luis] at the gas station, Ben Falcone [Tony] as the hotel clerk and Ellie Kemper [Florence] at the Colonnade. All these people made the most of these brief moments and really elevated each scene."

Traveling America: Locations and Design

While a majority of Identity Thief takes place during Sandy and Diana's epic road trip from Winter Park, Florida, to Denver, Colorado, the crew shot the lion's share of the production in Atlanta, Georgia. "We scouted a lot of states, but the interesting thing about Georgia was that there are a lot of very different landscapes and terrains throughout the state that are not far from downtown Atlanta," explains Pamela Abdy. "By shooting in Georgia we were able to find locations to cover all of the states [including Florida, North Carolina, Wisconsin, Colorado, Missouri, Kansas, Illinois, Tennessee, Kentucky and naturally, Georgia] the story tracks through. All we had to do was send a small unit to get some of the iconic landmarks and landscapes of various cities traveling in motion."

Seth Gordon expounds upon his producer's note: "We needed to make Georgia look like Diana and Sandy traveled from just outside Orlando all the way to Denver. We had to capture the look of all the states that were on that journey, so it was a real challenge. Shepherd Frankel, our production designer, did an amazing job finding all of the different looks we needed to make it feel like a long journey."

For Shepherd Frankel, who has collaborated on all of Seth Gordon's movies, the challenge wasn't just shooting a road trip movie in one state, but also creating the enormous number of sets needed for the film. "When I first read the script, I thought, 'Wow! This is fantastic!'" recalls Shepherd Frankel. "But when I broke down the screenplay, I saw that it covered 10 states and 94 sets. I asked myself, 'How are we going to get 10 states and all of those environments in and around the Atlanta area?'

"In a road trip film, the key is to show topography and the geography when our actors are in various places," he continues. "So one of the first things I did was put together a roadmap that showed the journey and made sense of the timeline and where they were in relation to the script, and how long it actually took to get places. That way, we could have a roadmap that we could scout and figure out how to pull it off."

Another challenge for the production was putting the lead actors in the small confined space that was Sandy's rental car for significant periods of time. Explains Scott Stuber: "When you shoot a road movie, there is obviously a lot of driving and the various car rigs give you an advantage of being able to cross-shoot in the car scenes so you don't have to do each actor's coverage separately. This way, all the jokes feel organic. However, the actors are stuck in a car with seat belts and can't move around their environment, so we better be funny."

From the first shot that involved Jason Bateman chasing down Melissa McCarthy on the shoulder of a Georgia highway, it was clear that the chemistry between the two actors was dynamic. Pamela Abdy recalls that day: "It was awesome to watch Jason Bateman and Melissa McCarthy together for the first time. You envision how it's going to be, but until you're there with the lights, costumes and cameras you just don't know. So when the chemistry between your actors comes alive, it's one of the most exciting parts of filmmaking."

For Melissa McCarthy, the driving scenes with Jason Bateman were among her favorite moments during the shoot. "I loved a lot of the driving scenes with Jason Batman because they made me laugh out loud," shares Melissa McCarthy. "I ruined so many takes because Jason Bateman just kills me, and it was so fun to sit in the car and say the most insane things back and forth."

For Jason Bateman, the feeling was mutual: "I loved the scenes where Melissa McCarthy and I were sitting in the car and my character has to deal with all of her absurd behavior and endless stories. During those scenes, I would pinch the inside of my thighs so that I wouldn't laugh in the middle of the take. It was somewhat effective, but by the end of the film, my legs were covered in pinch marks. In the car I also had a great seat to watch Melissa McCarthy create moments and be as nimble as she is. She's constantly pivoting and keeping things fresh and making the next take better. As she became more familiar with how I would react to what she said, she would bend that next beat to where it needed to go. She's a comedic ninja, and it was so much fun to work with her."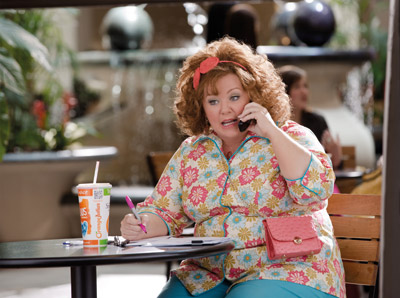 Throat Punches and Car Rolls: Stunts and Improv

When Sandy and Diana meet for the first time on a deserted Florida highway-actually shot about 100 yards from the 125,000-seat Atlanta Motor Speedway racing track- Melissa McCarthy was able to unveil her character's secret weapon. "Sandy's following pretty closely behind Diana's car, and Diana immediately goes into full scam mode and slams on the breaks-causing him to run into the back of her car," explains Melissa McCarthy. "She wants to take him for some money so she says, 'Let's not go through insurance.' At that moment, he shows her his ID, which says 'Sandy Patterson.' It's such a great moment because for the first time she is face to face with one of her victims. I loved that Diana just goes to pure instinct and punches him in the throat and runs. It's like she's an animal. We have a fistfight outside of the car, and it was messy and dirty like a bad schoolyard fight."

"It's one of my favorite scenes because Diana finally has to put a face to the name that she's stolen, but instead of acting remorseful, she punches him in the throat and acts like the victim," laughs Seth Gordon. "In her twisted logic, he's the one who's wrong. Throughout the movie, whenever Diana feels trapped or painted into a corner, she punches people in the throat. We tried to capture it like a classic Western showdown where Sandy feels like 'I got you trapped' and then bam! Diana punches him in the throat, and he hits the ground."

Throughout the film, Diana uses her prowess to get her, and eventually Sandy, out of tough predicaments. The Groundlings-trained Melissa McCarthy relished the challenges, explaining: "I'm a physical actress. Struggling with things is so much better, and it's a big part of how I work. I love that there is so much physical stuff going on with Diana. I've never taken it to this level where you're shooting a fight scene for five days. I've also done some stunt driving and taken what seems like 900 falls. I've probably hit Jason Bateman in the throat 732 times. I've been trying to get a throat punch in a film forever, and in preproduction I asked, 'What if I hit someone in the throat?' For the first time, everyone went, 'I love it!'"

For Seth Gordon, there were very few occasions in which he had to talk his lead actors into mixing it up with the stunt team. "There were so many times that I had to try to talk Melissa McCarthy and Jason Bateman out of doing their own stunts," he sighs. "There is one scene where Diana gets hit by a car, and it's not a subtle hit. There was a parkour artist we brought in to do the stunt, and Melissa McCarthy watched her rehearse and how she rolled off the car and then said, 'I think I can do it and take the hit.' There was no way I was going to let her, but I think she was serious that she wanted to try it. Many of the stunts are either Jason Bateman or Melissa McCarthy doing it themselves. They preferred it that way, and there's something about when an actor does a stunt that makes an audience feel it."

Jason Bateman and Melissa McCarthy weren't the only ones on set who got to flex their muscles; many of their co-stars joined in on the action. "I get to kick in Diana's front door and give a head slam to Big Chuck in his office," Genesis Rodriguez states proudly. "Eric Stonestreet is one of the funniest guys I know, but he made it very easy for me because he played the character so high and mighty and was so obnoxious that he made me want to slam his head on the desk over and over again. My character is a cold-blooded killer, so I learned how to become proficient with weapons so it looks like I was born to use them."

Eric Stonestreet laughs that his character is not as much of a fighter as he is a lover. "Big Chuck likes to get physical, but not always in a violent way," he says. "Don't get me wrong, he has a short temper and can handle his own in any barroom brawl, but when he sees Diana come into the bar, he is smitten."

What follows on the dance floor and continues into the motel is one of the film's many trips into Crazyville. Seth Gordon recalls the day: "I had no idea how the scene was going to play out because we didn't cast Eric until the last minute, so there was no prep time to rehearse the scene. Diana goes into The Foxhole to have a drink and she meets Big Chuck, who starts to make her feel good about herself. Once the booze kicks in, they hit the dance floor and put on a show. We used the song 'Shake Ya Ass' during playback, and the two of them started dancing and having fun; the scene came to life in a way that was magical."

Melissa McCarthy was impressed with Eric Stonestreet's interpretation of the character. "Eric Stonestreet walked onto set and had a complete idea of how he wanted Big Chuck to look and the cadence in which he spoke," explains Melissa McCarthy. "It is a wild scene with us dancing so crazy and going back to the hotel for some fun. Diana's instinct is to get what she needs out of him, and she's thrown for a loop because he is so sincere and makes her feel special. It's fun for me to play a scene when an aggressive character is thrown off-balance. It's the first time where Diana is not completely on her game."

Seth Gordon gave his actors the freedom to go off book when the opportunity presented itself. He explains how they captured all of the unscripted moments: "I warned our cinematographer, Javier Aguirresarobe, that there would be certain scenes where it would be necessary to cross-cover the action so that both actors could riff and play around without having to worry about matching the coverage on the opposite side. When you have this many great comedic actors, you need to give them the freedom to play around because there's gold that you can find."

For the cast, receiving the green light from Seth Gordon to improv made for a productive working environment. "Seth Gordon is great to work with because he'll let us try different things," says Jon Favreau. "You want to make sure you get the story points and what's in the script first, because Identity Thief is well written and it didn't need help. Sometimes you discover things in the moment, and Seth Gordon's encouraging and understands how to shoot, so that it makes it easier to go on runs."

"Seth Gordon is crazy smart and completely creative," adds Melissa McCarthy. "He can be analytical about how he's going to shoot, but he is also so good with story and is wildly collaborative. With both Seth Gordon and Jason Bateman it doesn't matter whose idea it is, what matters most is 'How do we get to the best line or the best solution to get us to the next story point.' I'm going to start stalking them both until we do another film together."

For Jason Bateman, there was a method to the off-book madness. "Melissa McCarthy and I kept our dialogue loose," he shares. "When you're shooting on set, you try to keep your ear open as an audience member so that you get a sense of the pace and tempo and can feel if it needs to go a bit faster or slower. Then sometimes you gauge 'Should we open that up a little during this take and maybe go for one more joke in that direction?'"

www.femail.com.au/identity-thief-set-costumes.htm