NEWCOMER BARNES TAKES ON SEMINAL 'CASPIAN'.
EXCLUSIVE The Chronicles of Narnia: Prince CaspianInterview with Ben Barnes by Paul Fischer.
British screen newcomer Ben Barnes, who plays the title role in the much anticipated Prince Caspian, was born in 1981, attended Kingston University and was a member of the National Youth Music Theatre. Ben started his acting career in small roles on English television shows such as 'Liquid News', 'Making Up Your Mind', 'Doctors' and 'Split Decision'. However, Barnes' big break was on stage in 'The History Boys' playing Dakin. His film career took off with roles in , 'Bigga Than Ben' and 'Stardust'. However, Ben Barnes then cut short his contract with 'The History Boys' as he was offered the role as Prince Caspian in 'The Chronicals of Narnia: Prince Caspian'. Ben Barnes then signed up with the Narnia filming cast for two Narnia films playing Prince Caspian in 'Narnia: Prince Caspian' and in 'Narnia: The Voyage of the Dawn Treader'.
The actor talked to Paul Fischer in this exclusive interview.
Paul Fischer
: Let me start off by asking what the audition process was like, getting this role.
Ben Barnes
: Actually, it was very, very brief. They'd been looking for, I think, about a year in some different Mediterranean, South American countries, for somebody to play Caspian. And one of the casting departments saw me in a play, in History Boys in the West End of London, and asked me if I'd like to tape a scene for an audition, which I duly sent to the director. And I got some feedback that he thought that some of my delivery was drier than he'd seen in previous months, and it was a little bit different to other things that he'd seen. Invited me in for a screen test, which I did about a week later with all the producers, and about a week later I had the part. And a few weeks after that, I was on my way to New Zealand. And it was all very sort of flash in the pan. And, you know, when I got to New Zealand, I spoke with the other cast, who told me for the first film the audition process had lasted about 18 months, and they were fuming with jealousy that mine was three weeks start to finish.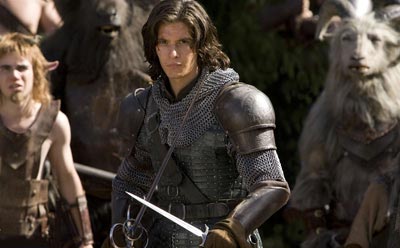 Paul Fischer
: Andrew tells me that you were a fan of Narnia before taking this on. How much of a fan were you?
Ben Barnes
: Well, absolutely. It was a big part of my childhood. I was a big reader when I was - you know, eight years old. And I found my old copy, actually, when I got the part, and still have my handwriting in the front. My name written in the front. But my Dad reliably informs me that I used to read a chapter to him, and then he would read one back to me, doing all the silly character voices. And there was a TV series that accompanied the reading of that in 1989, which was magical to me, which I watched a little bit of recently and switched off very quickly before I ruined my memory of it entirely. And so - you know, it was a real privilege for me to be involved in retelling the story for a 2008 audience, really.
Paul Fischer
: How much did your interpretation of Caspian mirror your interpretation of the character in the books when you were reading it?
Ben Barnes
: Well, I had, obviously, in my head, an image of a sort of much younger blond curly-haired boy, really. So it didn't sit too easily with me, the idea of making him too heroic and glamorous. But they also explained the Telmarine race were descended from pirates and Pacific Islander women, and so they wanted to go for a kind of swarthy, Mediterranean feel to the Telmarine people, to make them ethnically different from the English Pevensies. And that seemed to make a lot of sense to me. My focus was really on trying to present these characters honestly, in terms of how the book shows him to be quite vulnerable and ambivalent about the situations he finds himself in, and not really ready or deserving of being a king and a leader. So that was my main focus, was to not try to make him too glamorous or heroic, when he isn't.
Paul Fischer
: How surprised were you by the screenplay when you read it? Structurally, the book is a lot more complex than the screenplay allowed. Were you kind of surprised at how Andrew and his other writers were able to make a much more consistent through-line?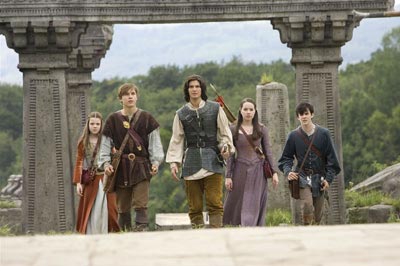 Ben Barnes
: I thought they did a great job with the through-line, certainly. Obviously a lot of the book, for example, is told through a series of conversations and flashbacks. It would have been very boring. So I think they did, also, a great job of making it feel very immediate. There were a few things that troubled me, you know? I thought that perhaps the relationship between Caspian and Peter and Caspian and Susan were a little forced, particularly with the romance with Susan not being in the book at all. But actually, now that I've seen the final cut of the film, where certain scenes that we shot have been edited out, and other things have been highlighted, I think actually those relationships feel very adult and very real, and sort of more spontaneous, which is a really good thing in terms of presenting the film to an audience now. You know, possibly to people who aren't familiar with the stories, and just want to go and see something exhilarating.
Paul Fischer
: Now, you're a newcomer to this form of movie-making. What kind of challenges did you face in not only playing this character, but playing him often against green screen, and amidst the technology that obviously this type of movie lends itself to?
Ben Barnes
: Yeah. I think the first challenge, the overwhelming thing, was getting used to how much they didn't use green screen. And how detailed and sort of wonderful everything was that they actually built in front of me, in terms of building an entire castle set, and taking me to the farest reaches of this world, and to find these sort of glorious settings, where everything is real in front of you. And people would go through, obviously, three hours plus of make-up every day to make them look like black-headed dwarves or centaurs or fawns. And it was all sort of there in front of you. The challenge obviously comes when you're speaking with a fully-animated character like Reepicheep the mouse, for example, where you're having a conversation with a piece of wire. With a tennis ball for an eyeline. Which is just - you know, you have to really work hard to suspend your disbelief, because you feel slightly ridiculous doing it the first few times.
Paul Fischer
: Do you have a large imagination?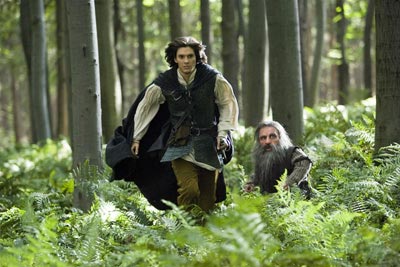 Ben Barnes
: Do I have a large imagination? I think it's certainly grown since the beginning of the shoot. Definitely. I think it probably diminishes every year with age, and then you have to make sure that you keep it in training.
Paul Fischer
: How much identifying did you have with the character?
Ben Barnes
: Well, you know, obviously - I mean, in terms of the superficial things, not huge amounts. It was a stretch to kind of imagine, for me, being brought up in a cold, uncaring environment, without loving parents, and what extenuates from that, because that wasn't my upbringing at all. Having said that, at the end of the film, Aslan asks whether Caspian - he tells the Kings and Queens of Narnia to rise. And Caspian looks up and says, "I don't think I'm ready yet." And he says, "For that reason, then, I know you are." I sort of feel I find myself leaning toward that answer, when people ask me how I'd propose to deal with the attention of playing the lead in a film. I sort of feel that I'm not necessarily ready, or even deserving of it. At least - and that definitely mirrors.
Paul Fischer
: So having said that, how much has changed for you since this movie has been finished?
Ben Barnes
: Not huge amounts as of yet. I mean, I've been a lot busier. But not huge amounts yet, because it obviously hasn't quite come out yet. So, no screaming hordes as of yet.
Paul Fischer
: Do you have any aspirations to move to the states, or are you still quite content living in London?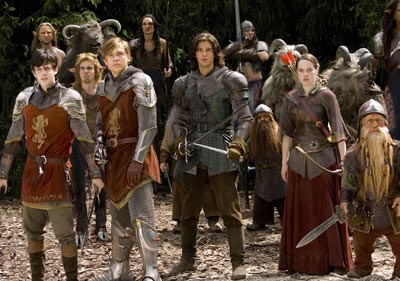 Ben Barnes
: I mean, I'm sort of quite happy to come over when the opportunities present themselves. But I think my home will certainly remain in London. That's where all my friends and family are. That's what makes it home for me, really.
Paul Fischer
: Do you know what's next for you?
Ben Barnes
: Well, I've just finished shooting something very different. A British farce based on a Noel Coward play. Actually, with an Australian director, Stephan Elliott.
Paul Fischer
: His last movie did not exactly get the critics raving.
Ben Barnes
: No. It was interesting. But I think his strength is certainly doing those sorts of - you know, out-and-out comedies, with a real heart, and maybe darker bubbling undertones, which is exactly what he's made this Noel Coward play. So that was really exciting. He's such a great guy. Barking mad, but wonderful.
Paul Fischer
: What's the name of the film?
Ben Barnes
: Well, the name of the play is Easy Virtue. I don't know whether they're going to change the name of the film. Probably.
Paul Fischer
: Wow. What about returning to the theatre?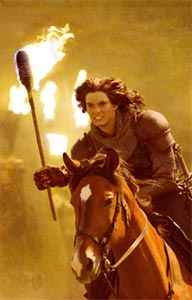 Ben Barnes
: Well, I would love to. Obviously it won't happen this year, because I've got more press to do. And then only a couple of months before we go into production on Voyage of the Dawn Treader, the next Narnia. But, you know, at some point in the next year or two, absolutely, if it's at all possible.
Paul Fischer
: So you are committed to do the next Narnia.
Ben Barnes
: Yes.
Paul Fischer
: Minus Andrew as director, though.
Ben Barnes
: Yeah. It'll be Michael Apted.
Paul Fischer
: Any other ambitions that you have at this point in your young career?
Ben Barnes
: I mean, I think for the moment just sort of going with the flow, and trying to sort of choose the best stories that come my way, really.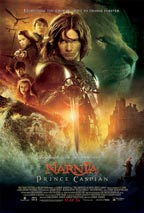 The Chronicles of Narnia: Prince Caspian
Starring: Ben Barnes, Skandar Keynes, William Moseley, Anna Popplewell, Georgie Henley
Director: Andrew Adamson
Screenwriter: Andrew Adamson, Christopher Markus, Stephen McFeely
Producer: Andrew Adamson, Mark Johnson, Philip Steuer
Composer: Harry Gregson-Williams
Genre: Science-Fiction/Fantasy
The characters of C.S. Lewis's timeless fantasy come to life once again in this newest installment of the "Chronicles of Narnia" series, in which the Pevensie siblings are magically transported back from England to the world of Narnia, where a thrilling, perilous new adventure and an even greater test of their faith and courage awaits them. One year after the incredible events of "The Lion, the Witch and the Wardrobe," the Kings and Queens of Narnia find themselves back in that faraway wondrous realm, only to discover that more than 1300 years have passed in Narnian time. During their absence, the Golden Age of Narnia has become extinct, Narnia has been conquered by the Telmarines and is now under the control of the evil King Miraz, who rules the land without mercy.
The four children will soon meet an intriguing new character: Narnia's rightful heir to the throne, the young Prince Caspian, who has been forced into hiding as his uncle Miraz plots to kill him in order to place his own newborn son on the throne. With the help of the kindly dwarf, a courageous talking mouse named Reepicheep, a badger named Trufflehunter and a Black Dwarf, Nikabrik, the Narnians, led by the mighty knights Peter and Caspian, embark on a remarkable journey to find Aslan, rescue Narnia from Miraz's tyrannical hold, and restore magic and glory to the land.