JUSTIN TIMBERLAKE: TENNESSEE MAN.
Justin Timberlake, Love Guru Interview by Paul Fischer
Justin Timberlake may be one of music's bigger stars, but as we chat in a Beverly Hills hotel room where he is busy promoting his comic turn in Mike Myers' farcical Love Guru, it is clear that there resides a certain quiet normalcy about the singer/actor. He says that his determination to remain grounded and putting his fame into perspective, "goes back to family and how you're raised. I think that for a lot of people, at some point or another have a moment where things become pressure, because you do feel like people are watching you, you do feel like you're going to affect people and you feel the weight of that, so you start to feel pressure," the actor explains.
"Then you deal with it in a number of ways, but I think a lot of it has to do with how ever you were prepared before that moment and for me, that were my mom and stepdad, I was born and raised in a home where we were always taught that everybody puts their pants on the same way every morning. I know when I was a kid it was Michael Jordan who had on impact on me in that way. I remember when I was really young and my parents telling me that he's a great basketball played but that doesn't make him superhuman, but that makes him a great basketball player. I think that's just what I was taught. How it's affected me in my adult life with what dealing with what might become too much pressure to meet people's needs or fascination, is I just let it go. I don't invest in it and I stay away from it as much as I can."
Justin Randall Timberlake was born on January 31, 1981, in Memphis, Tennessee. At the age of 11, he appeared on the show "Star Search" (1983), and even though he didn't win, it didn't dampen his ambitions. He also appeared on "MMC" (1989), where his costars included Britney Spears, Ryan Gosling, Keri Russell, Christina Aguilera and future band-mate J.C. Chasez. At age 14, Justin became a member of the boy band *NSYNC that released their self-titled debut album in 1998. They became a big hit with fans and made a place for themselves in the music world with a succession of big-selling albums. In the beginning of 2002, Justin spent time working on and writing songs for his debut solo album. During this time, he broke up with his longtime girlfriend, Britney Spears. The release of the solo album, titled "Justified", came in November of 2002. Songs from his solo album include: "Like I Love You", "Cry Me A River" and "Rock Your Body".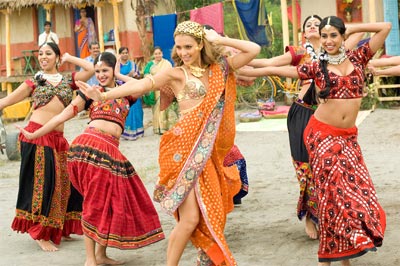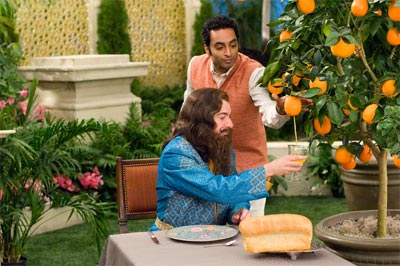 For Justin Timberlake, acting appears to be a natural extension of his music, yet he now recalls that as a teenager, he may well have not sung at all had fate not lent a hand. "Funny enough, I it's interesting, my stepdad and I just had a conversation. He goes, 'You know, it's so funny that you're actually still finding a way to get into film.' I said, 'What do you mean?' He said, 'Remember when you were 14 and you were recording demos in Nashville?' The television show had gotten cancelled, I was going back to school and I was about to start high school. Our next think was to drive out to LA for pilot season, and that's what I was going to do. I got a phone call from Chris Kirkpatrick, and said there's a label in Germany that will sign us and we'll have an manager. Didn't know he'd end up serving 25 in jail-but it's not my business. It's just funny how it all kind of works out."
Yet he says he remains surprised at how his life ultimately turned out. "Every day I kind of look at it and say, How did this happen? but it's interesting, one thing kind of leads to the other. Everybody says, that everything happens for a reason. I don't know about that, but I know that one thing leads to the other. I think I've just been lucky enough to have some opportunities thus far to do films that I think are either good dramatic roles or good stories to tell or, you know, Jacques Grande."
Jacques Grande is the villainous buffoon he plays in Love Guru, complete with thick French accent and a wacky costume that defies description. He recalls getting dressed up as the character for the first time, looking at the mirror and saying to himself: "This is going to be funny. I know! All I have to do is show up now and this is going to be funny." It's an outrageous performance from Justin Timberlake, but not one in keeping with much of the actor's previous film work. But clearly Mike Myers saw something in Justin Timberlake that fuelled his interest in casting the singer as his antagonist. "I would assume that my interaction with Mike promoting Shrek the Third was probably most likely my couple of stints on SNL, that Mike knew that I could, I guess, play the part." Justin Timberlake recalls Mike calling him up and describing the character before he even saw a script. "He called first and then he sent the script and our conversation went something like, 'Hey, I want you to come play the villain in this new movie I'm working on. I've been, you know, worshipping the character.' "
Justin Timberlake, always the hard working perfectionist, spent serious time developing the biggest French accent imaginable. "I figured the best way to do it was to get the accent down proper, before going to set. For the first couple of days that I was on-set I just kept the dialect coach with me, and said, 'You have to help me find ways to milk this,' because we're in a Mike Myers film, I'm the only other caricature really in the film, because, between Mike and myself, everybody else plays it kind of straight." And he would try to remain in character between takes, he says laughingly, "as much as possible. I would say something, then repeat it in zee accent, to try to sort of keep it fresh. But a lot of it was picking out certain words where you could mess with the rhythm of them and sort of make them funny."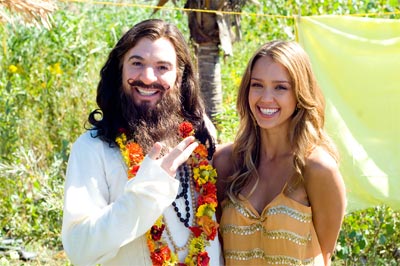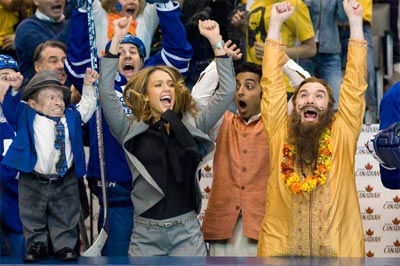 As funny as he is in Love Guru, Justin Timberlake concedes that he doesn't find comedy easy nor has he does so. "I know that there's certain people in the world like Mike who just enjoy making people laugh. My earliest memories as a kid was I would always try to make my mom and my stepdad laugh at dinner, or make my friends laugh in class. I don't know, it's something I just really enjoy doing, especially to be part of something like this, you don't get this call every day."
Next up for the prolific Justin Timberlake is a new film called The Open Road with Jeff Bridges, Mary Steenburgen and Harry Dean Stanton. Great cast, a great young writer/director Michael Meredith and it's kind of a dramedy. It's also sort of my first time to play the protagonist, so it was a really fun experience.
It seems as if Justin Timberlake is going to continue the whole acting thing, putting his own singing on the back burner but not completely give up on the music industry. "I do have a lot of creative juice going into writing and producing my artists on our indie label. It's called Tennman records." It's short for Tennessee Man, as Justin Timberlake returns to his roots.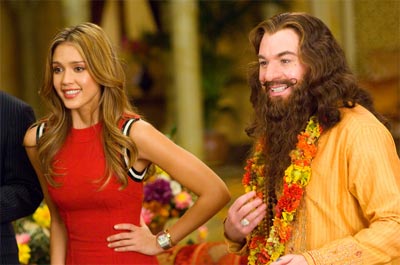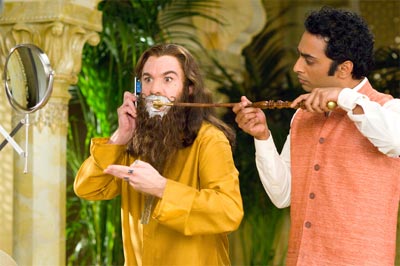 Love Guru
Cast: Mike Myers, Jessica Alba, Justin Timberlake, and Ben Kingsley
Director: Marco Schnabel
Love, hockey, and Indian spirituality come together in this film that marks Mike Myers's return to live-action comedy. THE LOVE GURU costars Jessica Alba, Justin Timberlake, and Ben Kingsley. Love, hockey, and Indian spirituality come together in this film that marks Mike Myers's return to live-action comedy. THE LOVE GURU costars Jessica Alba, Justin Timberlake, and Ben Kingsley.