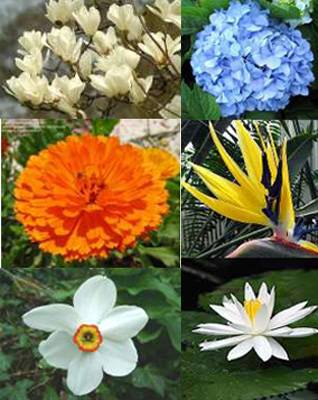 Floroscopes
Instead of running the gauntlet and buying a beautiful – but clichéd – rose this year, flowers have been matched to horoscopes, or 'Floroscopes', to ensure the bloom given helps their heart blossom.

Geranium: Aries - March 21 – April 19
Like an Aries, the geranium is exciting and vibrant. Aries' naturally entice others with charm and grace. Like the geranium, Aries' prefer to be the centre of attention. Geranium people are strong and determined. They are sure to enjoy the new BIG RED Geranium.

Rose: Taurus April 20 – May 19
Taurans love the finer things in life. Like a rose, the traditional choice for Valentine's Day, refinery comes naturally to this Zodiac sign, which is alluring to those around them. Rose people are about pleasure: giving and receiving it. The David Austin Rose (pictured) is a new breed, perfect for a loved one born between April 20 and 19 May.

Lavender: Gemini May 20 - June 20
Those of the lavender flower sign freckle their landscape with beautiful ideas and contentment. Being very creative, Geminis sometimes feel pulled in too many directions, but part of the lavender's beauty is that it spreads itself far and wide for all to enjoy. Consider the new and beautiful Riverina James Lavender for Gemini partners.

Magnolia: Cancer June 21 – July 22
Peaceful is the watchword for magnolia flower signs. Cancerians are perceptive, wise and have high intuition in matters of the heart, and environment. The calming Magnolia Denudata reflects a Cancerian's nature seamlessly.

Calendula: Leo July 23 – August 21
Calendula signs are warm, open, and natural leaders. Like these fascinating blooms, Leos tend to be the centre of attention and others look to them for advice and mentoring. The fiery Orange Calendula is sure to impress a Leo Lover and capture their heart.

Daffodil: Virgo August 22 – September 22
Daffodil flower signs are thoughtful and healing. With a fine eye for detail and a steadfast confidence, Virgos bloom beautifully right where they are planted, and have a neat way of making things right and tidy. The Pheasants Eye Daffodil is the clear choice for your Virgo Valentine, come 14 February.

Violets: Libra September 23 – October 22
The violet zodiac flower sign exposes the balance in all things. With an eye for classic beauty, Librans love to be surrounded with beautiful things. Just as violets spread, so does a Libran's warmth. Seek out the beautiful Parma Violet.

Euphorbia: Scorpio October 23 – November 21
Like the Euphorbia, Scorpions have many layers and as soon as someone thinks they have one figured out, they pop out with another blossom of surprises. The Euphorbia Rudolf is a strong, captivating plant, just like a Scorpio.

Hydrangea: Sagittarius November 22 – December 21
Hydrangea zodiac flower signs can be very influential and enjoy sharing their philosophical ideas with others. Like the burst of colour from a Hydrangea, Sagittarians come on strong, but have a sensitive side. The new Endless Summer Hydrangea will help any Sagittarian dream their lazy days away – a perfect way to spend St Valentine's Day.

Dianthus: Capricorn December 22 – January 21
Those with the carnation or dianthus flower sign are beautifully adept organising. Natural leaders, others look to lean on Capricornians. The new Dianthus Sugar Plum is an inspired choice for the Capricorn in your life.

Bird Of Paradise: Aquarius January 21 – February 19
Those with the zodiac flower sign of the Bird Of Paradise are curious and inventive. With a dreamy cool persona, people are attracted to their unique, sometimes eccentric ways. The intricate yellow Bird Of Paradise is a match made in heaven for Aquarians.

Water Lily: Pisces February 20 – March 20
Water lily flower signs are perceptive and deeply reflective. Water runs through all the flower signs but especially through Pisces', which accentuates their intuitive streak. The dreamy White Water Lily will have Pisces' floating on air.

Visit www.edengardens.com.au for more information, including store locations.